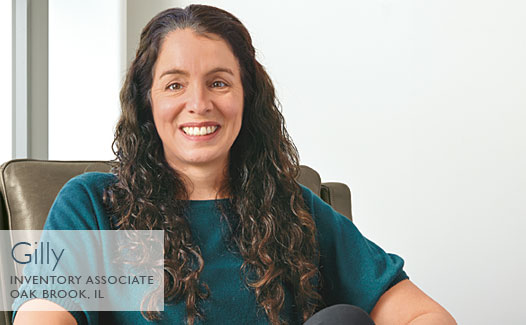 Gilly studied aviation and fine arts in college, two of her passions with two very different career paths. "Flying and design are my loves. One is left brain and analytical and the other is right brain and creative. Interestingly, at Room & Board I get to use both of these skillsets on a daily basis."
Gilly describes herself as creative, organized and strategic, words that perfectly match her role as Inventory Associate in our Oak Brook store. Gilly started her career at Room & Board as a Design Associate, transitioned to a leadership role and after a few years began to explore the Inventory Associate position. "I like helping people be successful and I knew I could do that in this role because I am passionate about problem solving, collaborating and finding new ways to do things. The accuracy of our inventory is directly tied to our team's ability to serve the customer. I view the Design Associates as my customers and I am always looking for ways to improve things for them."
Gilly had purchased items from Room & Board prior to joining the company, but didn't know much about its business philosophies when she first saw the job posting. When Gilly recalls her interviews, she remembers becoming more and more excited about the possibility of joining the team. "As I learned more about the company, I realized how much the Guiding Principles lined up with my own. I remember thinking: 'if this company is really operating with these ideals and principles, I want to be a part of it.'"
One of the Room & Board philosophies that she appreciates most is tied to building relationships based on mutual respect and collaboration. "Room & Board's Guiding Principles aren't just words on paper. The relationship-building happens every day with our peers, vendors and customers. Great work happens in relationships and that is how our company operates differently and what really makes us unique."