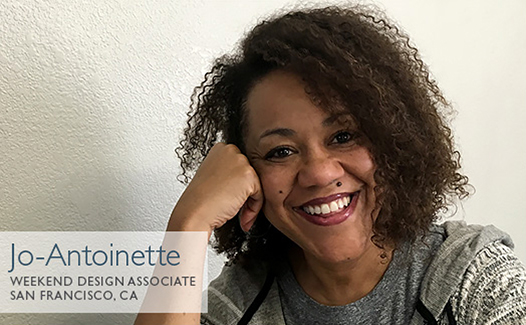 For Jo-Antoinette, Room & Board's Weekend Design Associate position has been key to finding balance in her life. "When I applied to Room & Board in 2012, I had been the executive director of an organization that serves at-risk youth for 10 years. It's rewarding but difficult work and I was feeling burnt out. I used to visit Room & Board on the weekends as a way to relax. Needless to say, when I stumbled upon the job listing, I was amazed to discover there is a three-day position that pays full benefits that would allow me to balance my non-profit work with another job I loved."
Jo-Antoinette has a bachelor degree in cell biology and worked in a research lab before moving into the non-profit world, but has been drawn to art and design her whole life. "The opportunity to play with furniture and help customers create beautiful homes felt so much like me." Jo-Antoinette continues, "The more I learned about Room & Board as a company, the more I was drawn to its principles. I connected with the company's wish that staff members find their life's work; that who you are and how you feel in your role is important. I aligned with Room & Board on so many levels, that the leap into furniture retail felt natural."
Jo-Antoinette's talents for connection, communication and support translate seamlessly from her non-profit work to the showroom. "I love working with customers. When they come in feeling overwhelmed or at odds with their partner about what they want in their space, the best thing I can do is be calm and open and listen intently. It's rewarding when we get to a point where the customers can relax and enjoy the experience."
As she looks to the future, Jo-Antoinette muses that while advances in technology and web shopping are exciting and necessary, she embraces the challenge of staying true to Room & Board's relationships-based culture. "The website is amazing in that it provides ease and empowerment to our customers. But the possibility of human connection is important and I am excited about continuing to provide the human touch."