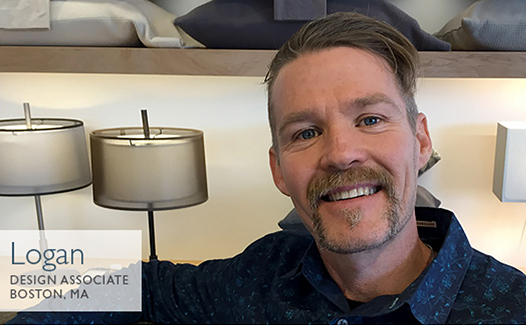 Logan playfully describes his past work experience as "eclectic," and finds that he draws from all of his previous lives in his role as a Design Associate at Room & Board. "I've been in the hospitality industry, I've backpacked around the globe and I have a degree in graphic design with a background in illustration." Logan smiles and continues: "My experiences before coming to Room & Board find their way into how I greet and connect with people. At Room & Board you are given the freedom to be yourself and legitimately inject your own style, personality and background into the role. I think that's pretty special."
Logan enjoys meeting customers and helping guide them through the process of creating spaces they love. He shares: "My hospitality background has been important in this role because a lot of my job is about reading people. It's one of my favorite parts of my work." Logan is also gratified that he is able to use his graphic design background. "All the same design and color principles are at play and it's cool to take the two-dimensional into the three-dimensional in designing a room."
Logan has been impressed with Room & Board's attention to detail from the beginning. "The interview process was incredibly thoughtful. The company puts a lot of care into whom they hire and it shows." He also found the training process to be "an eye-opener." As a new team opening in a new market, the staff members from Boston were in the unique position of going through the acclimation process together. "It was a real bonding experience for us and you come out with the sense that the company is investing 100 percent in its staff members. It leaves you feeling motivated to do good work."
As the Boston market becomes more established, Logan is excited for what the future holds. "The fact that Room & Board sells beautiful, sustainable and American-made furniture is something I am proud of and can really get behind. In my day-to-day life in the showroom, I feel supported in terms of resources, information and understanding the 'hows and whys.' I also feel like I have the freedom to pursue my interests and develop in my role as much as I wish. All of this makes me excited to continue to learn and grow with this company."