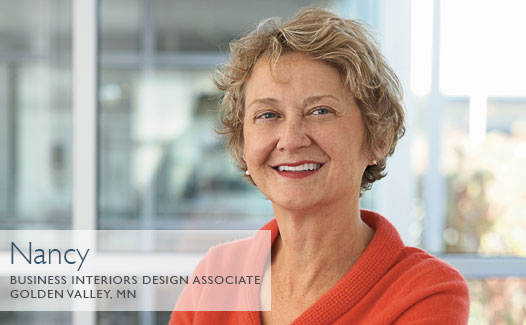 After graduating with an Interior Design degree, Nancy worked for a small, commercial firm where she spent her days mainly drafting floor plans with little interaction with others. "I knew right away that it wasn't for me. I need to be around people and that is one of the reasons why I explored a career with Room & Board. I enjoy building relationships and I get to do that on a daily basis when I work with designers, architects and purchasing agents for companies on Business Interiors projects."
Although Nancy joined Room & Board in 1994, her roles have changed over time, allowing her to grow throughout her tenure. She started as a Design Associate in one of Room & Board's first stores. She transitioned to Room & Board's 1-800 channel, Shop From Home, where she worked for 12 years assisting residential customers. Today, Nancy works with the quickly expanding Business Interiors team. She shares: "Our team is highly collaborative and creative and it's a joy to be part of such a dynamic and exciting area of Room & Board's business."
From Nancy's perspective, every year brings new experiences and opportunities that allow her to develop professionally and personally. "I find it refreshing that the company encourages us to set new goals every year. I get the opportunity to think about and address my need to learn new things. My work with Business Interiors stemmed from an interest in working with corporate clients during my time with Shop From Home. The company was just starting to grow this aspect of the business and I found it really exciting to be a part of this fluid and evolving department."
On why she enjoys her role, Nancy shares: "Increasingly, people want to feel comfortable at work, they want flexibility in their access to technology and the amenities of home. I love utilizing our collection for Business Interiors projects because aside from being beautiful, there are certain fabrics, finishes and products that have a practical application in a business setting. Whether it's soft velvet for a therapist's couch or a durable tabletop at a ballpark, our clientele is so diverse and broad that it's always fun to take all the different needs into account when helping to design a space."
Much has changed along the way for Nancy as the company grew—but probably most significantly for Nancy is what has not changed. "Even though our tools and practices have grown with the company, I love that the core philosophies that were here in the beginning have remained the same. It is so rewarding to work for an innovative company with a strong culture and values that speak to me."