New employees of Room & Board take part in education experiences to gain a better understanding of the company. This includes a truck ride along to get a behind-the-scenes look at the delivery experience. Now that the day has come and gone, I'd like to give you an inside look at life behind the wheel of a Room & Board Delivery Associate.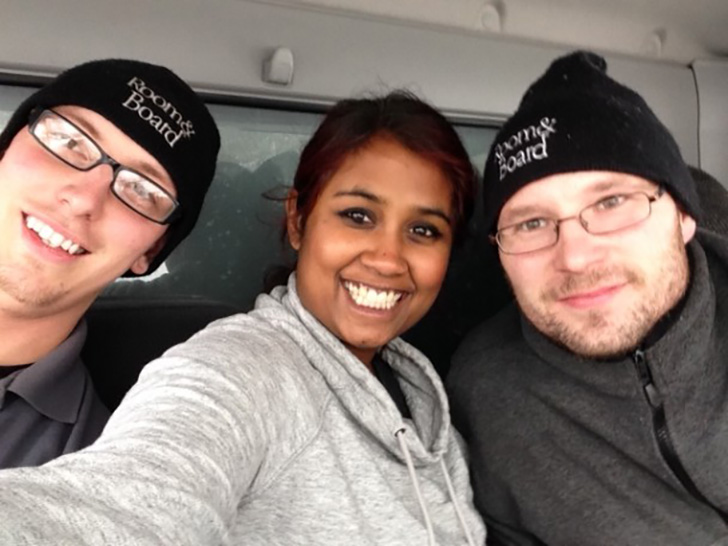 My day started at 6:30 a.m., where I met Jesse and Taylor, the two Delivery Associates I rode with. I watched in awe as they packed up the truck—it was like a real-life game of Tetris. There were 12 stops on the schedule, so the items were arranged in the order of stops.
Throughout the day, I witnessed unparalleled professionalism and genuine care for the products and customers. Upon arrival, Taylor would greet the customer with a smile, discuss the delivery process and assess the space. Then, he and Jesse would bring in the furniture (always removing their footwear), assemble the piece and talk about proper care with the customer. After leaving a home, Taylor would call the next customer to tell him/her that we were on our way.
When I asked what their favorite part of the job was, they had the same answer: "We love meeting customers and seeing how happy Room & Board products make them," Jesse said. "We've met a lot of great people who appreciate what we do, but also have a genuine love for the furniture." Taylor reiterated.
At our third stop, we delivered a Holden sectional with chaise to a fourth-floor downtown Minneapolis condo. While Jesse and Taylor unwrapped and assembled the sofa, I had a chance to talk with the customer and asked why she chose Room & Board.
"I own two other Room & Board products and I love the quality of the furniture," she said. "The modern designs are a perfect fit for my home. When I saw this sectional, I knew I had to have it! I don't have much space and I wanted a complementary piece to my existing pieces. This fit the bill exactly."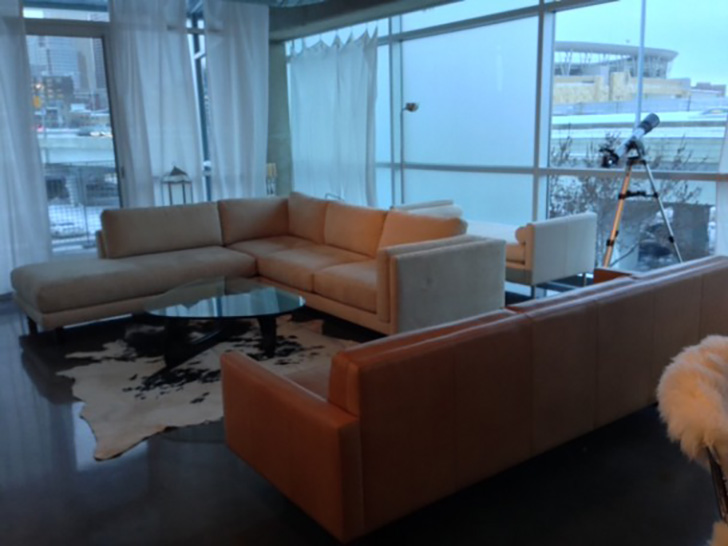 Throughout the day, the temperature slowly dropped and snow started to fall. We encountered numerous driveways and sidewalks with deep snow and slick ice, but Jesse and Taylor were unfazed by the elements. Before unloading any product, they assessed the space to ensure they chose the most sensible delivery path. Since I couldn't carry any of the furniture, I offered to hold doors, calm barking dogs and put anti-scratch pads on furniture legs. (I also contributed my off-key accompaniment to the Christmas music on the truck's radio, but I'm not sure they appreciated that.)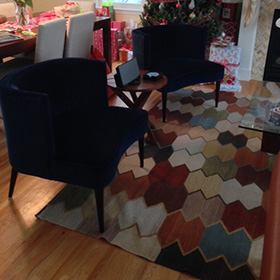 Our final delivery of the day was to a two-story single-family home in a nearby suburb. It was one of my favorite homes of the day—the Christmas tree and impeccably wrapped gifts were accented by their new additions: two Chloe chairs, one Seaton sofa and one Dalton leather recliner.
"There was a lot of pressure to make this room the best of the house, since it's the first one you see when you enter," the homeowner told me. "But after talking with my wife, we realized it didn't need to be complicated. We just wanted good quality furniture that spoke to our home's style, so it was a no-brainer to go with Room & Board."
Reflecting back on the day, I can easily say it was one of the best I've spent at work. Seeing Room & Board's delivery service in action gave me a new appreciation for the process.
Thank you to all the customers who allowed me to come into their homes, talk with them and take photos. And a huge thank you to Jesse and Taylor for providing an educational experience and putting up with my non-stop talk about cats, wedding planning and selfies.
Learn more about Room & Board's delivery service here.
Photos by Room & Board