As anyone with a furry, feathery or finny friend can tell you, taking good photos of animals can be difficult. Getting them to sit still is one thing, but finding a way to capture their personalities can be elusive at best. If anyone has successfully conquered this challenge, it's Sharon Montrose, the LA-based photographer of all things animal.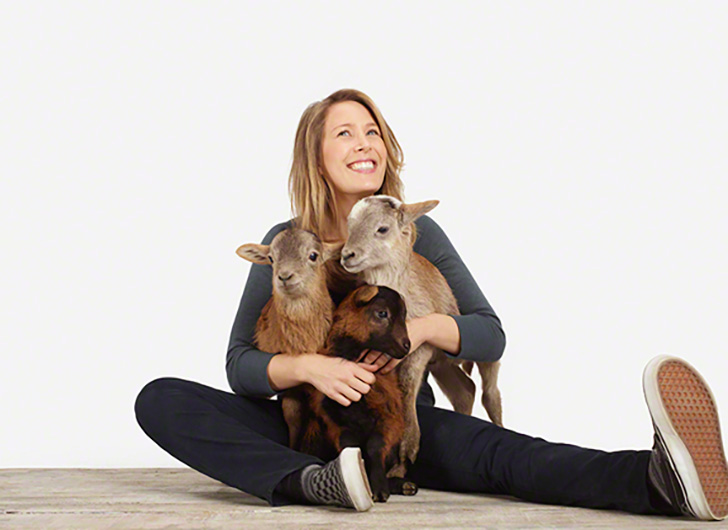 Melding her passion for photography with her love of animals, Sharon's definitive photographic style has made her one of the most sought-after commercial photographers. With simplicity and intimacy, she brings the viewer a unique perspective on animals both domestic and wild. She always uses live animals (many of them rescues) and works with the animal's trainer or handler to ensure the comfort and welfare of the animal. Photos are taken either in her studio or in the animal's home facility. Sharon supports many animal rescue organizations and education and wildlife programs. She has published 11 photography books and her work is part of both public and private collections all over the world.
We're proud to offer six exclusive images as part of our assortment that showcase animals in striking forms. We connected with Sharon to learn more about her craft and her interests when she's not behind the lens.
What's your favorite part about your job?
My favorite part of my job is I get to earn a living doing what I love, and on my own terms.
Which animal has been the most difficult to shoot?
In contrast to stoic animals, like a LongHorn Steer, who doesn't move much (they just stand there and make it easy for me), any animal that moves around a lot is very difficult. I have to really focus and be ready for the split second when they actually stop moving and get the most I can from that very small window of opportunity.
What's the best advice you've received?
It's hard to pinpoint what the "best" advice I've ever received in my lifetime is. I'm 40 now, so I have been given a bounty of both solicited and unsolicited advice in my life on a variety of topics. Advice can be tricky—there is bad advice and good advice, so you've got to be careful. I always take advice with a grain of salt, consider all the gray area and arrive at my own conclusions.
When I was six, I thought I would grow up to be a:
A Bunny Rabbit. I swear, this is not a joke—you can ask my brother and my dad.
What's your favorite animal?
I have two favorites: My dogs Squeak and Bird.
Do you have any pets?
See above : )
What are you currently reading?
The Book of the Samurai by Yamamoto Tsunetomo.
I collect:
Orphaned and discarded studio pottery found at thrift stores and garage sales made and signed by strangers.
Three things you can't live without?
Food, water and movement.
Art should be:
Highly individual.
 Photo from Sharon Montrose