A native New Yorker, Terry Rosen is an artist with a passion for exploring cities and the ingredients of urban life. She began painting and drawing formally at the 92nd Street Y when she was 6 years old. Terry received a B.A. in art history from Cornell University where she studied fine art and architectural design, and has an M.A. from New York Institute of Technology (NYIT) in computer graphics.
Let's learn a bit more about her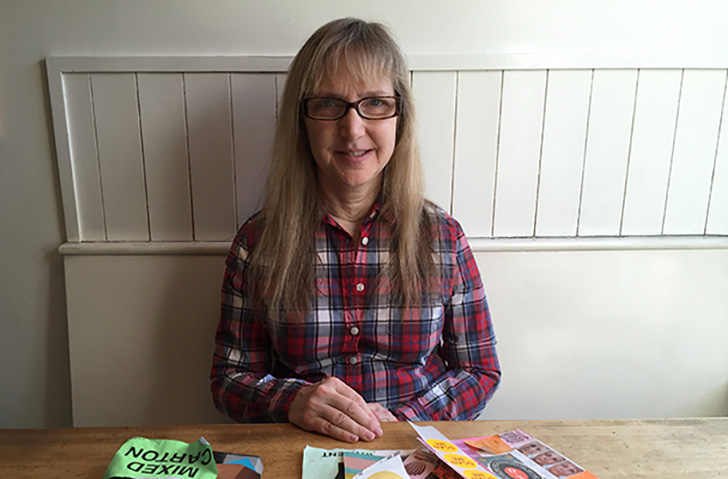 With a knack for making the inanimate look alive—and the reverse, she started out as an advertising illustrator for Macy's and Bloomingdale's. She originated a whole trend in textile design—creating the well-known conversational prints of ticket stubs, fortune cookies and personal ads for Absolut, Charles Schwab, Maybelline, Nicole Miller and People.
Terry's approach of managed serendipity and her fascination with urban artifacts and objects, now manifest themselves in collages and collage prints. Her most recent endeavor includes an exclusive collection of limited-edition prints for Room & Board.
Reflecting the time and place they were collected, they are composed of ticket stubs, sales receipts, matchbooks, gum wrappers and more. This creates a colorful timeline of city life while exploring the language of consumerism. Only 20 of each edition are available.
Here are just a few
Q&A
An incessant recycler, composter and transfer station enthusiast, Terry is always prospecting for new artifacts and inspiration for her work. She never leaves home without her beloved iPhone 6 to document and capture daily life. We connected with Terry to learn more about her inspiration, art and daily life in her hometown of New York.
When I was six, I thought I would grow up to be a:
An artist, farmer, doctor or ballet dancer. I sold my first painting for 15 cents to a stranger when I was 6 years old on the Upper East Side. Even in kindergarten—before then, I remember my first collage, very intricate, so many small rectangles of paper, carefully assembled. My teacher, Mrs. Moller, came over, and before I could warn her that nothing was glued down, she picked it up with glee to share with the class. A shower of paper flew to the ground! To this day, I still take risks playing with and leaving pieces unglued.
Which artists or movements of the past do you most admire?
An encyclopedic list—but the collages of Kurt Schwitters, the inventive universe of Saul Steinberg, and the interplay of text, graphics, soul and mind of Sister Corita Kent. They resonate with me especially, because of their use of text(s). And I am completely enamored with the textile prints of my idol, Josef Frank.
Describe your creative process.
1. Input: I live a life of managed serendipity, walking and observing and trying to digest the dynamism, complexity and coincidences of urban life. Travel. Going back and forth between city and country on a weekly basis—that rhythm and contrast—inform my work and thinking. Taking in the all-you-can-eat buffet of the visual on the streets, subways, galleries, shops, flea markets, capturing it all with my iPhone 6 (camera and notes)—the digital, extracorporeal part of the Mobius strip. Walking around the city and swimming laps—are meditative ways of unleashing ideas for me. Looking at art, architecture and design, reading, writing.
2. Processing—one of my professors in grad school at NYIT told us that we should cultivate our minds the way we work out in gyms. He told us to take note of coincidences, and remember our dreams. I get much inspiration from remembering and writing down many of my dreams. Writing is a great way of digesting, processing and objectifying the myriad inputs.
3. Output: I am compelled to make collages, draw and paint, take photographs, write and tell stories.
Your work is inspired by urban life in the cities you've explored. What are your favorite destinations and why?
Beyond New York, I do have an affinity for Scandinavia—Stockholm, the home of Svenskt Tenn and Josef Frank, and Helsinki, the home of Arabia and Marimekko. But I love all cities—Havana, Mexico City, Berlin, Providence!
Art should be:
What one brings to it.
I collect:
What don't I collect? Foreign phrases, ceramic apples, vintage packaging, wasp nests and other natural artifacts from hikes, shards of transferware pottery I find, and succulents.
What three words best describe your design style?
Contradictory, catholic and curious—and predominately Scandinavian. I love prospecting for objects, patterns, textures, artifacts from my travels and integrating them.
What are three things you can't live without?
My eyes, legs, hands.The New York Times, The New Yorker, my iPhone and WNYC's The Moth.
As a native New Yorker, what are your favorite destinations in the city?
The Brooklyn flea markets both indoor and out, the Lower East Side—where there are some granular stores devoted to a single thing: pencils and/or Italian stationery, the Kinokuniya bookshop where they have great art supplies—in addition to a wealth of international magazine selections. Lenox Avenue from 116th to 125th East Harlem. Bed Stuy. The Park Avenue Armory. Dead Horse Bay. And surviving stalwarts: The Strand, Film Forum, Cowgirl Hall of Fame and Zabars.
My perfect Saturday would include:
A nature hike, swimming laps, a great cup of coffee, reading a long article in the The New Yorker, exploring a neighborhood or town I have never been to.
Photo from Terry Rosen