We dare you to find someone who loves color just as much as Cynthia Moreno, the LA-based set designer and social media influencer behind the instagram account Hot Pink Pineapples! We love how Cynthia chose our Goodwin sofa as a neutral statement piece and added in pops of color with home decor. Keep reading to learn what inspires Cynthia, her advice for decorating with color and the inspiration behind her dog's name.
Meet Cynthia of Hot Pink Pineapples
Where did you love for bright colors come from?
I have always been really into mid-century design, which has lots of colors. It's fun to take influences from mid-century and blend them with modern styles and colors of today. I also love to travel and have always been attracted to bright colors I see in places like Miami, Hawaii, Greece, and Morocco.
What was the inspiration behind your Instagram handle @HotPinkPineapples?
Haha! I really love my pink hair and pineapples are just fun and add a whimsical, tropical vibe.
Who or what inspires you?
Travel really inspires me. I love experiencing other cultures and becoming engulfed in local color palettes. It's fun to see art and creativity from around the world because its amazing to me what people can create. As far as a specific person, I have been deeply inspired by Ray Eames. She was married to the famous designer, Charles Eames, but she was really innovative and had impeccable taste in style. She was able to get her design skill recognized, to an extent, at a time when men were really seen as the leaders in most industries while women sat quietly in the background. A lot of people don't know about her as you usually only hear about Charles, but she was just as important, if not more in some ways in the 60s.
Do you have any advice on how to decorate with bright colors and patterns?
I think it's always best to start with neutral statement pieces, like walls, carpet and sofa and then layer in colorful accessories. This makes the colors really pop and allows you to easily pull back or freshen up the space by swapping out a few smaller items.
Tell us about your involvement with Modernism Week's Mod Squad.
I was part of Mod Squad this year, which is a social media team that gets to showcase all of the amazing mid-century design in Palm Springs. We toured famous mid-century homes and shared them with our audiences, which allows the mid-century design to be seen by different demographics around the world. Everyone who was part of the Mod Squads loves design, so it was fascinating to see how we all found inspiration in different ways.
Is it true your dog is named after Dolly Parton?
Yes! I grew up in Los Angeles with very little influence from country music and a few years ago I came across an interview with Dolly Parton. She is so outspoken about being herself and not being afraid to shine or be different. She really embraces her uniqueness and the beauty of that in such a passionate way. I became so enamored with her right away and was so impressed with her message, which made it easy to fall in love with her music. So, I named my dog after her because I just thought she was the sweetest and so positive. Plus people get a kick when I tell them that my dog has a first and last name.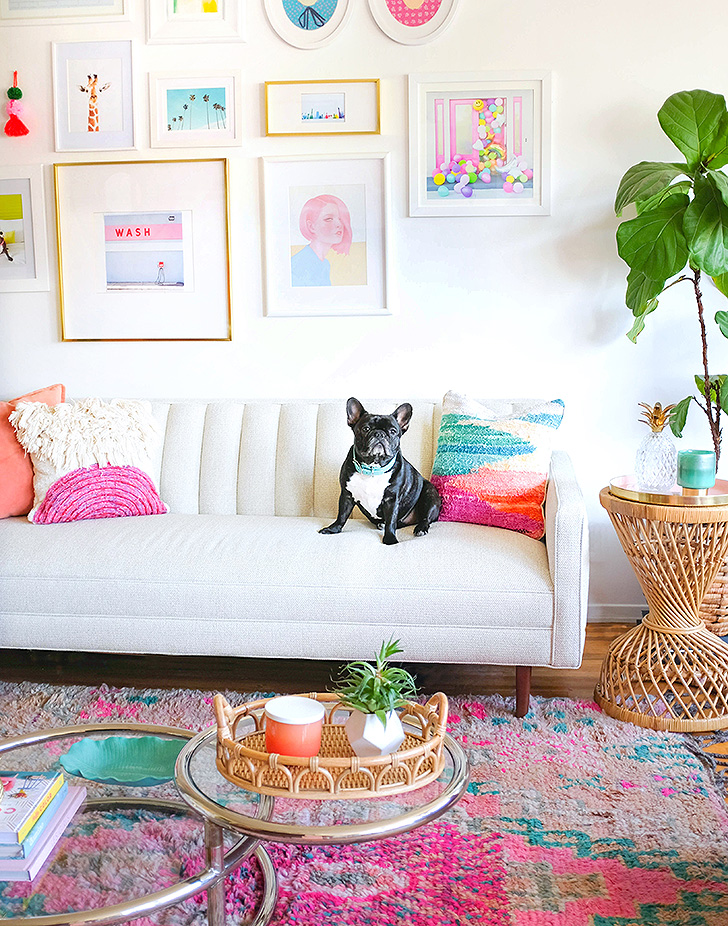 What do you enjoy most about being a set decorator? What are some of the biggest challenges?
The best part about being a set decorator is I get to venture out of my personal style and work on projects that have a specific story to tell, which can be anything! One day I might be designing and dressing a rocket and another project might have me decorating a subway car. I never know what the design challenge of the story will be and it changes daily.  I love the versatility. One of the biggest challenges about my job is working with a big team. It can be difficult for everyone to get on the same page or to understand how different people might interpret the same script. Sometimes it's tough to discuss the design elements because we all have different ideas of how the story should be told.
What won't we catch you without?
My camera. Whether I'm using my phone or my pro camera, it's important to always be able to capture beautiful things I see around me.
What's the biggest design mistake you've ever made?
I once got so caught up in the design of a set, I forgot about other important elements, like logistics. The set pieces didn't fit in the freight elevator and we were unable to get them to the stage. It was such a mess and I learned to make sure a design is beautiful but also works logistically.
If you could spend the day with anyone (dead or alive) who would it be and why?
Dr. Martin Luther King Jr. all the way. He stood up to unbelievable hatred and violence with such courage and strength but also with love and non-violence. I can't think of someone I would like to meet more.
The Room & Board product featured in this post was gifted to Cynthia Moreno for her living room. All opinions are her own.
Photos by Cynthia Moreno of Hot Pink Pineapples
SaveSave
SaveSave
SaveSave
SaveSave
SaveSave
SaveSave