Hotel Hive is Washington, D.C.'s first micro-hotel, offering guests "everything they need and nothing they don't" in their efficient, modern rooms. Mai Abdo, Chief Creative Director of Abdo Development and Hotel Hive, knew the hotel's rooftop lounge had the potential to be a popular destination for guests and locals alike, and she turned to Room & Board for modern outdoor furniture to fit the unique space. Read on to learn more about Hotel Hive and her experience working with the Room & Board Business Interiors team.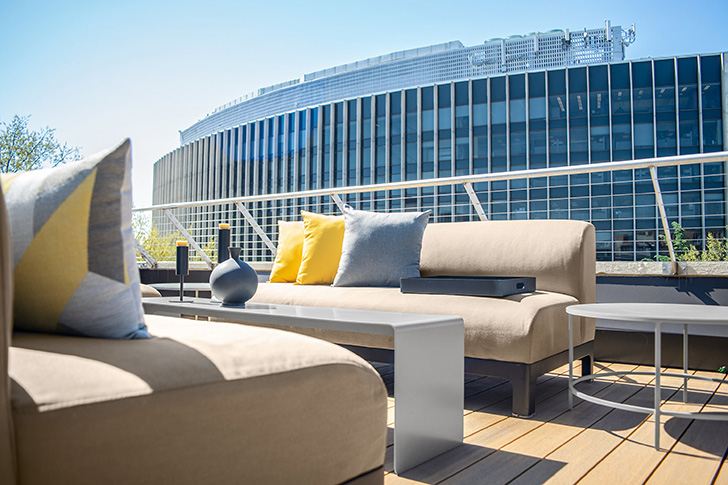 How is Hotel Hive different than the typical hotel?
By definition, a hive is an efficient place abuzz with energy and activity. Hotel Hive embraces this concept.  The "Hive" features innovative room designs that prioritize efficiency without sacrificing comfort, and our public spaces provide a central community gathering place for social interaction. Our service culture is what is most different from your typical hotel experience, and we strive to be authentic and transparent about what we are. We offer a value proposition that exceeds expectations. We want our guests to Buzz More and Spend Less!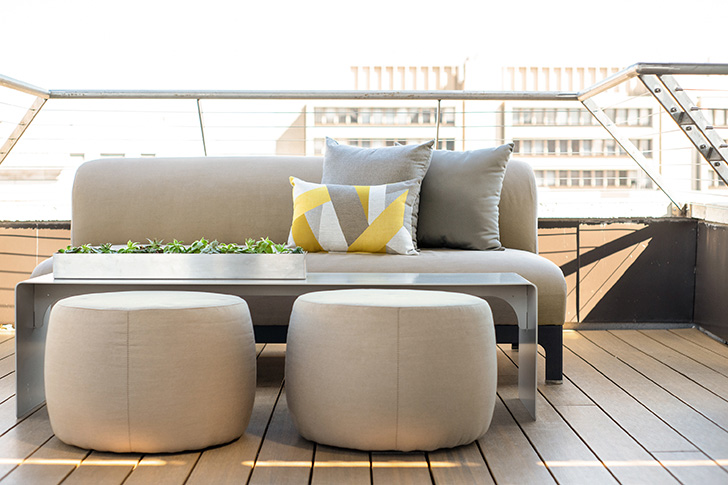 How does modern furniture and design support your vision for the hotel?
Hotel Hive is about striking the critical balance of value, modern comforts, and authenticity.  Hotel Hive DC is a unique convergence of historical building elements and modern industrial design. The concept of refined minimalism is consistent throughout the property. Every design aspect from lighting fixtures to furnishings had to pass the test of form and function. We believe a value hotel can be stylish, functional and affordable.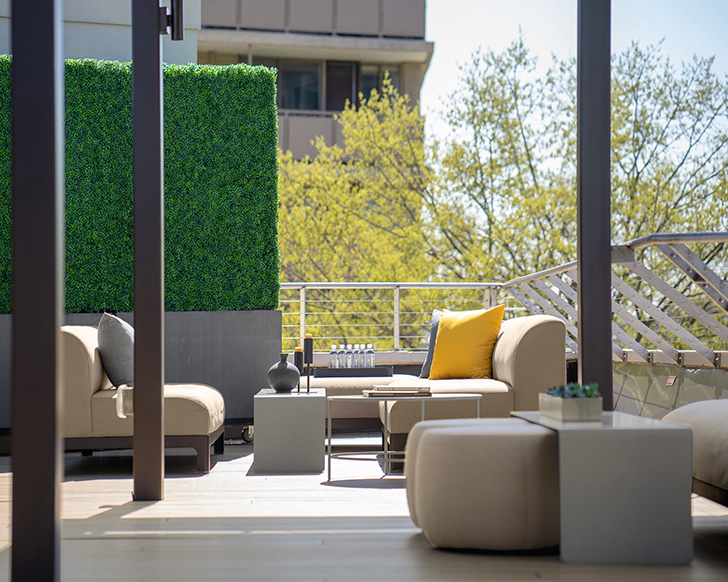 Your rooftop has incredible views of the city. What were your goals for this space?
We knew we had a rare opportunity to create something extraordinary on our rooftop to take advantage of the spectacular city views and highlight the direct sight line to the Lincoln Memorial. Therefore, we anticipated the Hive rooftop would be a favorite destination and wanted to make sure we got it right.
We sought out furniture that was unfussy and modern in design. Furniture also had to be comfortable to encourage lounging and durable to withstand high volume use. We visited the Room & Board shop on 14th Street and quickly identified furniture that met all our requirements. We are now in our second year of operations, and the Room & Board furniture still looks great. All of the pieces have held up very well and have required minimal maintenance and care.
How did our Business Interiors team help you bring everything together?
We had great support from the team at Room & Board.  Given the objectives and requirements of our rooftop furniture, we had lots of questions about each product we were considering. We discussed our commercial application for the furniture and emphasized the need for durability in conjunction with aesthetic and comfort. In response, the team was very informed and provided excellent guidance and service every step of the way. My husband [Jim Abdo, President, and CEO of Abdo Development] and I appreciate good design, quality craftsmanship, and professional customer service. Room & Board delivered on all.
Get the look of Hotel Hive

1 Crescent outdoor sofa in Sunbrella® Canvas taupe with graphite base | 2 matching Crescent ottoman | 3 Boyd outdoor ottoman in Sunbrella Canvas taupe | 4 Cooper outdoor bench in silver | 5 Solid outdoor pillow in Sunbrella Canvas cement | 6 Solid outdoor pillow in Sunbrella Canvas yellow | 7 Wye outdoor pillow in green | 8 Slim outdoor coffee table in graphite | 9 Shore planter in black | 10 Terrace centerpiece planter in stainless steel
From hotel rooftops to offices, our Business Interiors team can help you make a design plan, pick the right pieces and bring it all together on time and on budget. The best part: their services are free, and all it takes is a quick email or call to get started. So what are you waiting for?
Photos by James C. Jackson/@thisisjamesj