We teamed up with Claire Thomas and Laurel Gallucci, the duo behind Sweet Laurel Bakery, to bring modern design and a whole lot of pink velvet to their new bakery in the Palisades Village. Keep scrolling to read our interview with Claire and learn how their business started with a single slice of chocolate cake.
Tell us how Sweet Laurel Bakery came to be.
Before Laurel brought me the slice of chocolate cake that changed everything, we were two normal girlfriends. She was an educator and home baker, I was a food blogger, and we connected over our love of cooking and emotional eating.
About a year into her journey with Hoshimoto's, Laurel brought me a slice of chocolate cake. Unlike Laurel, I don't have any food or beauty allergies or sensitivities, just lazy habits. I take my baked goods seriously, and have been constantly disappointed by gluten-free or vegan options. The textures and flavors always seemed a bit off, like a photo copy of a photocopy of the thing they claimed to be. Laurel's doctor had warned her that with her new disease, "She would never have a slice of chocolate cake again," so she spent her time baking delicious treats for family and friends that she could never share in herself – like a kid with her nose pressed up against the bakery window. When Laurel offered me a slice, she didn't provide any context, so I just dug in. While I was licking my spoon, she smiled and asked, "So, you liked it?" Of course, I thought it was wonderful. Then she dropped the bomb. She had been tinkering with grain-free, gluten-free, refined sugar-free, and dairy-free recipes. This delicious chocolate caramel cake with fudge frosting was completely devoid of my favorite ingredients. It was wholesome, nutritious, and autoimmune friendly. I was floored. That was the moment where we decided to take Laurel's chocolate cake and turn it into our company, Sweet Laurel.
What was the design inspiration for Sweet Laurel Bakery?
Laurel and I both grew up loving garden roses and tea parties, so my immediate touch stone was Mayfair in the spring time. All of the stores decorate with these gorgeous floral installations, and I wanted to capture that old world, London in the springtime feeling, but with modern lines. From the beginning I knew it needed to be a jewel-box. Sweet Laurel has always had this "secret garden" quality. Our only form of marketing was through word of mouth, and I wanted the space to reflect that: like stumbling into an English tea room in the middle of LA. It feels like you're in on a wonderful secret.
Do you have a favorite item on the menu?
The chocolate cake! It's my forever favorite. Second would be the new keto brownie… basically anything chocolate, LOL.
Who or what inspired your interest in baking?
Laurel and I are both home bakers, we grew up with our in our moms' kitchens, watching and learning. Laurel is her family's official baker – and she's one of seven!- so that's a lot of birthday cake.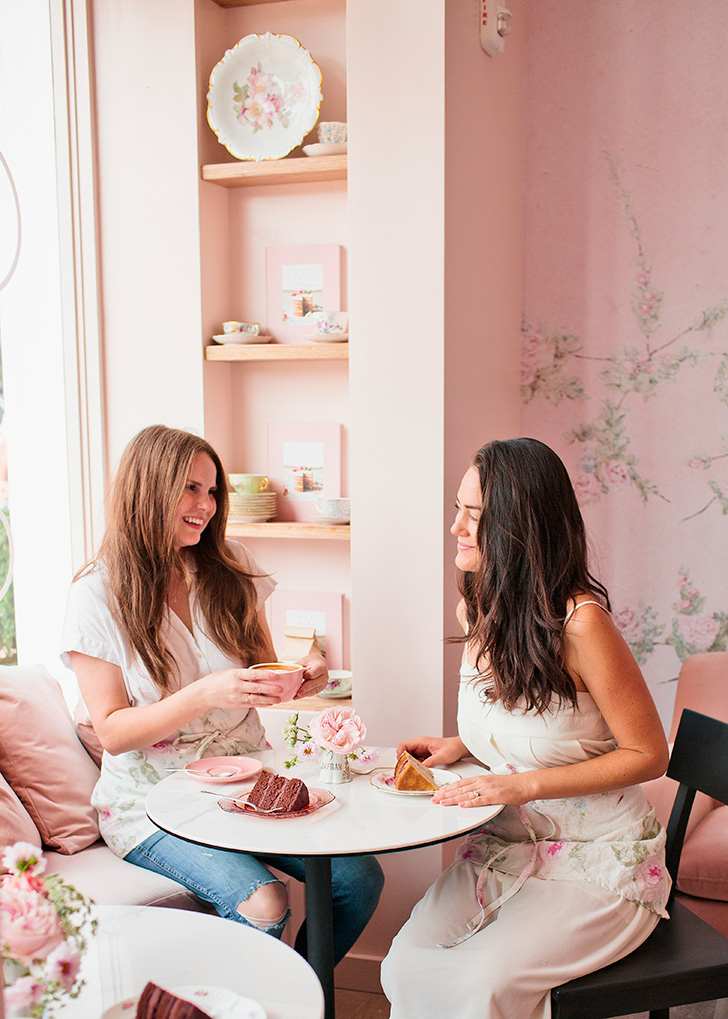 Do you have a favorite ingredient to cook or bake with?
We believe in using the highest quality, nutrient dense ingredients to create the most delicious and flavorful baked goods. Traditionally, a baker's pantry consists of flour, white sugar, and butter, creating the strong base for most desserts. But when the doctor's orders deleted all three mainstays from Laurel's diet, she had to find alternatives. Our pantry is a reflection of a grain free, refined sugar free, and dairy free lifestyle, and based on an anti-inflammatory and holistic approach.
Our core ingredients include almond flour, eggs, maple syrup, coconut oil or milk and Himalayan pink salt.
What's your favorite recipe from Sweet Laurel: Recipes for Whole Food, Grain-Free Desserts?
It's not even sweet, but I love the everything bagel bread – it's so delicious!
Starting a new business can be overwhelming—what do you do to relax and unwind?
A lot of massages and trying to take 15 minutes a day to be quiet and grateful.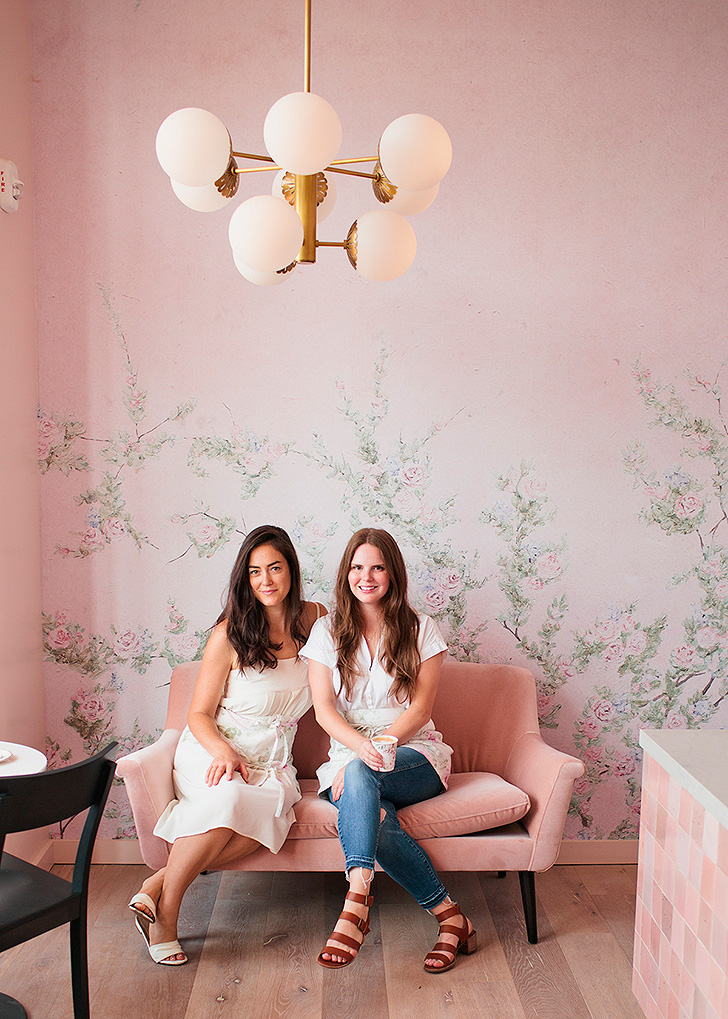 Describe your perfect Saturday.
Sleeping in a bit and making breakfast together as a family.
Coffee or tea?
Coffee in the morning and tea in the afternoon!
How did your Room & Board Design Associate help you with the layout or pieces you selected?
Jay was very thoughtful about our needs – he thought about the furniture from a retail perspective, or what would be the most durable, practical, and elegant.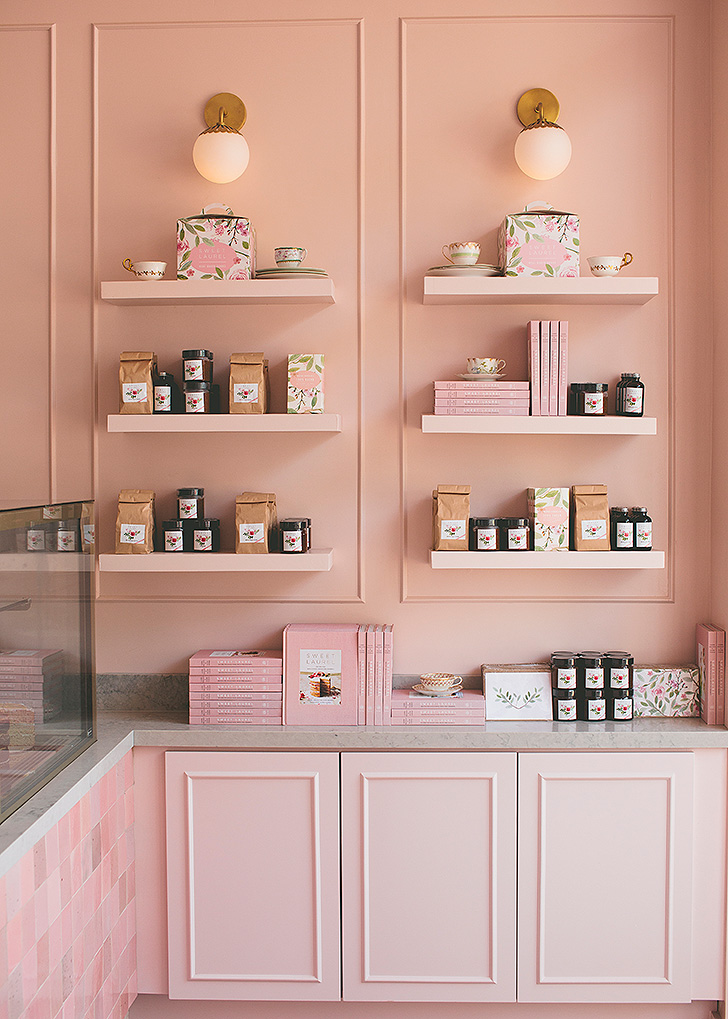 What was installation day like?
So smooth! The guys were so helpful and put everything together for us.
Photos by Stephanie Todaro