After reading our Q&A with GFF: Gluten-Free Forever magazine editor Erika Lenkert, you'll be tempted to gather up your closest friends and family for a night of good food and conversation. We loved helping Erika create a warm and welcoming living room, which also doubles as GFF headquarters. Keep scrolling for a peek inside.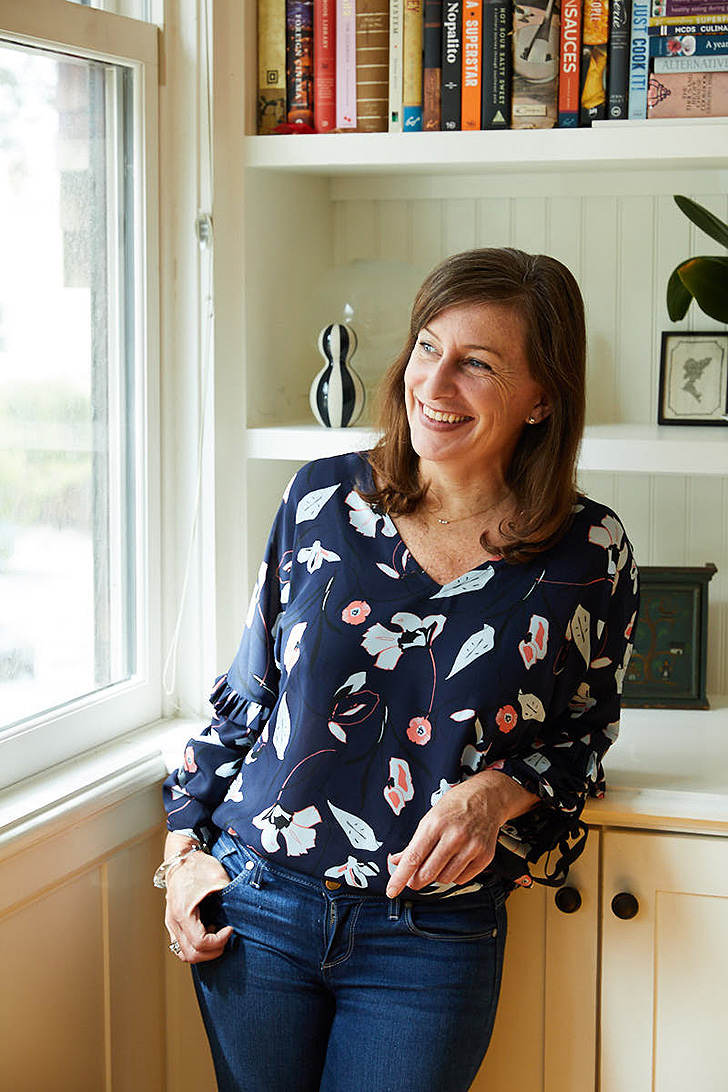 What are some of your favorite gluten-free recipes to make during the holidays?
I'm more into savory than sweet, so I most look forward to GF latkes and traditional Thanksgiving dinner; I make the cult classic Thompson Turkey, but have modified the recipe to make the stuffing and gravy GF. This year, we featured a buche de noel in our holiday issue, and that'll definitely be on the holiday menu, too. It's gluten-free and dairy-free and unbelievably fluffy-moist and delicious. Plus, it's gorgeous!
If you could host your dream dinner party, who would make the guest list?
I already host my dream dinner every quarter. I know I'm supposed to list a bunch of famous people, but to me, the dream guest list consists of my closest friends, who know how to have a good time and appreciate lingering around the dinner table. There is no time that I appreciate life more than during one of these events. Somewhere in the middle of it, I inevitably slide my chair back, look around, and feel wildly grateful and filled with love. It sounds sappy, but it's true.
How do you relax and unwind at home?
I work from home, so I never leave work, which makes it important to find ways to decompress amid never-ending deadlines. After a few hours of work, I usually take a bath (except when I have a team shooting or recipe testing with me). I also leave the computer every now and then and cuddle our cats (they're so much better than fidget spinners or stress balls for getting soothed and centered)! And I lounge with my 13-year-old daughter on the sofa and watch whatever she wants to watch. Finally, I cook; it's moving meditation 🙂
Do you have a favorite family tradition during the holidays?
I'm sentimental, so I'm very into traditions. But the most important one for me is we write a letter to ourselves each New Year, reviewing the past year and setting wishes for ourselves for the coming year. We seal the letters in individual envelopes and each open and read our letter to ourselves a year later. I've been doing it for 20 years now, and it's incredibly insightful and impacting.
Where do you go for inspiration?
I'm a curious and social person, so I explore whenever and wherever I can, both in my hometown of San Francisco and as far as my passport can take me. When I taste something amazing, meet someone interesting, or see something intriguing, it instantly instigates ideas and inspires me to learn more—and share the best stuff with readers in my magazine, GFF: Gluten-Free Forever.
Do you have any advice for someone who wants to cut gluten from their diet?
Yes! Don't think for a second you have to sacrifice! There are incredible GF recipes and products to be had—if you know where to find them. Plus, gluten-free and farm-to-table are essentially the same thing, so if you cook and eat from whole ingredients, you're 99 percent there already. Finally, if you don't know where to turn, check out my magazine (available at gffmag.com, Whole Foods, Barnes & Noble, and more). Yes, it's self-promotion, but there really is no better cooking magazine out there, and we'll tell you everything you need to know.
In your bio you say that you've been obsessed with outstanding dining experiences since you were young. Do you remember your first outstanding dining experience?
I was raised in San Francisco by a food-obsessed single working mom, so I was dragged along to cooking classes, hole-in-the-wall and ultra-refined restaurants, and grocery stores selling the best ingredients.
As far back as I can remember, I was doing dim sum in Chinatown, devouring enchiladas and Mexican hot chocolate in the Mission, and spooning up tapioca pudding at my favorite breakfast joint by Ocean Beach. But my first real break-my-brain food moment came when I was reviewing a San Francisco restaurant called Alan Rondelli for Frommer's in the early 1990s. His "calamari cocktail"—a martini glass of clear, barely gelatinized mint-and-jalapeño-kissed tomato water topped with a thin layer of carrot juice and a single sautéed squid—opened my eyes to a brave new food world.
In your opinion, what makes a dining experience memorable?
A truly memorable dining experience has little to do with the food. Great food can of course be memorable, but the moments that shine brightest in my memory are almost always centered around the company. Surround yourself with people that make you happy, are interesting, and are fun to talk with and you're in for an exceptional time.
Another path to memorable experiences is the unexpected—like when I hosted a bunch of food editors early in my career and the Pyrex dish containing the black cod entree shattered in the oven; I was forced to ask who was game for an evening of Danger Dining. Or when, during a formal, open-air dinner at a resort in Kenya, it literally began raining giant locusts; they were crawling in the salad, swimming in the Chardonnay, tangling in my hair, and clinging to our clothes. It was such an outrageous scene, it became my favorite dinner of the trip, even though I couldn't stomach the bug-filled dinner and went to bed hungry.
Do you have a favorite travel destination for food?
Oh my. I have more than one. But I'll start with Thailand. So much of the cuisine is GF, and there are cooking classes offered everywhere; I always take one or two classes because they're such a great way to get familiar with a culture, plus they allow you to bring home flavorful memories you can recreate anytime. Tokyo is another place where it's easy to create an entire itinerary around culinary adventures, even with GF status, provided you're armed with solid ways to communicate your dietary restrictions.
During a conversation earlier this year, you said, "food is a conduit for bringing people together and having great conversations." Why do you think that is?
Gathering around a table to eat is one of the only times that we all stop, put down our phones, look each other in the eyes, and enjoy a shared, prolonged, pleasurable experience. In my experience, this always leads to great conversations and intimate connections with others. Top-quality food isn't important for success. It's a comfortable, relaxed environment; guest list of people you enjoy; and a relaxed and welcoming host that matters. Bring those things to the party and you create space for people to just be and connect in authentic, nourishing ways. I am so addicted to the joy I get from an evening around the table with friends, I make a point of hosting a meal every quarter. Sometimes I cook everything, other times I ask everyone to bring a dish. But every time, I am reminded that there's truly nothing that I enjoy more.
Interested in GFF? Use the code HOLIDAY to save on print and digital subscriptions.
Headshot by Aubrie Pick, interior photos by Erika Lenkert.