It's an exciting and innovative time in hospitality design. The world is reimagining many spaces in ways we wouldn't have dreamed of a few years ago. And when it comes to hospitality design, the focus is on making guests feel like they're right at home.
Here are a few of the exciting trends we're seeing.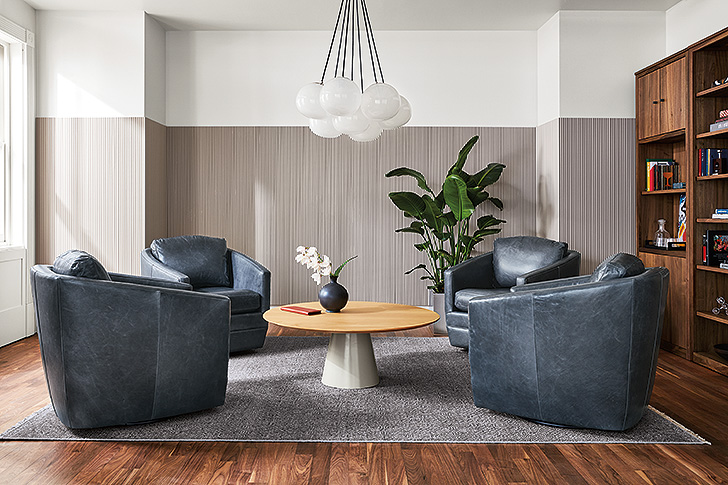 Ford Leather Swivel Chairs
Fabrics, Color & Textures
Choosing the perfect mix of color, texture and fabric is key when designing a commercial space. When it comes down to it, it's the little details that create a memorable guest experience. Lately, designers are looking for ACT contract-grade fabrics. Thanks to these fabrics' high durability, designers can create beautiful experiences in high-use environments. Room & Board's assortment of ACT contract-grade fabrics offers this breadth of solutions.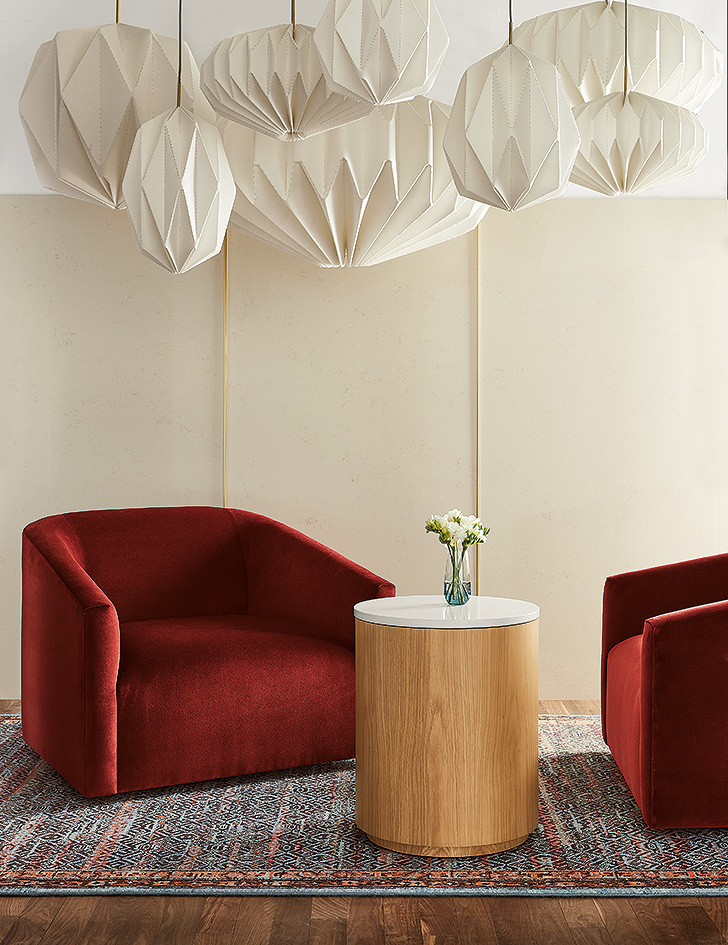 Ada Chairs
Sustainability
There's a growing trend to work with companies putting sustainability at the forefront. At Room & Board, sustainability is a thread woven through everything we do. It's how we've worked for over 40 years. Take our Hudson collection, for instance. Handcrafted in West Virginia, skilled artisans make each piece using sustainably sourced U.S. solid wood. That's why Hudson is both beautiful and durable; an ideal hotel lobby or guest suite piece.
Beautifully designed furniture that's kind to the planet is a trend we don't see going away any time soon.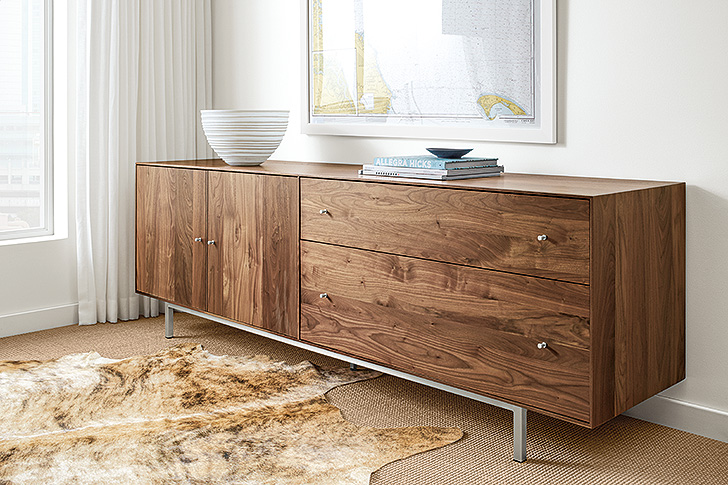 Hudson Storage Cabinets
Outdoor Spaces
A well-designed and comfortable outdoor area provides both restaurants and hotels an important extension of their space. Guests love having an airy, relaxing environment they can use to lounge, sip a glass of wine and socialize. Cozy fire pits and modern outdoor furniture are all the rage right now in hospitality.
As so many new outdoor spaces are planned and designed, finding long-lasting materials, colors and designs is more important than ever.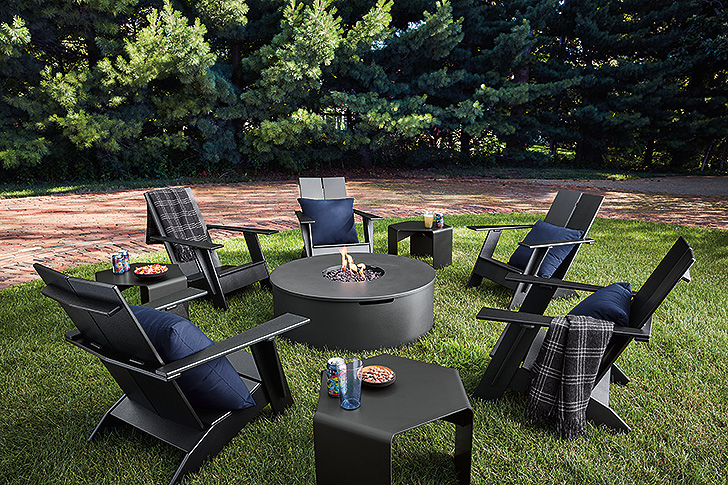 Emmet Outdoor Chairs and Adara Fire Table
Quality & Design
There's always a focus on quality and design, every year. As hospitality needs evolve, many designers are on the search for that perfect show-stopping piece.
That's exactly why we partnered with True Residential® to create Amherst, an innovative modern cabinet with refrigeration. Perfect for hotels and entertaining spaces, it features a gorgeous stone top and wood case that contains an LED-illuminated refrigerator. Amherst is a stand-out luxury piece gaining a lot of attention in the hospitality industry.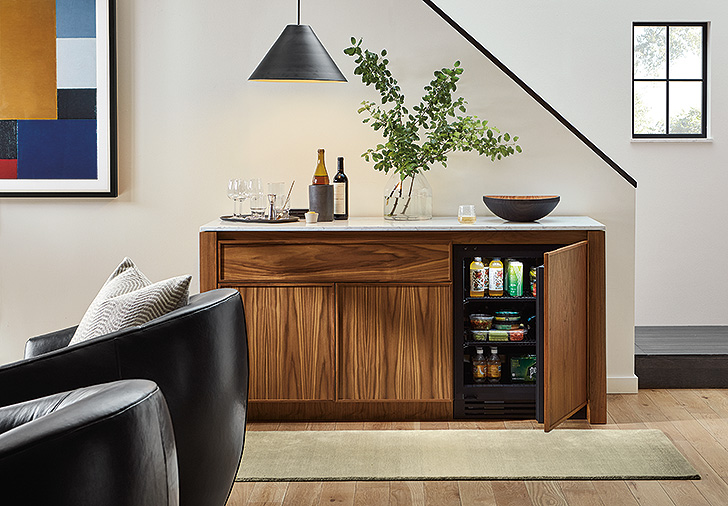 Amherst Storage Cabinet with Refrigeration
Technology & Office
As more people work remotely, the need for creative office spaces just keeps growing. We live in a tech-dominated world, and the hospitality industry continues to be at the forefront. For instance, we're seeing more designs that remove a "check-in" desk and focus more on social and workspaces. Plus, lobbies with multiple seating and co-working spaces are a must now.
We see designers incorporating comfortable accent chairs that are easy to move around, along with small multi-purpose tables like our popular Arlington tables.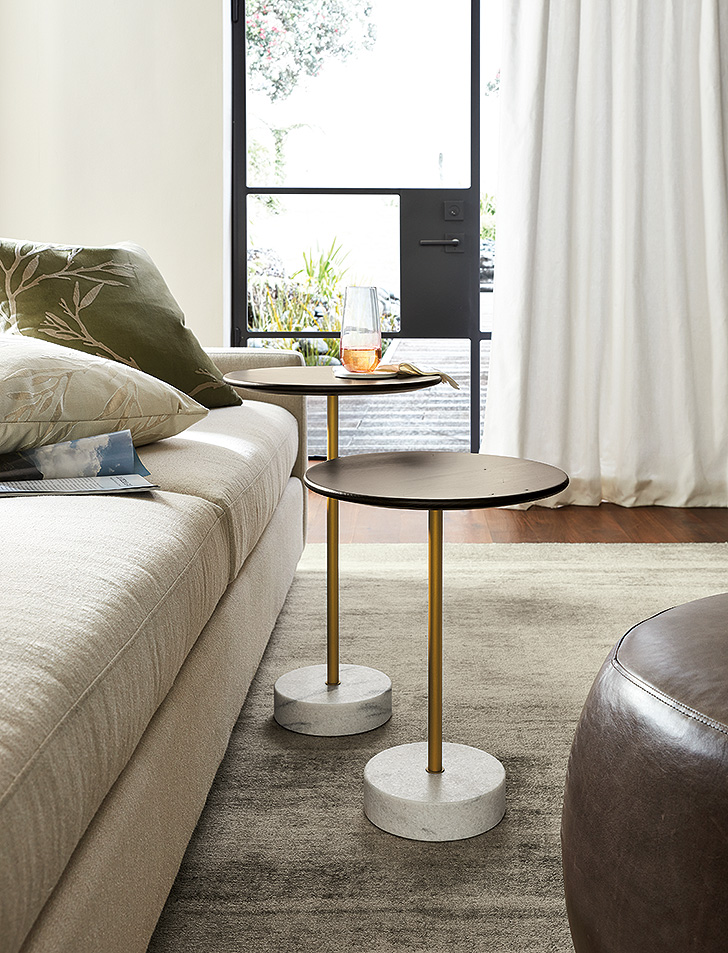 Arlington Tables
As the hospitality industry continues growing, so does the need for inviting, safe and comfortable spaces. It's those personal and innovative touches keeping guests coming back.
At Room & Board, we take great pride in our sustainability practices and our signature modern residential feel. Our commercial-grade solutions can support your next project's success. Contact us today to learn more.
Photos by Room & Board