How to Clean Outdoor Fabrics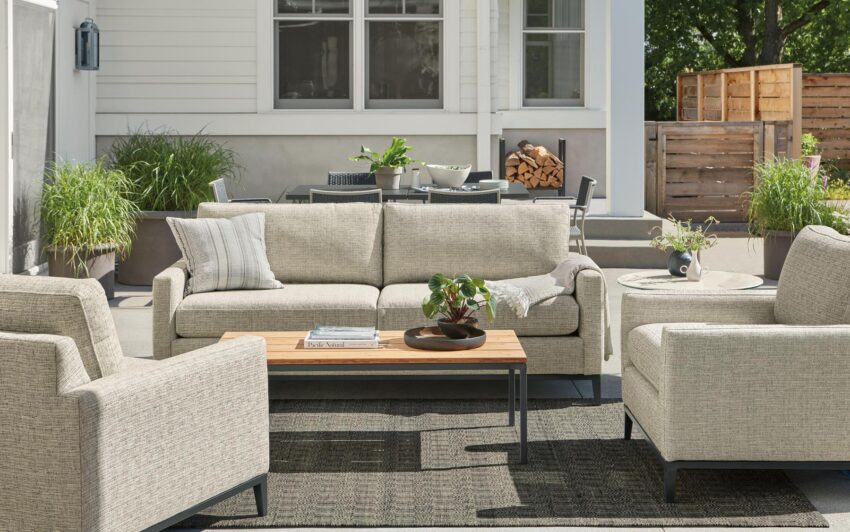 We're all about maximizing the comfort level of any al fresco space, particularly when it comes to soft seating for your outdoor time. And we're just as invested in making it simple to care for outdoor fabrics. It's why we use only the most weather-safe fabrics that provide both durability and easy maintenance. These high-quality fabrics let you clean up the inevitable spills and stains, easy and quickly.
We'll soon share how to clean outdoor fabrics, but first, an overview of our family- and pet-friendly outdoor fabrics and why we use them. We offer Revolution® and InsideOut® outdoor fabrics. They are woven in the U.S., bleach-cleanable and GREENGUARD Gold Certified®. Plus, they offer superior outdoor performance because of their naturally stain- and moisture-resistant fibers.
The Big Cover-Up
Our best cleaning tip: get outdoor furniture covers! Covering your outdoor furniture keeps moisture under control and keeps the dirt away. It also minimizes any fading. We offer right-sized covers that are tailored specifically to fit our outdoor furniture collections. The are super-easy to put on and take off, so you can be party-ready in minutes with dry, pristine seats for all. 
Routine Refresh
Regardless of which fabric is on your Room & Board furniture, here's how to care for our outdoor fabrics: Regularly brush off any loose dirt and spray the fabric with your garden hose for a quick clean. If you aren't able to do this in your outdoor space (like on a balcony), vacuum the fabric with an upholstery attachment to remove dirt and dust. Easy.
Stains Happen. [Insert Shrug.]
Stains? Not a problem. We like using Golden Care or Folex® spot cleaner, or a mix of ¼ cup mild soap with a gallon of water. A soft-bristle brush or a sponge will help you lift the stain from the fabric. Once the spot is removed, give it a good rinse because any soap residue will attract dirt.
Getting Serious About Cleanup
If you have a tough stain, some mildew or the need to disinfect, ramp things up with a bleach solution. Here's the recipe to deep clean outdoor fabrics: 1 gallon of water, ¼ cup of mild soap, and 1 cup bleach.
Grab a bucket of the bleach-soap mix and a soft-bristle brush or sponge. Wet the entire surface (to prevent water rings), let the fabric sit for 15 minutes and then scrub. Give the fabric a thorough rinse with the hose to remove any soap residue, but be careful about getting the rinsed-off cleaning solution with bleach on your plants or grass. A driveway or patio is the best place to clean and rinse.
For an even deeper dive into outdoor fabric care, check out our detailed guide. And if you're still in the shopping phase, you can learn about all our different outdoor furniture options here, and find the perfect solve for your best (outdoor) life.