Kate Arends of Wit & Delight is everywhere these days. The blogger, designer and stylist extraordinaire has made a name for herself locally—here in Minneapolis—and across the U.S.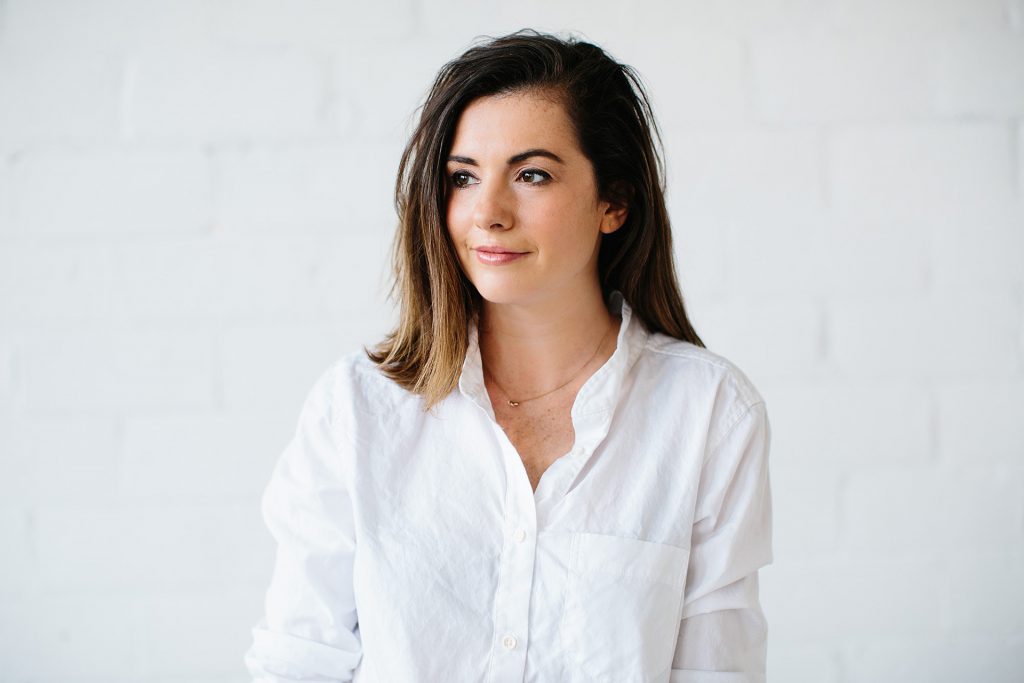 Martha Stewart Living featured Kate as a tastemaker in the July/August issue. And earlier this month, she launched a limited-edition collection of entertaining products for Target inspired by artisan food and craft beer. Amidst all this activity, Kate has managed to find time to become a mom to a new puppy and a first-time homeowner with her husband, Joe.
We admire Kate's style and design aesthetic so naturally, we were flattered when our Hutton sofa wound up in her living room. We took the opportunity to connect with Kate and asked her a few questions.
Which design movement of the past do you admire most?
Hands-down: mid-century modern. It was the beginning of the democratization of design, and proves style can follow function without losing beauty in the process.
What advice would you give to a couple moving in together as they work to blend their personal aesthetics?
This is a tough one, but it's so important! Try to live in your space for a little while before making any décor decisions. It helps both parties decide what they like about the space and what they want to change. The other piece of advice I have is to always ask your partner before making a décor purchase or change. I've taken it upon myself to make decisions I thought my husband wouldn't care about, and it put strain on the entire process. In the end, he rarely fights me on a change, but wants the opportunity to voice his opinion. In the end, it's most important to be considerate of each other's thoughts and opinions. When you disagree, weigh the pros and cons and make the decision based on what is best for your relationship. You'll end up designing a space that is a reflection of you as a couple.
If you could live in the home of any popular TV series, what would it be and why?
I've always had a soft spot for traditional homes, especially the stately row houses in Washington, DC's Embassy Row. So right now, it would be Frank and Claire Underwood's home from the Netflix series, "House of Cards."
Three tips on becoming the hostest with the mostest:
Have fun! That's the point after all, isn't it? I try to not sweat the small stuff and be ready to improvise if a dish or seating arrangement doesn't work out as planned.
The biggest design mistake I ever made was:
Buying furniture that is either too big or too small for our space. Again, it's best to live in your space for a bit before you make any big design decisions!
Where do you go for inspiration?
I spend a lot of time using Instagram and Pinterest for inspiration, but I find myself most inspired by decades of the past. I'm on a John Hughes movie kick right now, and I love how his characters dressed in the 80s and early 90s. The color palettes are insane! Dusty pinks, browns, creams, faded turquoise. Lovely.
What are you currently reading?
Right now, I'm just trying to keep up with the news. If I get through the entire NYT Sunday section (and magazine), I feel ready to start Monday with a bang.
What's the best advice you've ever received?
There will be people in your life who do not like you. Be kind, but don't change to appease them. (You'll sleep better at night.)
My favorite scent is:
Winter Unisex Fragrance by Dasein. You can find it in the Twin Cities at Idun on Selby, or online.
What's your biggest pet peeve?
Self-promotion veiled in sincerity.
Describe your ideal weekend.
Sleeping past 7 a.m., a hearty breakfast cooked at home, time with the paper. Then maybe a walk along the river (especially with the leaves changing!) followed by an afternoon reading on the couch, snuggling with our puppy, listening to the radio. Quiet time at home is at a premium these days and home is where I feel best.
Where's your favorite place to dine in the Twin Cities?
Photo from Wit & Delight