Mike Hines of Chicago-based epoch.floral is a world-renowned florist who creates extraordinary arrangements that beautify any space. He has done everything from weddings and parties to corporate events. Mike recently led an interactive demonstration at Room & Board Chicago. We took the opportunity to ask him 10 questions to obtain tips and tricks to spruce up your home this holiday season.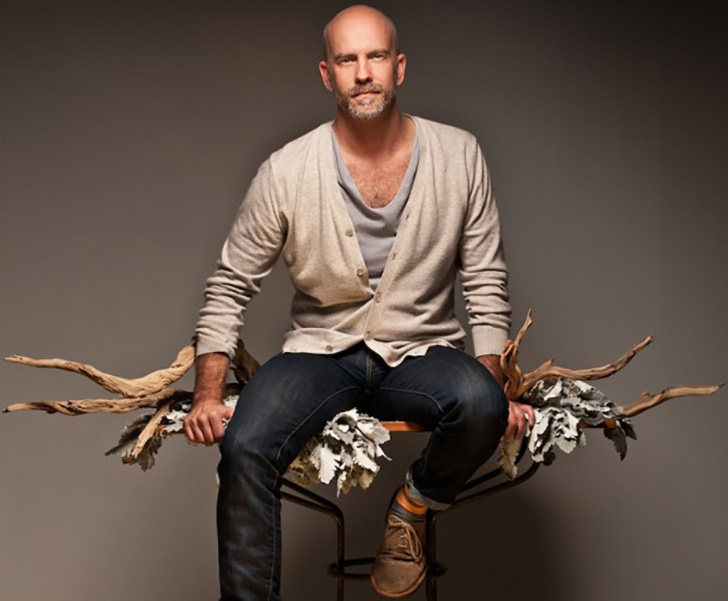 Have you always had a passion for floral design?
Not always. My passion was in retail and visual design for many years. After I left the retail world I concentrated on designing showrooms and doing interior design. I fell into the art of floristry when on a trip to Rome. A kind Italian man took me in as his apprentice, taught me the technique and gave me "permission" to create my own style.
We understand you don't follow any "flower rules," but what's one thing every beginner should know about floral arranging?
Use warm water, except for tulips. The warm water surges to the flower faster than cold and helps to develop the bloom.
What should shoppers look for when selecting a pre-made bouquet?
Fresh flowers. Flowers are shipped daily from all over the world. The minute we put them in water we begin to speed up the "dying" process, if you will. A fresh flower should last at least five days when cut and placed in warm water. Befriend the florist you are buying flowers from and they will let you know the best days to buy them. Tuesdays and Thursdays are typically best.
What's the best way to extend the life of a floral arrangement?
Flowers like cool spaces and no direct sunlight. The less you change the water, the better. However, if you should change the water always give the stems a fresh cut.
What's your favorite flower or plant?
I've never been one to choose favorites. I tend to change my mind daily and seasonally based on the color, look, attitude, etc. of the flowers available. But if I was held against a wall at gunpoint, I'd choose the carnation—long-lasting, sweet-smelling and with all the new breeds and colors, they make for the perfect, most elegant, understated flower en mass.
What flowers are most popular and on-trend right now?
Flowers don't have trends. Color does. Right now I'm seeing a lot of requests for orange/purple combos and all white designs.
Succulents—here to stay or going away?
Here to stay because that's exactly what they do. With little care they don't die. However, for a wedding centerpiece, I find them to be dirty and lazy.
Which floral installation have you been most proud of and why?
I'm most proud of the floral installation I did at the Park Hyatt Chicago. We hung hydrangea and greenery vines down eight stories on the side of the building. It was simple, had impact and was logistically complicated. It swayed in the wind while dancing above the heads of the pedestrians passing by on the sidewalk. People stopped and took photos. That's the defining reason I do these sorts of installations. Whether or not it's liked or hated, people stop and look. Just stop and look. That's always been my goal. I create moments. Fleeting moments.
The holidays are right around the corner. What's the best way to spruce up a home?
With a Spruce. Get a large pot, paint it gold and plant a Spruce. No need for twinkle lights or gaudy ball ornaments. Just a few well placed Spruce trees will liven up your home and make it smell absolutely terrific.
When you're not floral arranging, what other activity captivates you?
I'm a big advocate for Bikram yoga to clear my mind and stretch my body. After an hour and half in 105 degrees being solely within myself, it refreshes my drive and creative thoughts and clears out the mud, which packs down my mind and soul. I'm also a homebody. So being at home cooking, baking, cleaning, writing, napping and entertaining makes me feel perfectly content removed from the fast and crazy world outside my front door.
Photo from epoch.floral