When our friends at GRAY magazine, a modern design publication in Seattle, moved to a new office, we jumped at the chance to help them furnish it. Here's a look at the project, the plan and furniture that turned an industrial space into a bright modern office.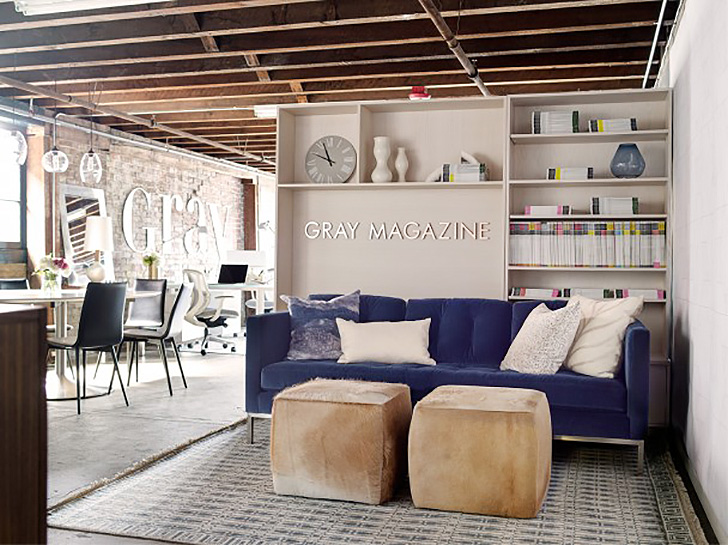 The Project
Located in the historic Rainier Brewery bottling plant in Seattle's Georgetown neighborhood, GRAY's new office was a blank slate with brick walls, concrete floors and big windows (at top). Stacy Kendall, GRAY magazine's Special Projects Editor, said, "It's a challenge to figure out spaces within an open work environment. We had no idea how it would work." They took advantage of Room & Board's free design services to help maximize the small space and create a look that matched the magazine's modern vibe.
The Plan
Melodie Harrison, a Design Associate in our Seattle store, kicked off the planning by getting measurements of the room and talking with GRAY about what they needed. They wanted a bright office and a sense of privacy for the team despite the wide open space. Specifically, they needed desks for six full-time employees a large table for meetings, a lunch prep area and mirror. An entryway area to welcome guests was also a must.
With GRAY's office dreams in mind, Melodie created three different floor plans. "I love doing layouts," said Melodie. She also pulled together furniture and color ideas, then invited the team to the store to see everything in person.
After test driving office chairs, plopping down on sofas and looking at material samples, the team made their final decisions. Melodie kept everyone on track and within budget by creating an online Wish List.
Before the order was placed, a final floor plan was created to show where each piece of furniture would be used. On installation day, it helped our delivery team know where everything should go.
Shawn Williams, GRAY's Founder and Publisher, said "We threw the seemingly impossible at Melodie. Our small space needed six workstations, flex desks, a conference table, an entry area, kitchen, and storage. Melodie packed it all in in a way that feels open and airy, and of course, beautiful."
The Products
GRAY knew they wanted a bright and modern space. Melodie helped them land on a mix of materials to achieve that look and help the office feel balanced.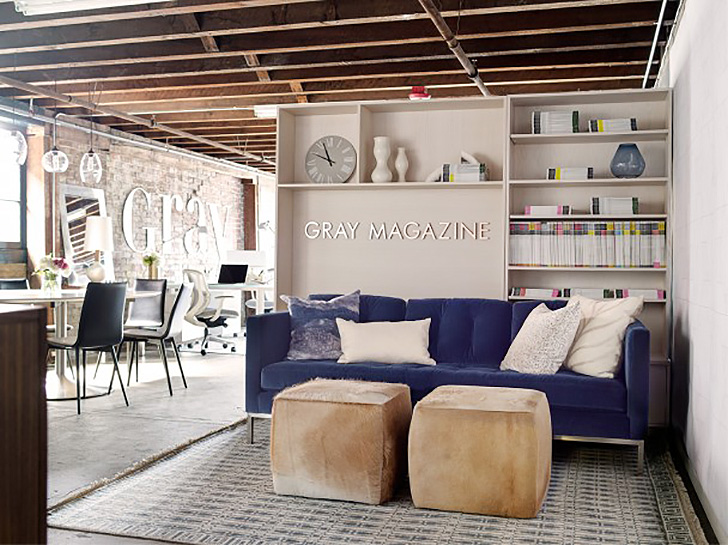 The entryway is a welcoming spot for guests but gives the team some privacy, too. Keaton bookcases set a modern tone as you walk in the door.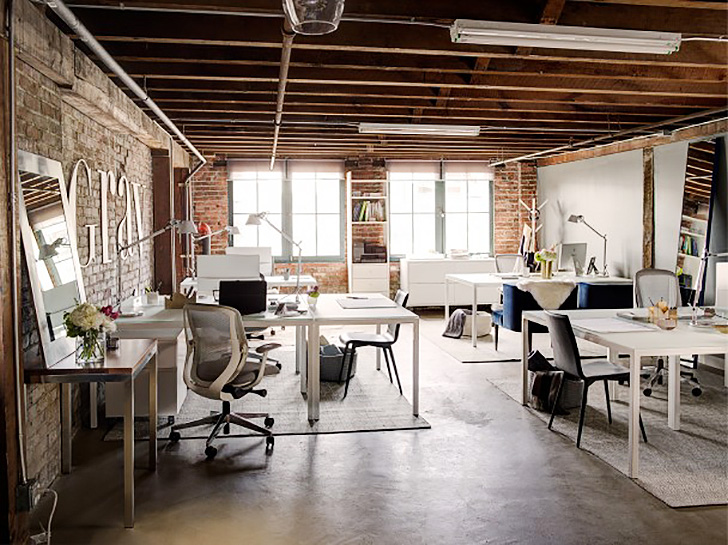 The open concept work stations make use of two 60×30 Pratt desks placed back to back, flanked by another 60×30 desk for interns, extra space and impromptu desk meetings. The team tested every one of our office chairs and decided that the Slyphy® office chair was their favorite.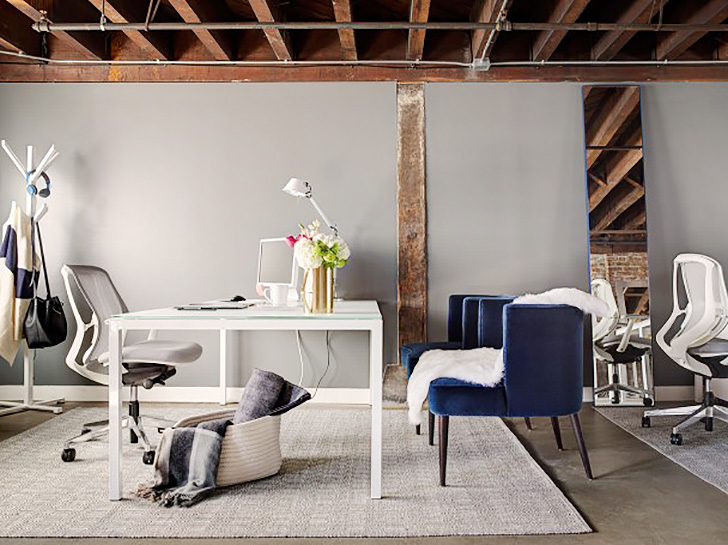 Shawn's large 78×42 Pratt desk is sized to accommodate desk-side meetings. Lucky guests get to relax in her velvet Chloe chairs. A sheepskin rug and Kori basket with throw blankets keep things cozy in the chilly winter months.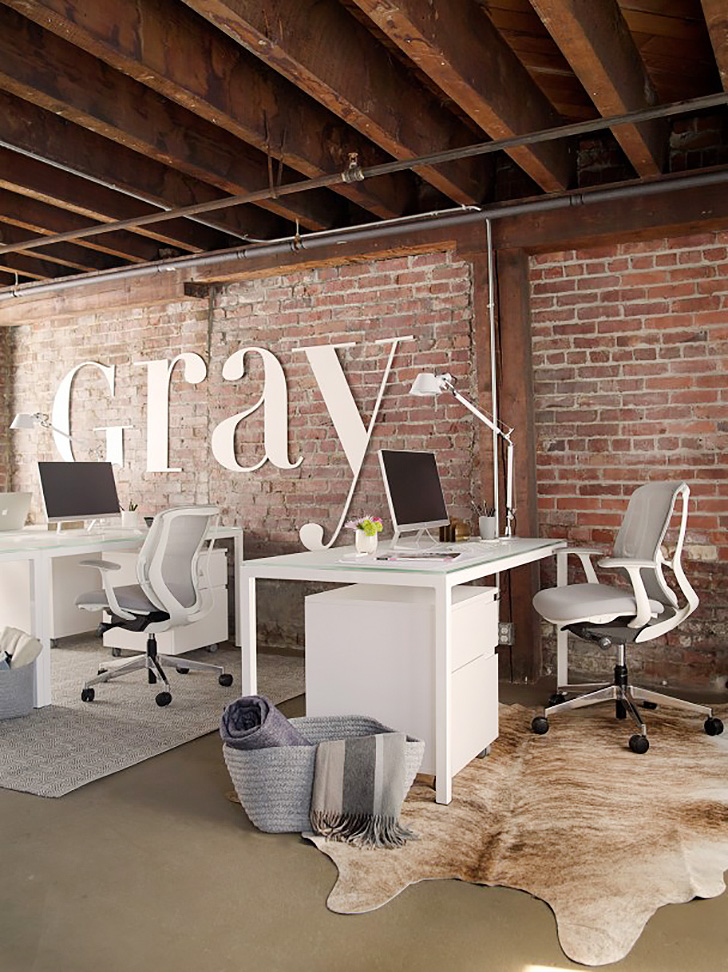 A cowhide rug under Associate Publisher Dixie Duncan's desk gives a nod to her home state of Montana, and coordinates with the Lind cowhide ottomans in the entryway. The other desks are each anchored by an indoor/outdoor Sequence rug, a durable flat weave option ideal for office chair casters.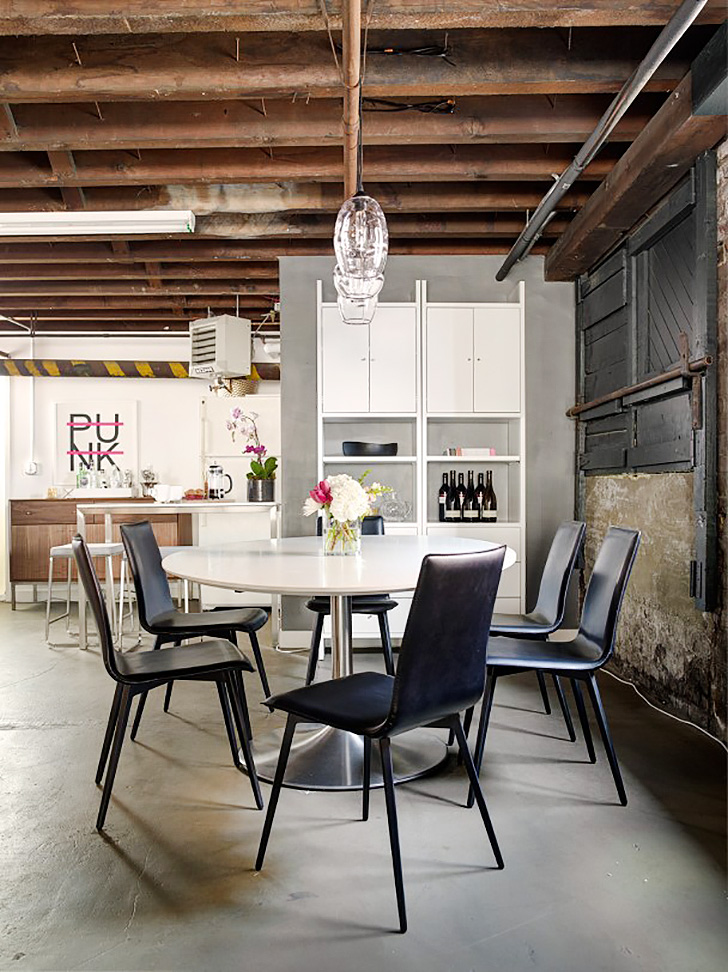 The oval-shaped Julian table is where the team gathers for meetings. Extra Hirsch chairs at the desks are pulled over as needed. Addison cabinets in crisp white hide extra office supplies. A Portica counter table serves as a coffee and lunch perch and the walnut Delano cabinet stashes kitchen essentials.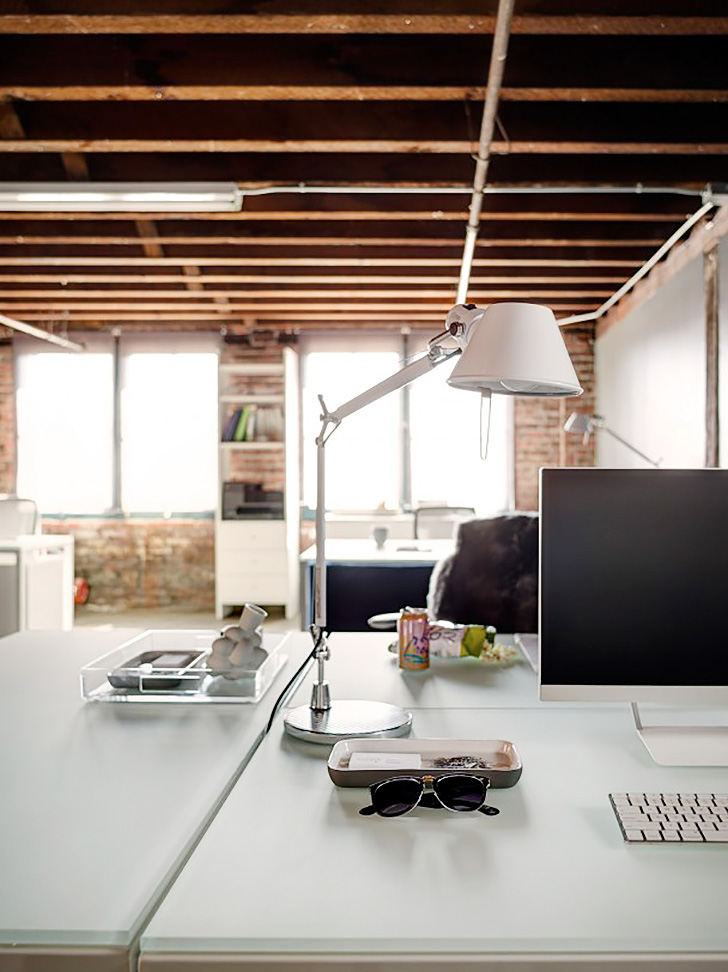 Given the building's history as a beer bottling plant, the team loved the idea of incorporating some glass elements, like the white glass desktops and hand-blown Glow pendants above the meeting table.
Shawn, Stacy and the rest of the team at GRAY are loving their new office. It's become a place they're happy to work in every day and a place they are proud to show visitors. "Melodie not only captured my vision for what GRAY's office would look like," Shawn shared, "it turned out better than anything I could have imagined."
Check out this time-lapsed video of the office transformation:
For more office inspiration and free design help for your work space, visit Room & Board Business Interiors.
Photos and video by Alex Hayden for GRAY magazine