Nate Wissink doesn't live in California.  He doesn't have coastal proximity. He doesn't have eternal seasonal bliss. Technically he doesn't even have the free time to talk to me (but he happily makes some anyway—thanks, Nate!). Nate Wissink does, however, have the passion and skill set to create a Minnesota home that beautifully reflects each of those inviting elements.
Design inspiration
"My wife and I always had an affinity for California architecture and California-inspired living," the principal and business developer of Elevation Homes – Streeter & Associates tells me. "But we live in a place where the connection to the outdoors is difficult for six months out of the year. We had to get creative. So we made the craftsman side of California."
The Wissink's architect, Andrea Swan of Swan Architecture, initially connected them with the property. "I would say this house is in the spirit of [Joseph] Eichler and resembles his homes," says Nate. "Though he never did two-story work," he adds, much to every fact-checker's delight.
The architecture of Nate's home maximizes the use of glass and windows to promote a sort of pseudo-perennial outdoor living. "Since we can't live outside year-round, we wanted to still feel connected to the outdoors. The large windows let us see through to the backyard from the front yard." Additionally, the space capitalizes on light finishes and a mix of textures to give it a warm, coastal vibe.
Furniture selection
Nate worked with Design Associates at Room & Board Edina to find furnishings that complemented his unique home. "The dining table has a mid-century quality to it but the blonder materials speak to the lightness and airiness of the space," he says.
The kitchen
The living room
As for the living room, he wanted to make sure the furniture felt livable and comfortable. "You've got to think about comfort. Am I going to want to sit here for three hours or not?" Nate tells me how it's easy to get caught up solely in design, but understanding you're making a house a home means thinking about all the elements that make up a piece of furniture.
"There's a tendency for modern furniture to not be comfortable. That's not the case with Room & Board."
Nate also tells me how Room & Board furniture makes it easy to create different moods within a space. While most of the home gives off those light, airy hues, he wanted to make a moody, modern statement inside the den for design juxtaposition. Here's the den, just off the living room.
The entryway
"The textures, colors and materials available at Room & Board are so versatile and that solves a big piece of the design puzzle in terms of making something unique, yet cohesive, to your environment."
Navy shiplap wraps around the den and continues to make a statement in the entryway, alongside a bold storage piece and artwork. The spalted sugarberry Steen cabinet and water-inspired Ayomi Yoshia print playback to the nature-inspired vibes of California architecture, aiding the unique-yet-cohesive puzzle Nate referred to.
"At the end of the day, when I think of true value, you get Room & Board. You get design, quality of materials and a functional, enjoyable experience out of your furniture."
A multi-generational home
It was also important for the Wissinks to make their dream home "multi-generational." What does that mean? "It's basically building flexibility within the home to evolve as your needs change with life," Nate says, proving he's the strongest advocate of the company and the team he works with. "I'm lucky to work with an incredible team of people who guide clients through this very journey every day. Elevation Homes always takes that approach of asking: where do you live every day? And then how can we make those spaces as flexible as possible?"
Take the family's cabana, for instance. Right now, it's a covered space that flanks the pool where kids can hang out, play cards, grab a shower after a swim. Longer term, it could be the perfect guest suite. Long-long term? One heck of a master suite.
Open to the outdoors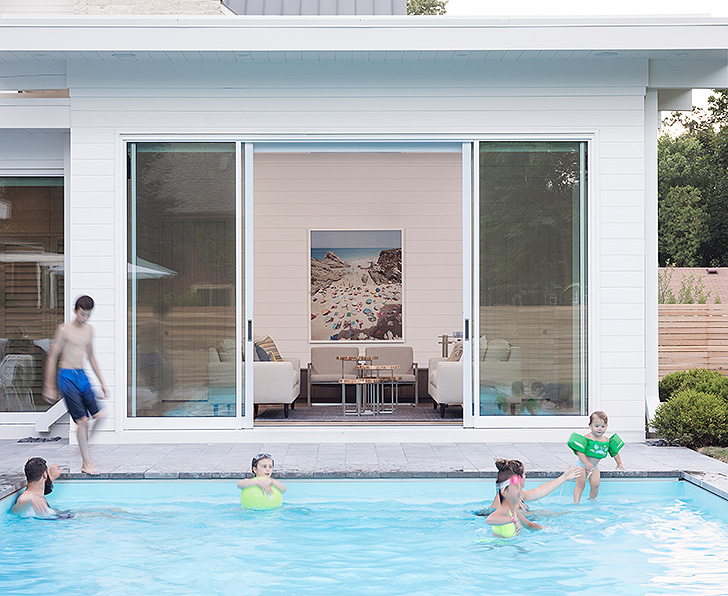 Much of the furniture in the cabana was chosen because of its durability. The Series rug is handwoven from polyester and resists stains and fading. Plus, it's easy to clean and has a flexible backing that prevents the edges from curling. The Lira chairs are draped in Sunbrella® fabric, one of our best fabrics for family-friendly furniture.
A sprawling back patio connects every part of the main level to the outdoors, paying homage to outdoor living (when the weather allows). The best part? All of our outdoor furniture can withstand anything the weather throws at it. Yep, even Minnesota winters.
Thanks, Nate!
"I feel like Room & Board really helped us capture our beachy quality with a northern feel to it. In general, Room & Board has been, to me, the bellwether modern furniture company in the United States. The breadth, depth, and quality of the craftsmanship and materials for the price point is second to none. Nobody does it better."
Photos by Landmark Photography