What can you fit in a New York apartment? How about a dining table that comfortably sits six people? Or a sofa you can actually lounge on? And three separate seating areas on the terrace? Room & Board New York Design Associates Nicol and Lynn worked with real estate company Douglas Elliman to furnish a model unit in a new development in Hudson Yards that, by a feat of magical floor planning, contains all three.
Newly constructed in Hudson Yards, The Lewis sits on the west side of Manhattan, near Chelsea and the Room & Board New York store. When asked if Room & Board wanted to get involved with staging one of the luxury apartments, Nicol and Lynn were excited to let their creativity lead them. "We've worked on a couple model apartments together and it's always fun to be a little more creative without too many guidelines," Nicol told me. "It's great to get creative outside of the showroom."
And into a lavish New York apartment? I bet.
But the project didn't come without restraints. "We work hard to make sure the furniture we select fall within a certain budget," said Nicol. And size, of course, was a consideration.
About the space
"It's a warm, sophisticated space," Nicol and Lynn said, "so it immediately lent itself to Room & Board's warm, classic furniture." What's different about the building, though, is the use of dark metal and natural steel, versus the stainless steel that seems to pop up in new construction. Nicol and Lynn knew right away they'd want to use warm tones to balance the darker building materials.
About the furniture
"[When we met with Douglas Elliman], they said they pictured someone in that space who loved to entertain and host." Taking cues from the development group and the building's architecture, Lynn and Nicol knew they wanted to achieve two main things with the apartment. 1. Use warm tones to brighten it up and 2. Bring larger scale furniture into the space. Between a sofa, two accent chairs, a larger scale dining table (plus six chairs) and a fully outfitted terrace, I'd say they created a floor plan for New York's host of the year.
On staging day, the Room & Board delivery team did what they do best. Kicking off their shoes before entering the space with the furniture, they moved a truck-full of furniture into the apartment in less than a day.
"We got a 91-inch sofa into a New York apartment – on the eighth floor. No problem."
(P.S.  Learn more about our full-service delivery. For just $99 per trip, we deliver unlimited items anywhere in the contiguous United States.)
The outdoor space
"We purposefully have the patio furniture facing in, so it feels like an extension of the living room – making the apartment feel larger," said Nicol. "I think our outdoor furniture surprised the folks at Douglas Elliman the most. They couldn't believe it was for the outdoors because it looks just like indoor furniture." The added benefit to Room & Board outdoor furniture is you don't have to worry about storage space in the winter. It can withstand the harshest conditions. (We're based in Minneapolis, after all.)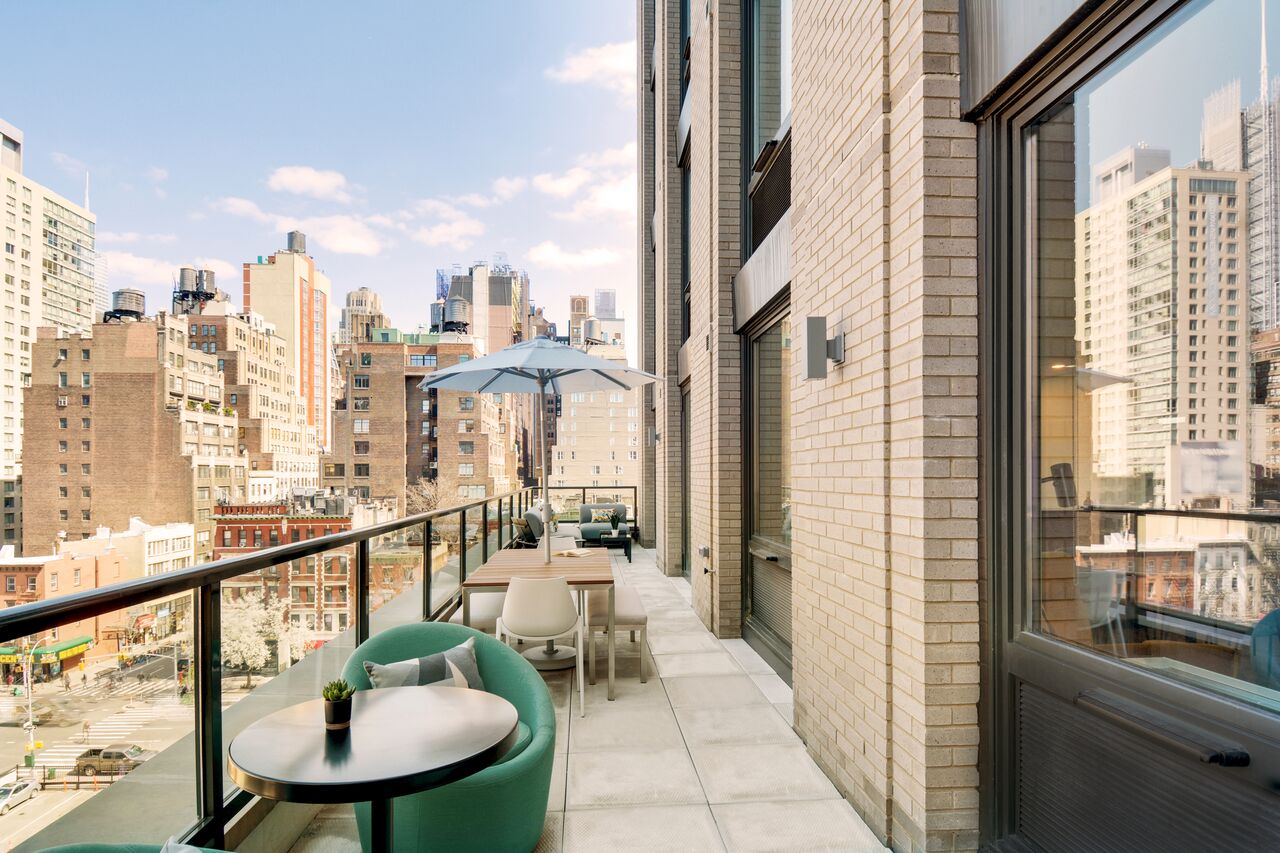 Both Design Associates echoed their excitement about continuing the relationship with Douglas Elliman. Everyone deserves good design – Room & Board can help you get there. Floor planning and free design services are always available to you, whether in-store, over the phone or by virtual video conference.
Photos courtesy of Douglas Elliman Development Marketing