Whether it's breakfast time or happy hour, there's something about sitting at counter or bar height that makes an everyday event more fun. Read on to find the perfect bar or counter stools for your space.
Counter vs. bar stools
Counter height tables and kitchen islands are typically 36 inches high which makes them a great food prep station or work surface when standing. So at 24 inches high, counter stools work as the perfect seat companion. Meanwhile, bar stools are typically five to six inches taller than counter stools, so they're ideal for a traditional bar counter between 40 and 42 inches high.
Here's all that math again:
36-inch high counter table or kitchen island + 24-inch counter stool = perfect counter solution.
42-inch high bar table + 36-inch high bar stool = perfect bar solution.
Don't worry. We've made it easy to shop for counter & bar stools. First, you'll need to narrow down counter vs. bar stool, then you can start exploring the styles and functionality that works for your space.
Style
Leather? Fabric? Wood? The material you choose for your counter or bar stools reflects your personality. Moreover, choosing to complement the space with like-colors or adding a beautiful contrasting hue brings together your design style.
We love how the sleek look of our Hirsch stools keeps this dining space modern. The white bonded leather pulls in the lightness from the rug, and acts as a contrast to the dark island and counter top.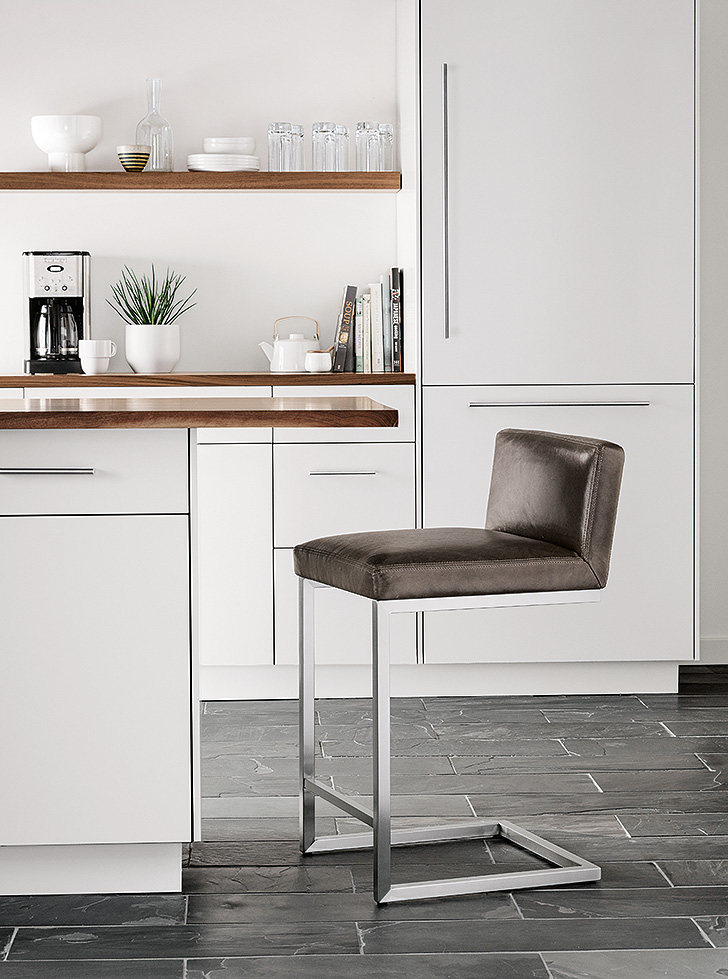 Lira bar and counter stools beautifully blend a steel base with an upholstered seat.
A mix of materials is a great solution to balance your dining space. Here, the cool tones of Lira complement the warmth of the wood and the white counters.
If you're looking for a counter or bar stool that transcends trends, opt for natural wood. Our Afton stools are super versatile and highlight the beauty of wood and timeless design. For a streamlined look, we paired Afton in maple with a maple counter top.
Functionality
Features like swivel bases, armrests, seat backs and height adjustability help solve your "highchair" needs.
A great option for kids or any bar or counter that gets plenty of use, the Leo stool is packed with style and function. A polyethylene seat holds up to wear and tear, while a chrome base looks sleek and modern. Adjustability means Leo will work no matter the height of the counter, the bar or the person! 
Our Cora counter stools also have swivel functionality—a big hit with kids or kids at heart—so you get the best of both style and function. If the majority of your meals take place at the counter or if you want guests to be comfortable throughout the evening, fabric stools or leather stools maximize comfort.
Photos by Room & Board