Q&A and Dining Room Reveal with Cosette Posko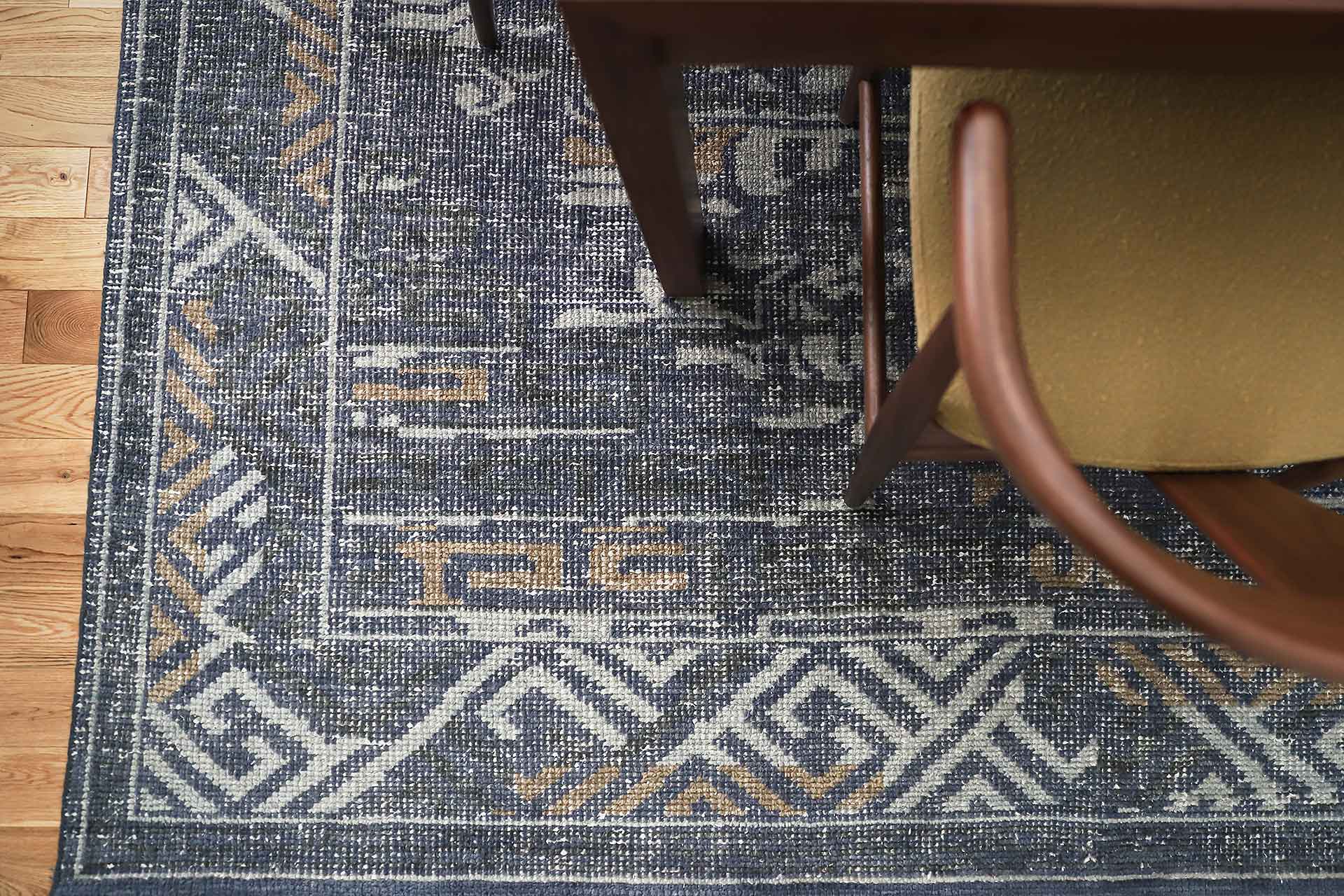 The dining room serves a variety of functions these days. No longer reserved for just mealtime, many of us have turned our dining rooms into a multipurpose space to work, eat and play. Which is exactly why Cosette Posko of Cosette's Kitchen came to us for help to design a calm, elegant dining room to spend time with family. Read on to see the finished room and learn more about Cosette's passion for Lebanese cuisine.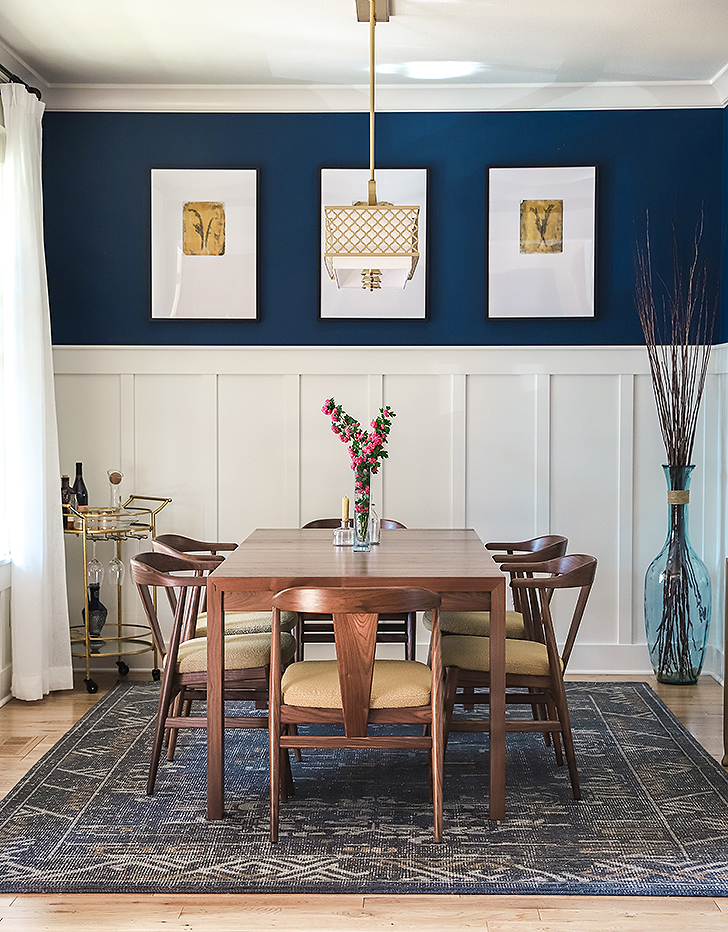 Shop this room: Walsh dining table, Evan chairs and Amira rug
What was the most important element in designing your dining room?
I really wanted a space that was both elegant and comfortable. We spend a lot of time at the table, whether it's enjoying a meal or spending quality time together playing games and puzzles. I wanted our dining room to be a space that combined both of those elements and also a space that creates a calm, welcoming vibe. Elegant but not stuffy!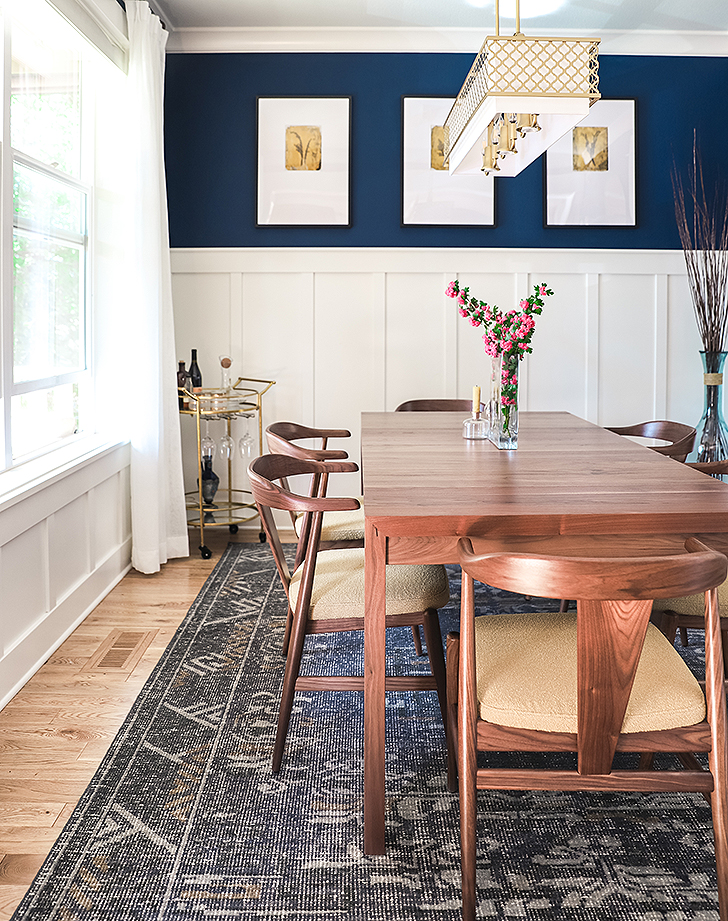 What's your favorite meal to enjoy with friends and family?
When having friends and family around the table, I usually make some type of chicken, a side of Toum, fattoush salad, hummus and roasted potatoes. A simple comfort meal that everyone enjoys and the flavors are perfectly balanced with one another. The mild chicken with the strong Toum, the lemony fattoush salad and salty, crispy potatoes all go so well together.
Where do you go for inspiration?
Inspiration is everywhere! I have always been inspired by my parents, especially when it comes to traditional Lebanese cuisine. I admire them immensely and feel that much of my inspiration and influence over the years has come from them. Creatively, I'm inspired by fellow bloggers, Pinterest, magazines and really anything around me that I see in my city.
Do you have a favorite recipe?
My favorite recipe to eat is Kibbeh Nayeh. Kibbeh Nayeh is a delicious Lebanese version of beef tartare: raw meat is combined with a blend of herbs, spices and bulgar. This mixture becomes a smooth paste-like pâté. It's enjoyed with a drizzle of good olive oil, raw onions and pita bread. It would be my last meal if I had to choose. My favorite recipe to cook is my Lamb Tacos: Tacos Arabes. Succulent lamb is stuffed inside pita and topped with a cabbage slaw. It's full of flavor and something impressive to make for people, even though it's very simple to execute.
What's the most memorable meal or dining experience you've had?
Several years ago, a new restaurant opened in Portland. It was elusive and just a few murmurs about it. We had a reservation and upon arriving, we were led to the back where a secret door with a lever opened to reveal a second restaurant (yes, an actual levered secret entrance!). Upon sitting down to enjoy the prix fixe menu, I thought I knew what Thai food tasted like, but my misconceptions were completely shattered and I fell in love with this unique and exquisite meal. To this day, it's probably one of the best dining experiences and food I've ever tasted.
Who taught you to cook?
I was very fortunate to be immersed with amazing food as a child. Part of that is because of my Lebanese roots. My father is a trained chef who worked in restaurants when I was younger and then went on to open his own pizza shop. He would make dough and fresh rolls for grinders and hoagies daily. Many afternoons were spent in the pizza shop while he and my mom worked. While my father influenced me greatly, my mother was the one who cooked at home. She made every single meal for us, all from scratch. My mom is an incredible cook, so between her and my father, I have had the best influence of finding my way around the kitchen. Today you'll still find me calling my dad and mom asking them how to make a special dish I grew up with. It wasn't until I had my own family that I really began immersing myself in the kitchen. I always loved baking and it came naturally to me, but cooking took some time and once it became necessary to cook for a family, I knew I needed to make dishes like my parents made for me growing up.
Disclaimer: Room & Board gifted Cosette Posko the furniture pictured.
Photos by Cosette Posko