Case Study: Historic Holden House Apartments

Partner: Holden House Apartments
Location: St. Paul, Minnesota
Category: Apartments and common areas
Designer: Kelly Allen Designs, LLC
Photography: Wing Ho, Canary Grey
Architect: Tanek
Project Coordination: Room & Board for Business
The Goal
A Hebrew inscription on the facade of Holden House reads "don't discard me because I'm old". That sentiment guided the reclamation of the 100-year-old building. Originally a senior home and important part of the neighborhood, Holden House now has a second life as luxury apartments that celebrate its historic details.
When it came to furnishing this special place, the vision included open and airy spaces enhanced by the unique backdrop of the original architecture. Kelly Allen, a former Room & Board Design Associate with her own interior design firm, put together all of the social spaces and four guest apartments at Holden House using Room & Board furniture. A belief that "setting creates community" was the guiding force in choosing warm and welcoming modern furniture.
For Kelly, it was her first commercial project and she wanted to feel confident it would be handled in a way her client was happy with. "As a former 15-year employee, I know firsthand that Room & Board outshines its competition. And as a small business owner, I experience Room & Board through a different lens now," shares Kelly. "My business operated with great ease and efficiency while choosing 400+ Room & Board items for delivery to the historic Holden House Apartments in St. Paul."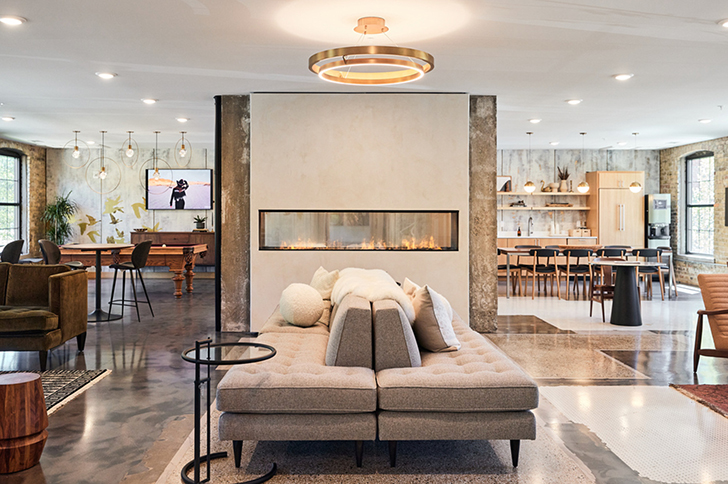 The Process
When Kelly took on the project, she looked at pieces from Room & Board and as a package through a commercial interiors dealership. After looking at both prices for products and fees for services, Room & Board's above-the-line pricing made the difference. As part of our business program, Kelly was able to use services tailored to design industry professionals.
She worked closely with Nicole Gaynor, Business Customer Experience Manager, to confirm what products–including custom pieces–would be available for delivery on the project timeline. Nicole also helped coordinate an efficient delivery with hundreds of pieces moved in by a large team of Delivery Associates. "We sidemarked everything by space and we posted floor plans on the walls, making it clear where every product should go," explains Nicole. "It helped the process flow smoothly and efficiently."
Kelly and Nicole also used Room & Board's online wish list, set up by room, to communicate with one another through the process. This was also handy when Kelly visited our store to view pieces in person. Design Associates could pull up her wish list and work with her on the spot. It created a holistic experience.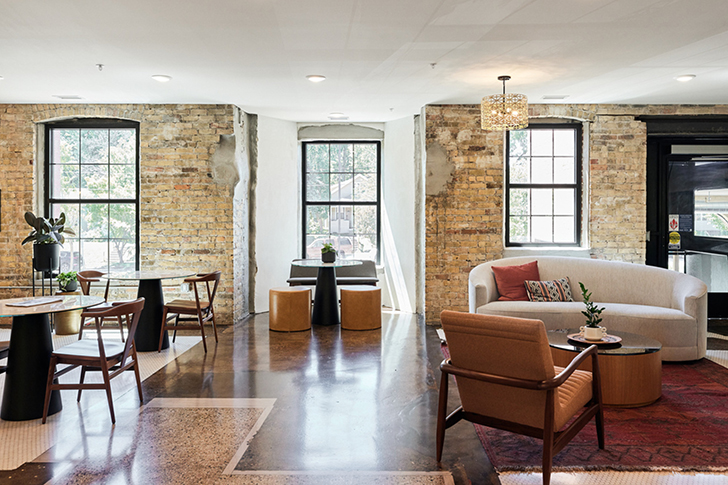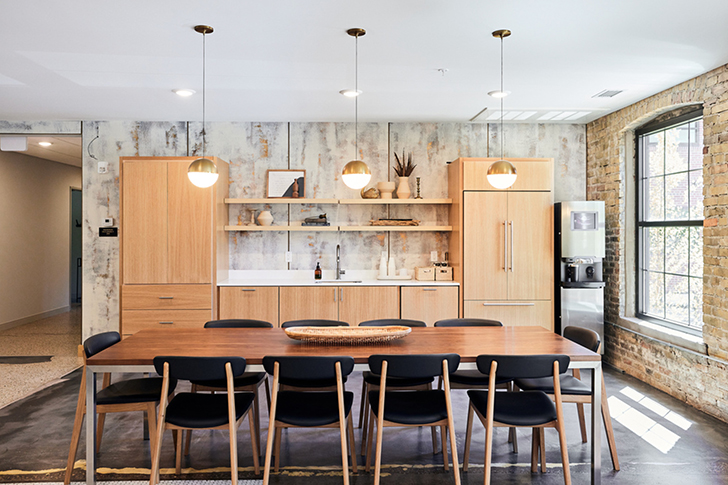 The Results
The project took about six months from initial contact to final delivery. As designed, the common spaces are natural gathering areas for residents. People enjoy spending time there, whether they're chatting with neighbors, working on laptops or to greeting visitors. "As I reflect on the work it took to produce the results at Holden House, I am overwhelmingly awestruck," shares Kelly. "These feelings and the wild success of this project has much to do with the collaboration, support and dedication received from many people at Room & Board."