Texas 70s Home Gets a Modern Update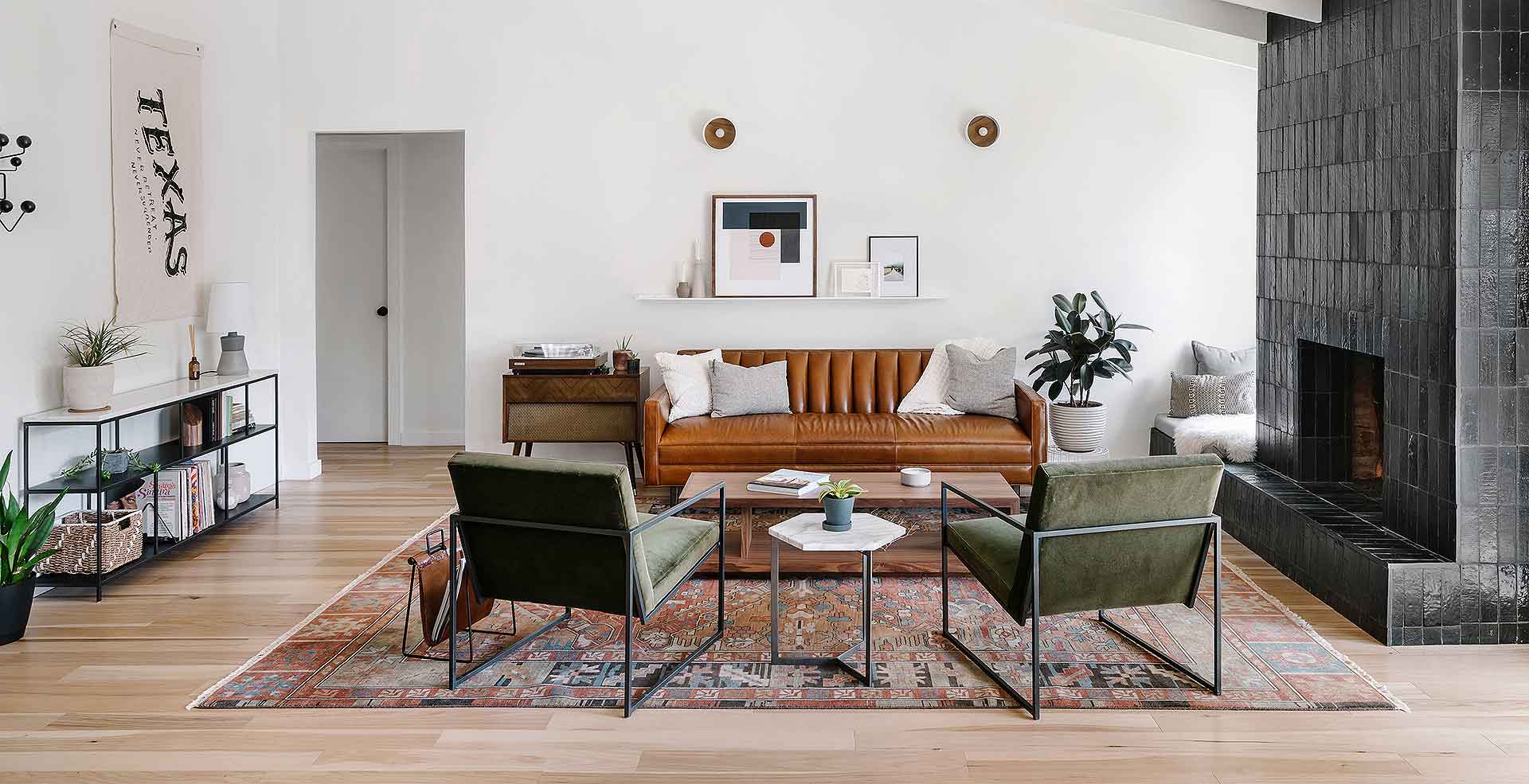 When husband and wife Chase and Lauren Daniel remodeled their 1970s Austin, TX home, they wanted to refresh the space but keep some of those 70s vibes around too. After they finished removing the popcorn ceilings, adding glazed brick to the fireplace and much more, they had a beautiful modern space. We partnered with them to find the perfect pieces for their home that still honored the 70s aesthetic they liked while keeping things contemporary. Scroll on to see the project or check out their in-depth before & after posts on the living room and the bedroom.
The Living Room
In search of timless modern style that meshed with their home's unique style, Lauren and Chase knew they wanted two Novato chairs in olive-green velvet. These chairs pair recycled natural steel with a beautiful saturated fabric, a perfect complement to their other must-have: a Kayseri wool rug. The rug ties the space together and adds a rich, warm foundation for the rest of the living room.
Next up, the sofa: the Daniels picked out our Goodwin sofa in Vento cognac leather. In Lauren's words, "We love the lines and its art deco feel, and it sits perfectly next to our vintage record player." They also chose our Graham coffee table in walnut to go with this 70's-yet-modern aesthetic.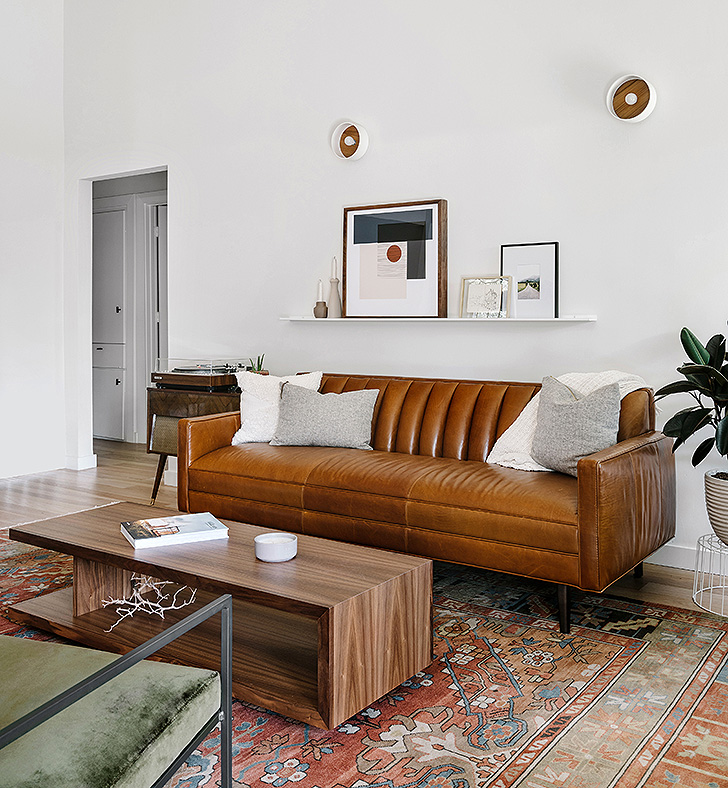 As you leave the living room and head to the bedroom, there's a perfect place for a console table. Lauren and Chase picked out our Bowen console table and topped it with our Guild concrete lamp; all in all, it adds some stylish storage without taking up too much space.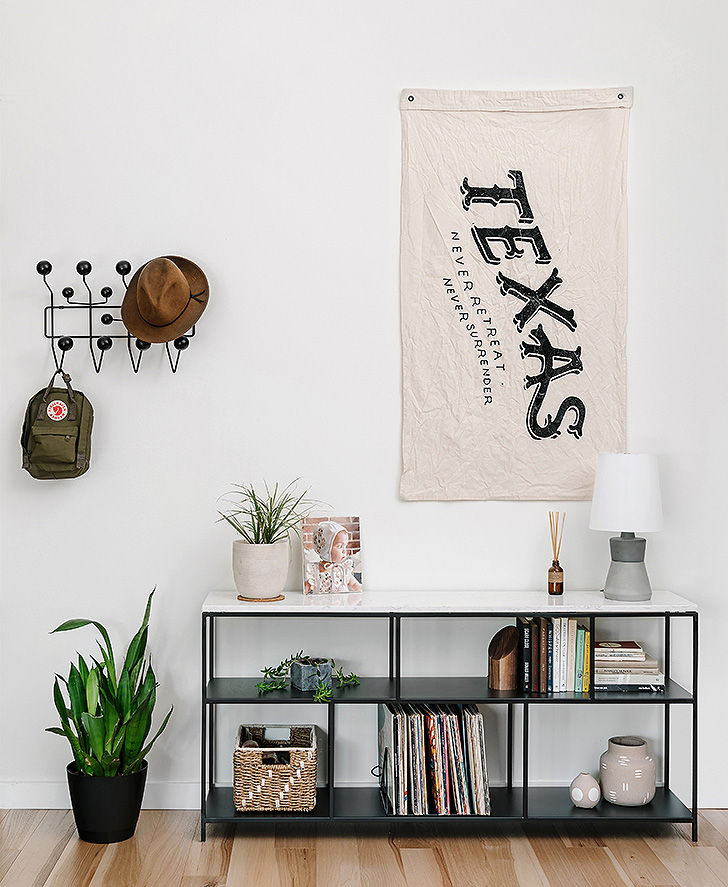 The Bedroom
When Lauren was scoping out ideas for the bedroom she focused on three words: modern, moody, warm.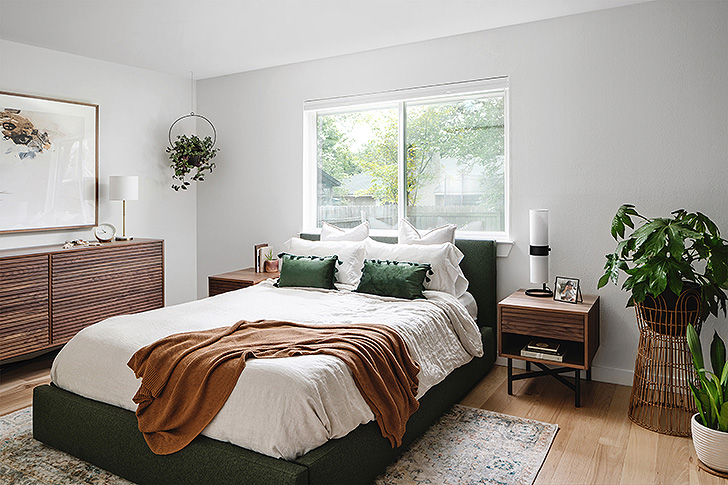 First off, she knew she wanted a dramatic accent wall, so Lauren picked out this beautiful wallpaper from our fellow Minneapolis-based company Hygge & West. Its rich colors and art-deco look echoes the living room, and gave the Daniels a focal point to design the rest of the room around.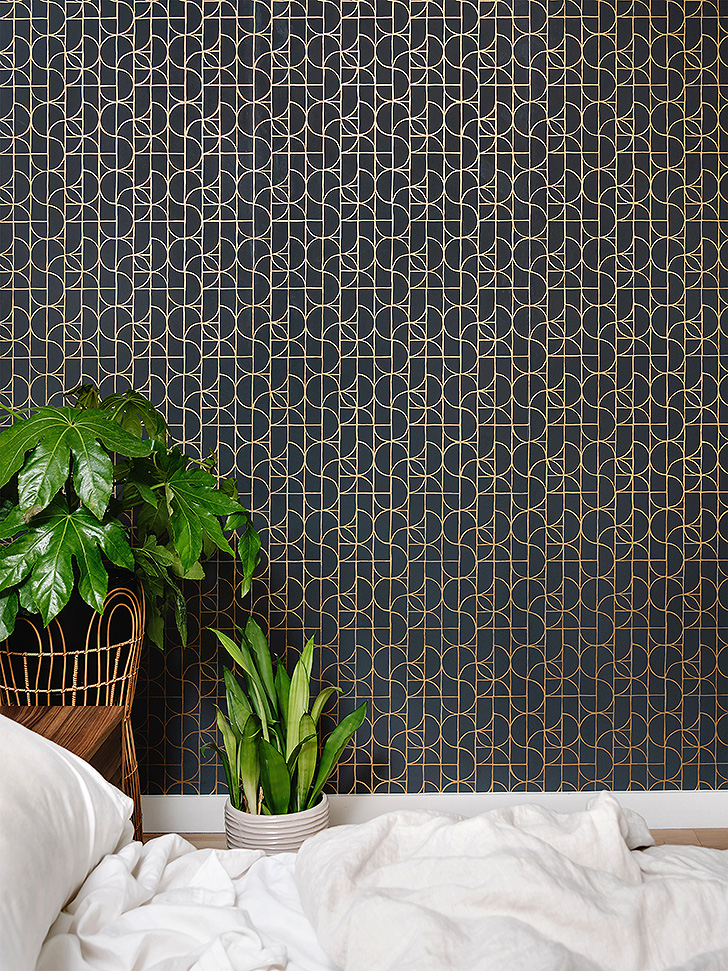 From there, it all fell into place: Lauren chose our upholstered Wyatt storage bed which really adds a layer of coziness to the bedroom, along with a massive pull-out drawer for extra storage.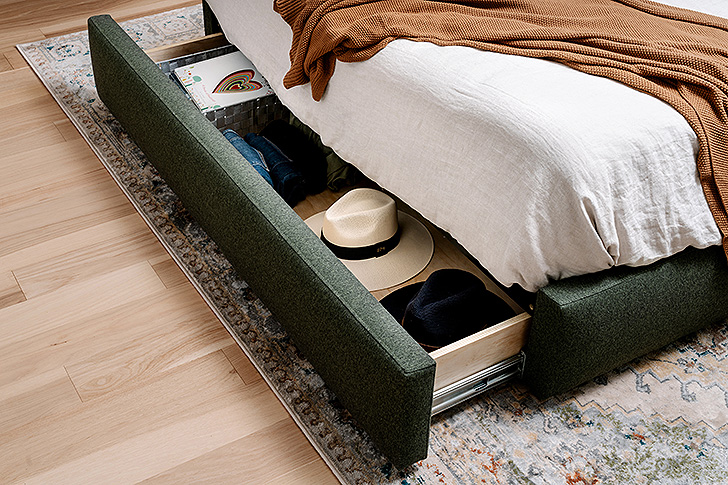 Chase and Lauren also picked out a Room & Board mattress, the Luxury Serene® Foam mattress, without having ever laid on it—they just trusted the reviews. Lauren says it's a perfect combination of firm and soft. The couple also selected our six-drawer Adrian dresser made from walnut and steel. Lauren loves that our Adrian collection has no hardware (push-to-open drawers) because it confuses their toddler and keeps her out of their drawers!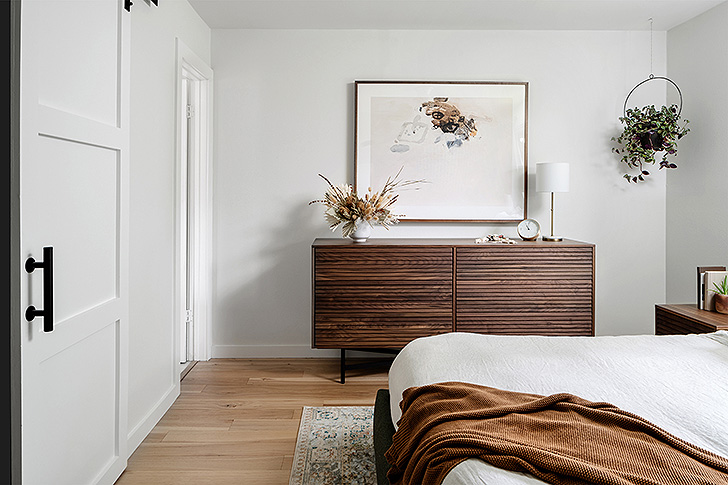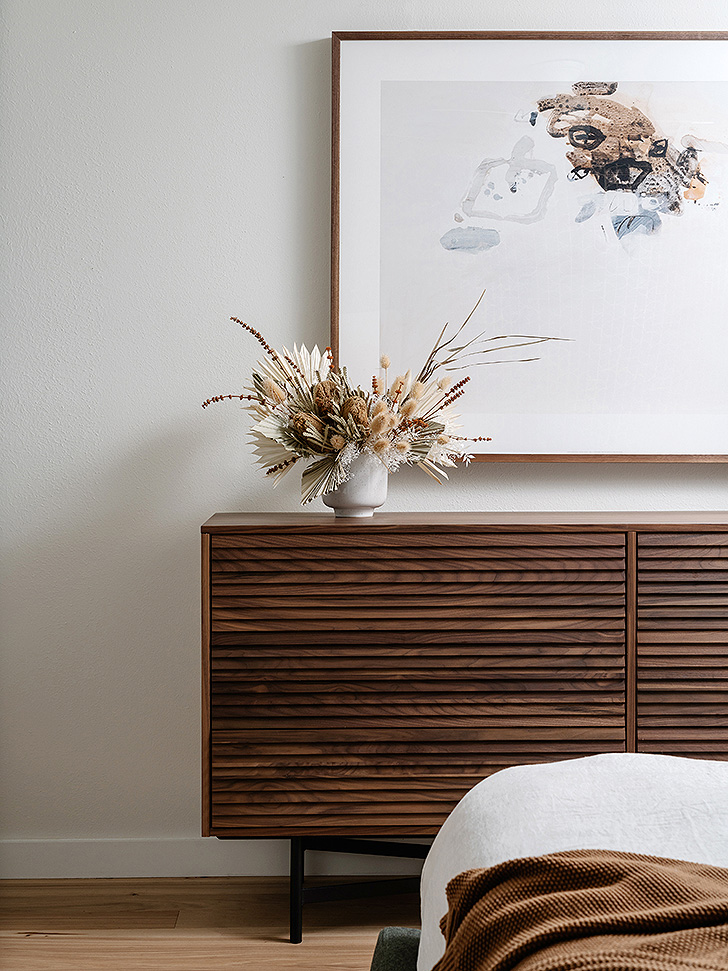 Lauren also picked out one of our serigraphs from Gabriel Belgeonne; the shapes and colors coordinate with the rest of the room for an eye-catching impact.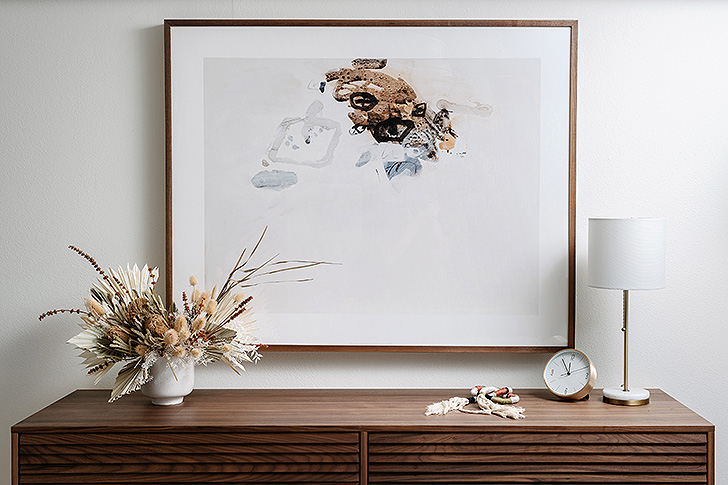 Finally, here's a look at the Adrian nightstand and the Cedric table lamp Chase and Lauren picked out; they wanted something that could give off a lot of light but still dim down considerably, making it easy to wind down after a long day.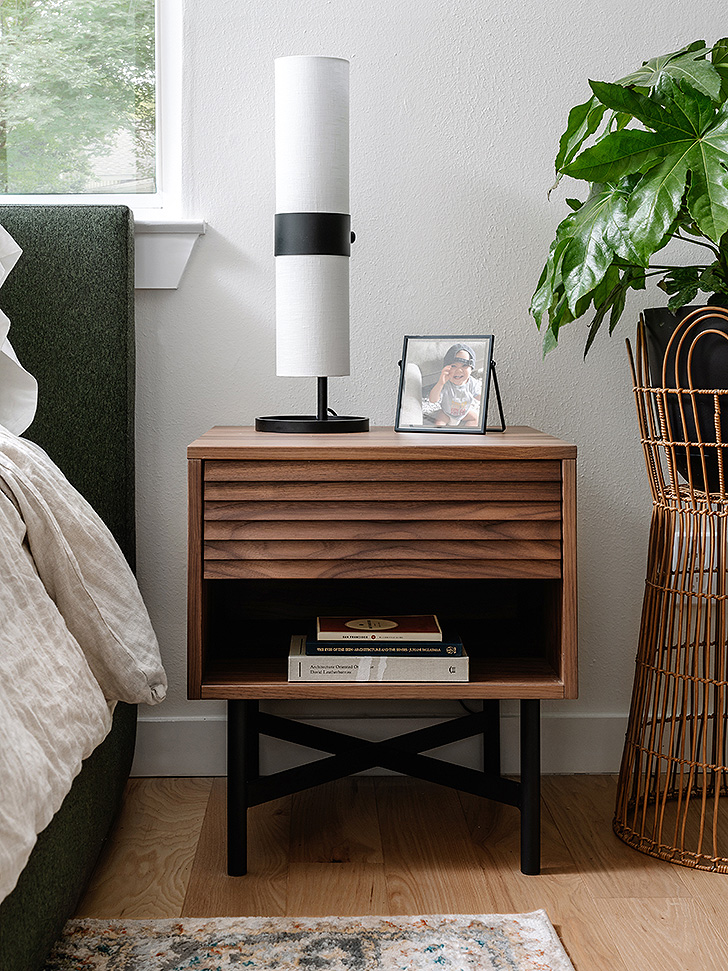 Photos by Chase Daniel