Home Tour: Sweet Laurel Cottage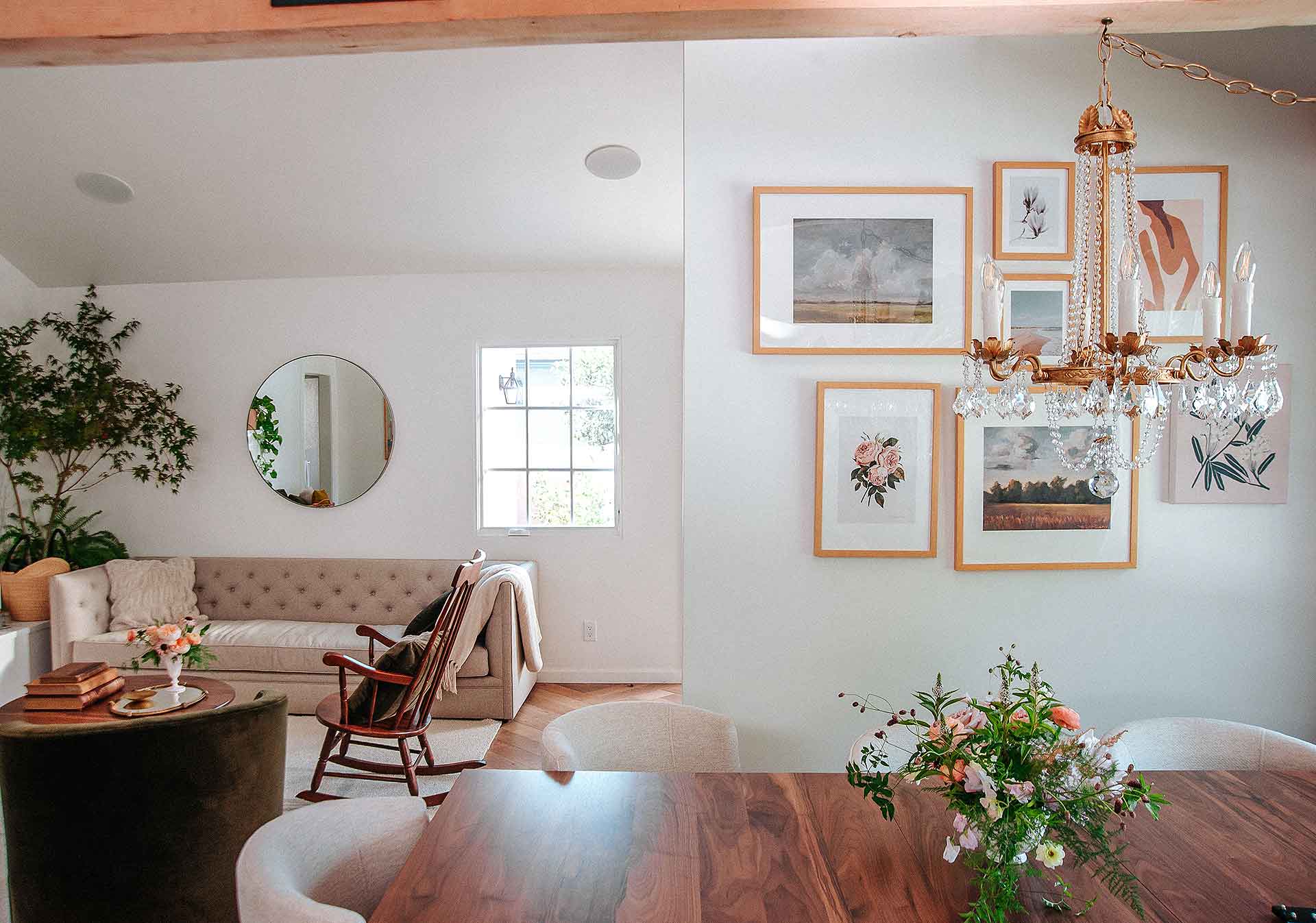 It doesn't get much sweeter than the Sweet Laurel Cottage. Co-founders of Sweet Laurel Bakery, Claire Thomas and Laurel Galluci teamed up once again to create a beautiful home for Laurel, which doubles as a functional workspace for their brand. Read on to see the space and learn about the design inspiration with Claire.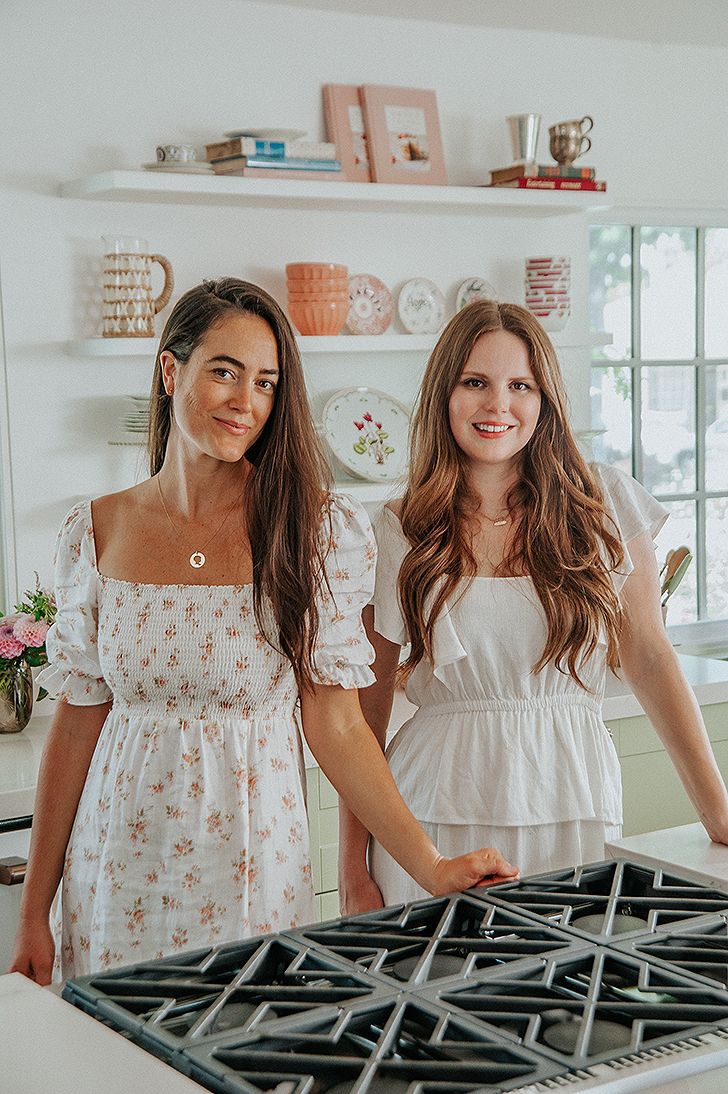 What was your design inspiration for the Sweet Laurel Cottage?
Laurel was my inspiration for the cottage; she's like a modern Gibson girl. The guiding style of the home was Sussex meets Santa Monica. We wanted there to be an English garden quality, while still feeling relevant to the laid back beachy vibes of Santa Monica. This meant an abundance of light, lots of layered textures and patinas and an airy color palette. We knew texture would be a big deal – soft velvets, nubby linens, wallpapers, European flooring. Room & Board was the perfect combination of craftsmanship and modern lines for the house. We chose classic, simple furniture with luxurious touches like the velvet side chairs and curtains and walnut wood pieces.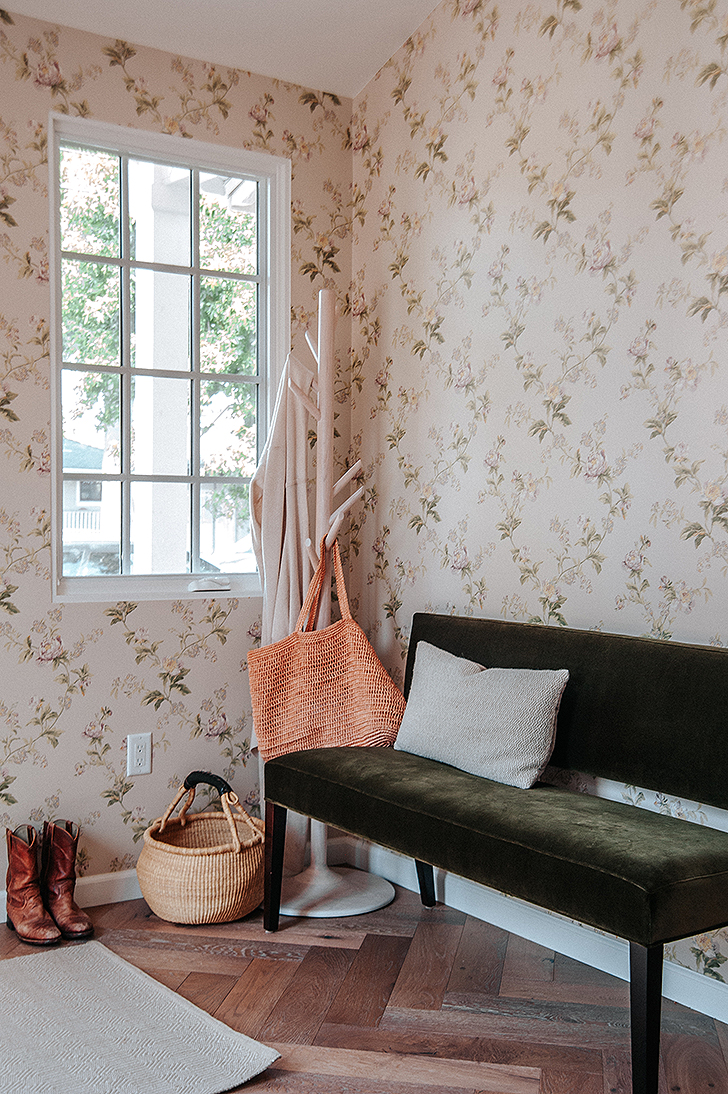 What was your dream of how you wanted the dining/living space to feel and how you wanted to use it?
The heart of the Sweet Laurel Cottage is the kitchen. Literally. The whole house is built around it, and in the best way. The kitchen is about 600 square feet, has not one, but three ovens and a twelve-foot long island. When Laurel and I first started discussing the vision of the cottage, we knew the kitchen, dining room and living room would be a large open space—inviting for Laurel's family and friends. The kitchen in the cottage is ready for filming video content, testing and shooting a cookbook, hosting intimate classes and still cozy enough to be a family space. The dining room and living room are a continuation of that space.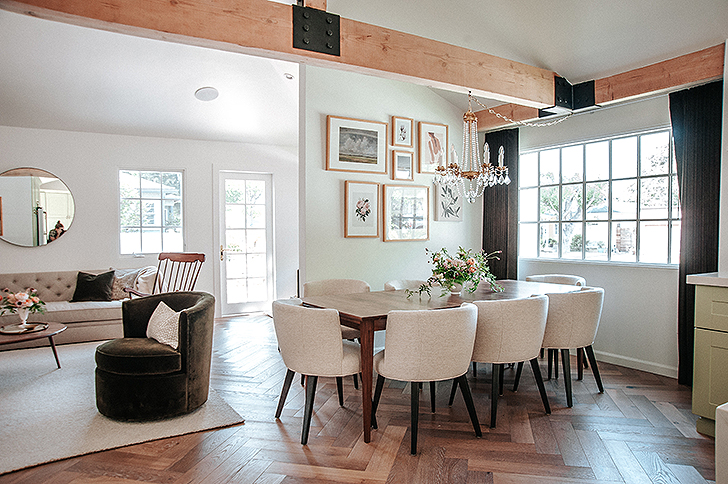 What was delivery day like?
Delivery day was so exciting! There's always a moment of truth there, to see how the furniture fits together and if your instincts were right. My favorite moment was unwrapping the Otis chairs and taking them for a swivel. I love their art deco lines; they're low-key my favorite pieces in the house.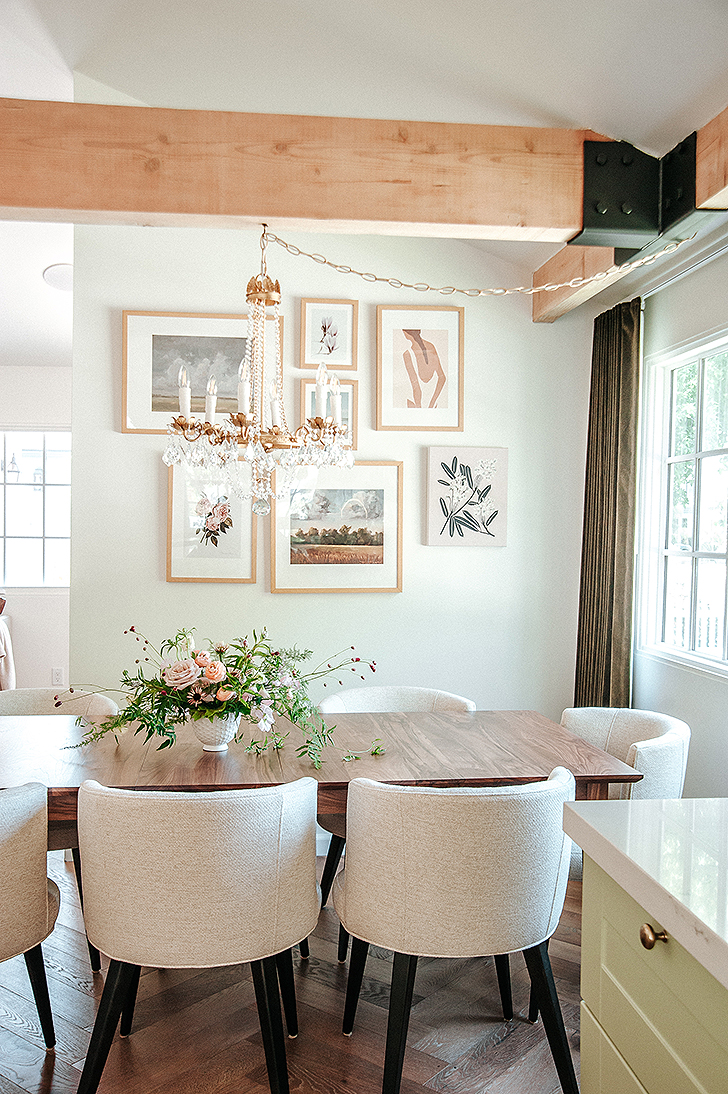 Both Sweet Laurel Bakery and Sweet Laurel Cottage have a similar aesthetic, was that intentional?
It was definitely intentional! Sweet Laurel Cottage is not just Laurel's home, but also a space for us to invite people in. We've hosted a few events and shot extensively in the house. It's always the perfect backdrop for our brand. But, that's not surprising, because so much of the Sweet Laurel aesthetic is informed by Laurel and my personal taste. Laurel and I grew up with tea parties and grandmother's china, so when Laurel had the opportunity to renovate this home I knew there would be lots of feminine, antique details.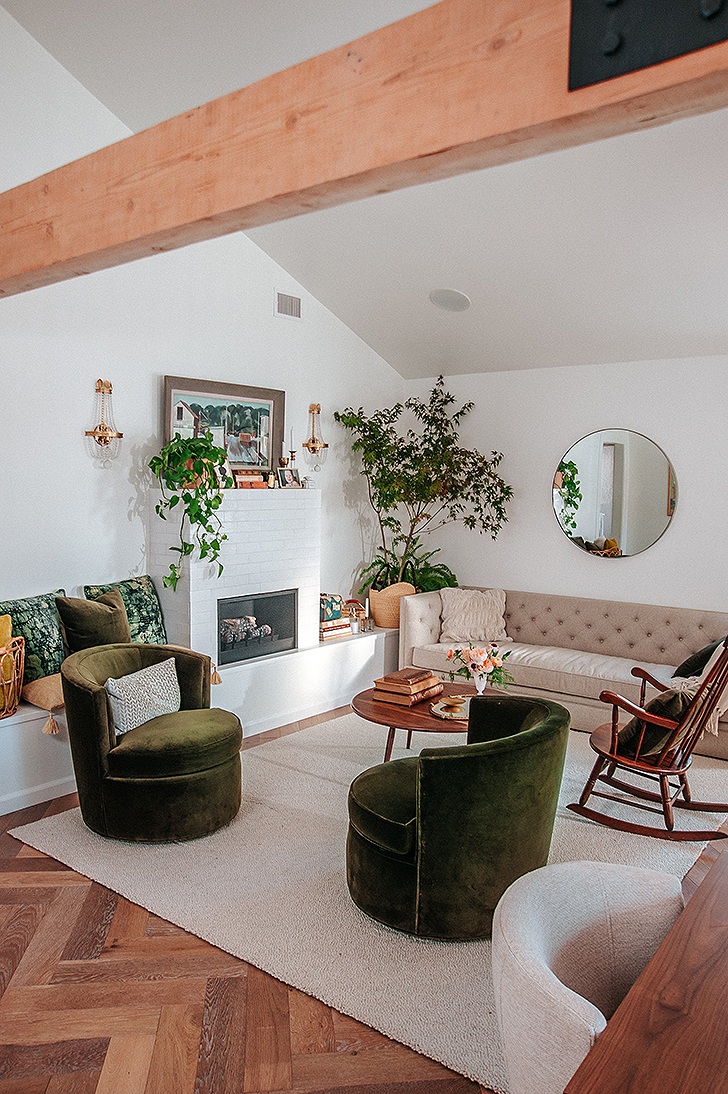 What has been your go-to sweet recipe during quarantine? Savory recipe?
We've been in the middle of shooting the Sweet Laurel Savory cookbook (Spring 2021), so I've been up to my eyeballs in savory treats. I think my favorites are simple dishes like roast chicken over croutons. I rub the chicken with equal parts dijon mustard and butter with salt and pepper to season. And the juices add so much flavor drizzled over the croutons. For sweets, I've been keeping it super simple—ripe peaches with vanilla ice cream.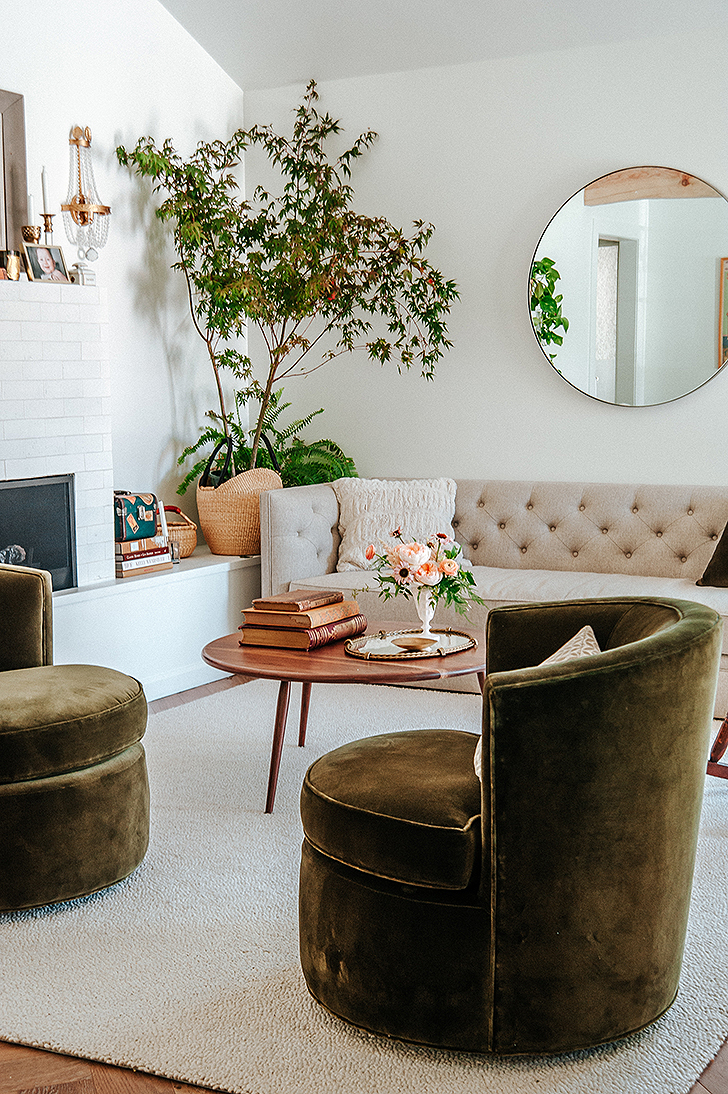 What's your favorite activity to enjoy at home?
We just got chickens, so feeding them scraps and watching them pick around the yard has been so fun.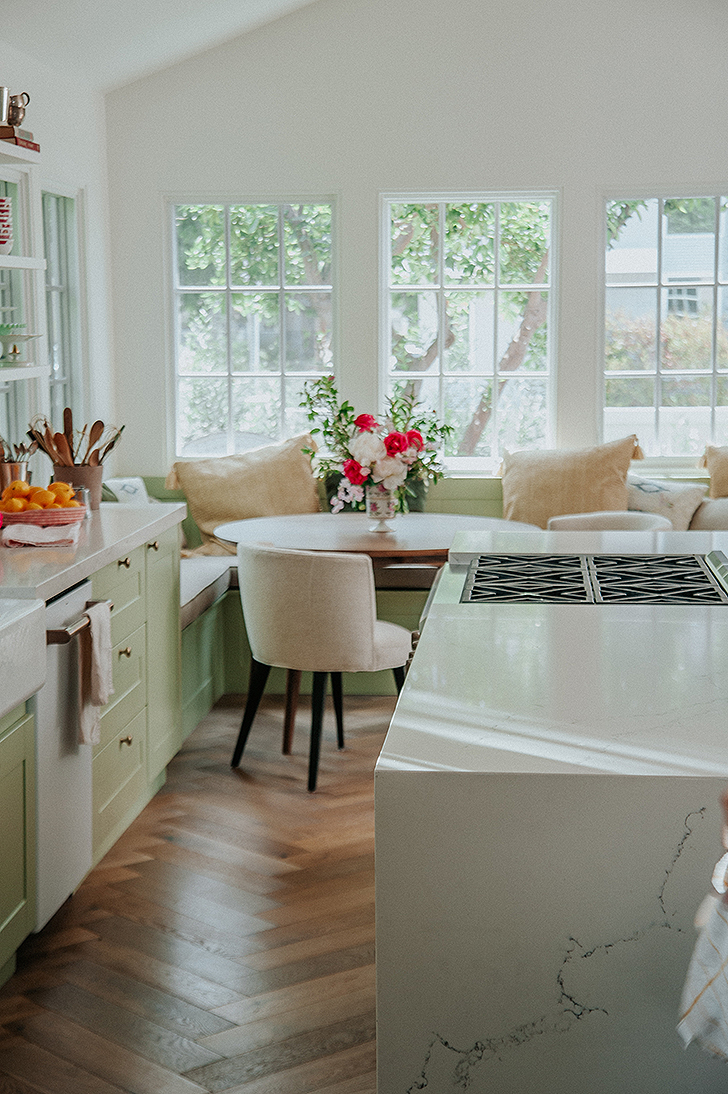 Do you have any advice for creating a beautifully-designed space that's also functional and kid-friendly?
You can keep a space elegant without giving up livability, it just means being thoughtful about the finishes. Choose fabrics that durable and stain-friendly: dark velvets and nubby weaves are especially resilient.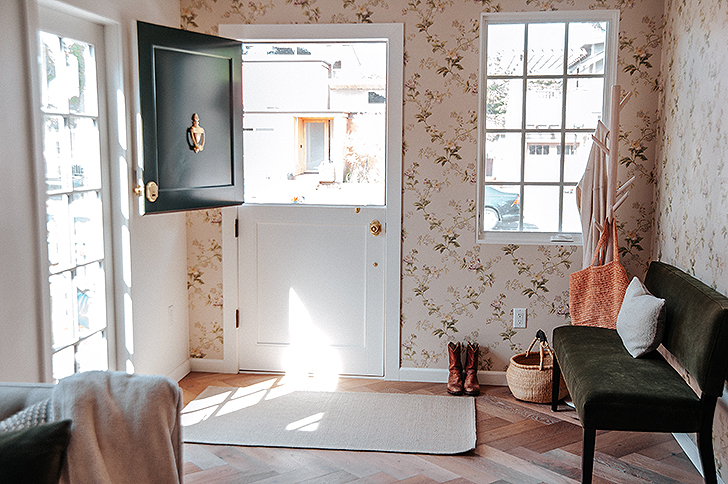 Photos by Claire Thomas