Home Tour: EATSLEEPWEAR's Small California Ranch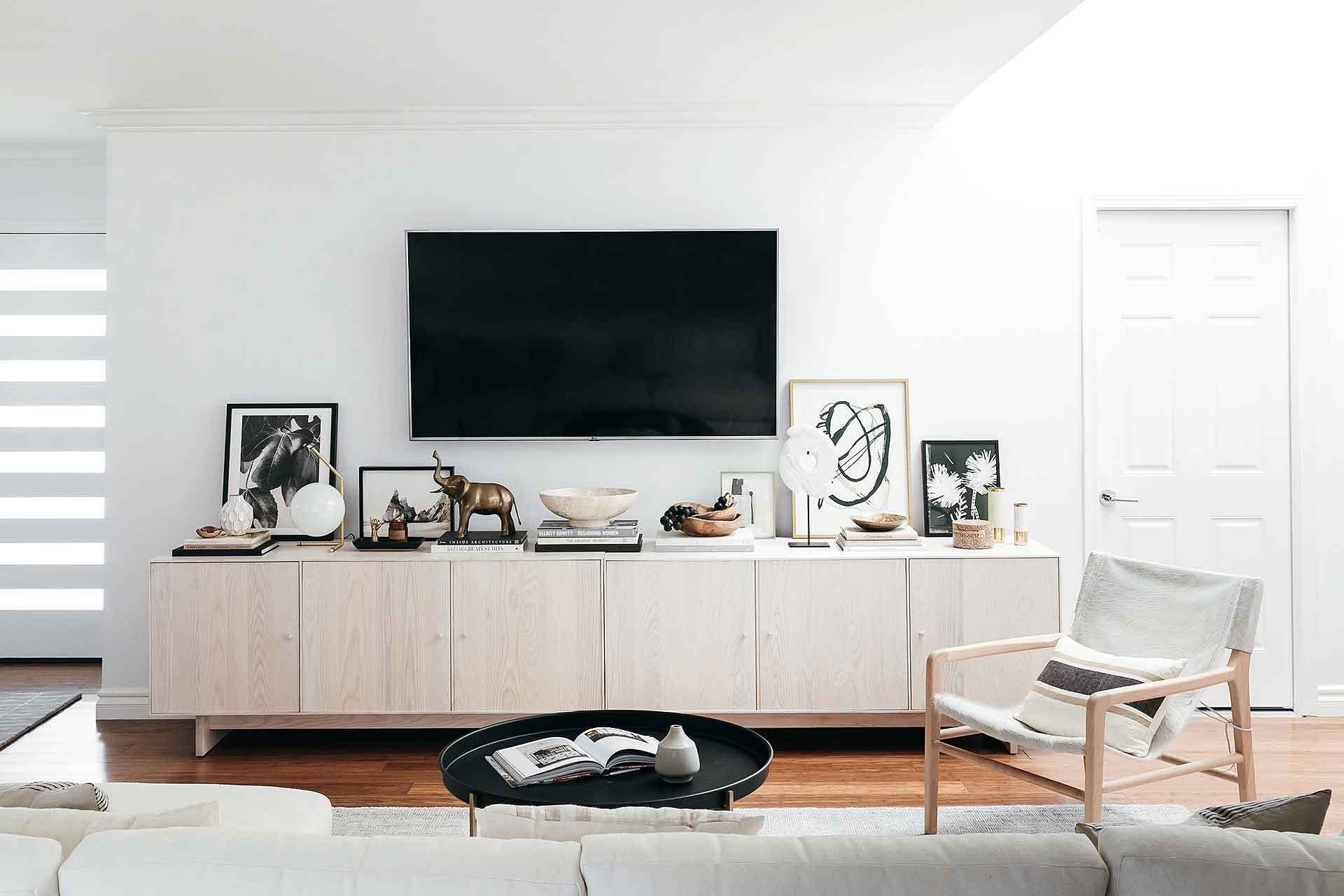 EATSLEEPWEAR's Kim Lapides knows small spaces. Between Philadelphia, New York and LA apartments, she's had her fair share of small square footage. She and her husband (and new baby, Otis – welcome!) are now in their first house: a 1960s single-story ranch in Huntington Beach. With help of designer and pal Anne Sage, the two turned 800 square feet into a modern, beach-inspired family pad. How did they do it? Defined zones with furniture, custom cabinets from Room & Board and a whole lotta neutrals.
Defining zones in small open-concept spaces
"The first step is having that honest conversation about how you want to use your space," Anne tells me. The two wanted to keep the space airy and open while creating designated areas for dining and living. That's where the storage pieces came in. "That's what I love about accent tables, consoles and cabinets," Anne continues, "They act as artistic room dividers."
Appreciation for neutrals
One of the reasons Kim and Anne (who initially "met" on Instagram – the power of a DM!) work together so well is a shared appreciation for neutrals. "Not because we're afraid of color," Anne clarifies, "but because there's so much subtly created by neutrals through texture." (See this design concept come to life in Anne's Insta feed.)
Playful textures were inspired by Kim's love of the beach "and that 'breath of fresh air' that comes from a beach day," she says. It was key to maintain that neutral palette in the open space; the two sought a whitewashed-type look that tied the living/dining area together; it was a no-brainer to then select Room & Board's Sand wood stain for the Hudson custom cabinets for both areas.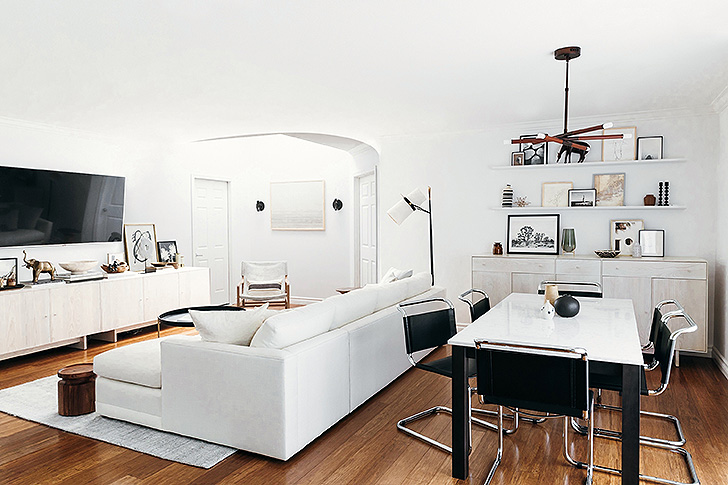 "I love modern design," says Kim, "but a lot of it can be cold. There's a subtle way Anne mixed textures and different neutrals that kept my home modern but incredibly inviting."
Closed custom storage was key
With a tight space, storage was a major consideration. "I asked myself, 'How do we create those special storage moments and also have the space feel open and uncluttered?'" recalls Kim. That's where Room & Board came in.
There were a couple ways Kim and Anne maintained the airiness, even with closed storage. "If you're using a lot of wood case pieces, they can feel like they're closing in on you," says Anne. "That's why we chose this 'bleached out' Sand finish! It reminded us of driftwood, just lovely and organic. We also used photo ledges over the cabinet in the dining room so we could still get some open storage."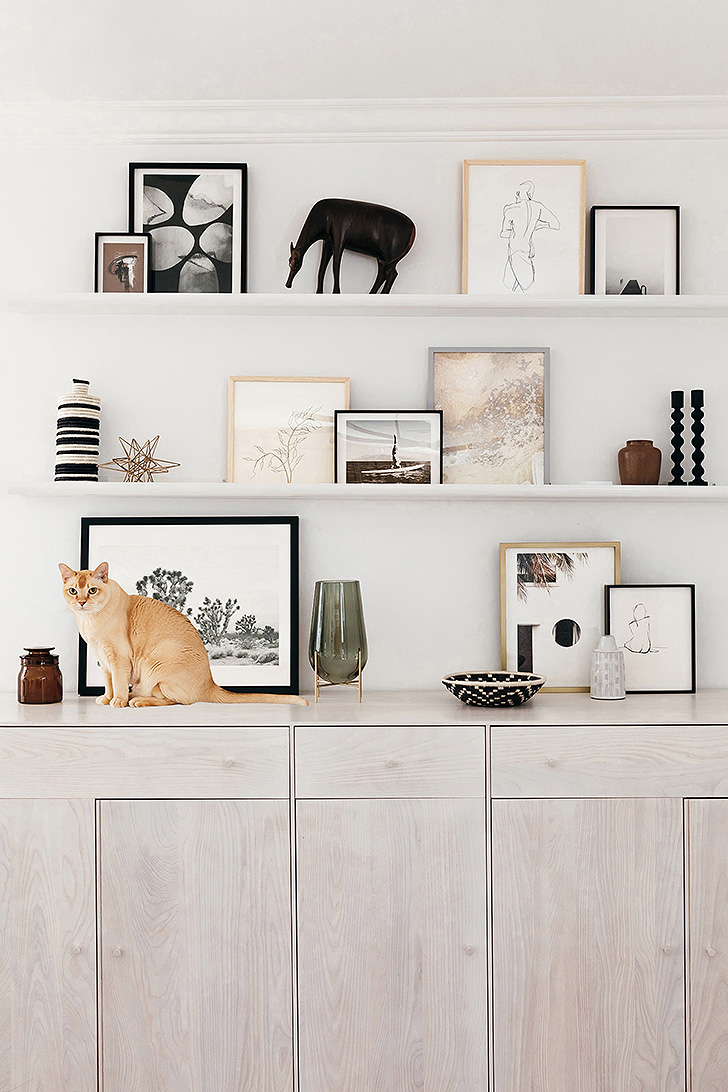 Ann notes, "There's nothing worse than falling in love with a piece of furniture that won't fit. Room & Board's custom cabinets allowed us to get the exact look we want and I could scale it exactly to the floor plans I worked on for Kim." The custom storage option allowed them to make use of literally every inch.
Kim also realized (and laughed) that a lot of the items she wanted to store "weren't worth showing off." There were entertaining pieces, cooking supplies, books, dog toys – all of which could be concealed behind closed doors. The family also needed to house a lot of electronics and "there's nothing that ruins design more than if you have a beautiful piece and all you see are wires."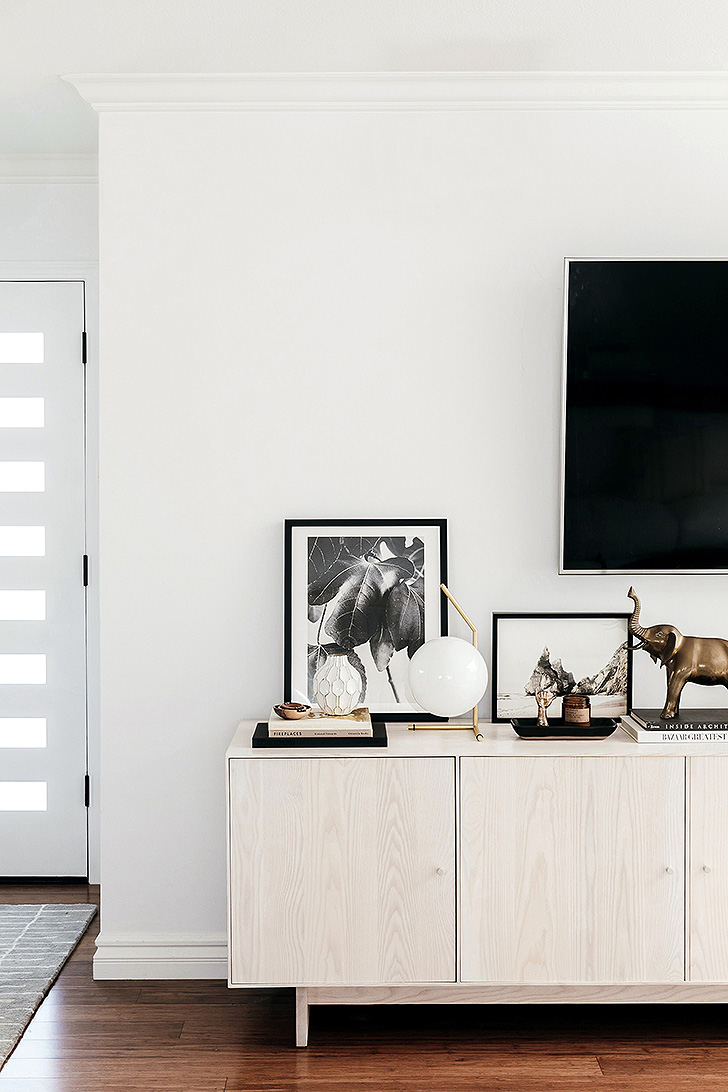 The Room & Board difference
Everything from shopping in the Room & Board SOCO store to designing her cabinets from the comfort of her home to her delivery day were seamless.
"Room & Board delivery is the easiest thing I've ever dealt with." – Kim Lapides of Eat.Sleep.Wear
She continues: "The delivery guys show up when they say they'll show up and moved the fully built cabinets exactly where I wanted them. And they're just so nice!"
You can read more about Kim's take on her partnership with Room & Board on her blog. You can also see how she and Anne took the master bedroom from good to great in Kim's Modern Master Bedroom Reveal.
Photos by Monica Wang