How To Decorate With Leather Furniture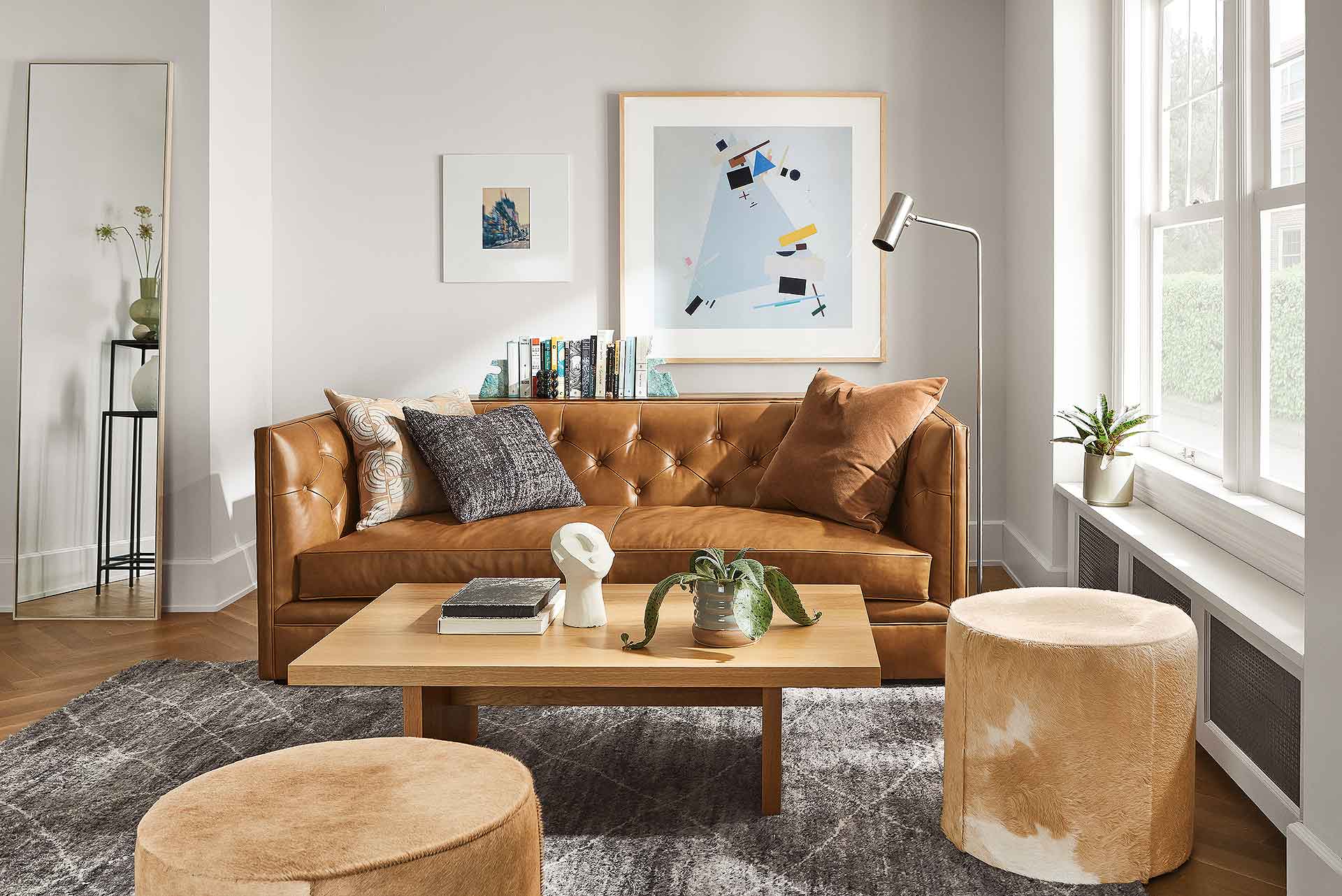 It's no secret leather furniture is beautiful and luxurious, and it only grows better with age. If you're wondering how to decorate with leather furniture, we have a few ideas for you below. And if you're trying to choose which leather is right for your lifestyle, we've got you covered with this leather guide.
Entryway Leather Furniture
Since traffic is so high in entryways, consider choosing a leather entryway bench or chair for leather's high durability. In fact, leather is so durable it usually lasts about four times longer than fabric. This leather bench is a nice touchpoint of natural texture in this modern entryway, and the leather ensures it will look lovely for years to come. In your entryway, consider a durable semi-aniline leather which will hide scratches and be easy to clean, and is our preferred leather for commercial environments, too.
Design tip: If you just want a hint of leather, add a leather tray as a landing place for your keys and wallet.
Dining Room Leather Furniture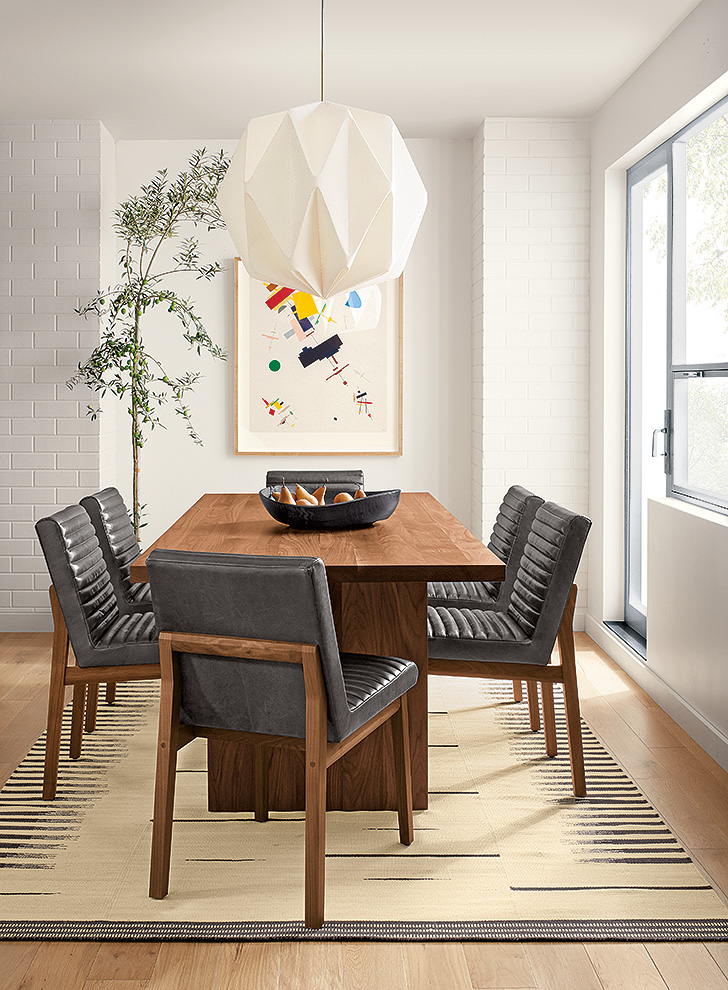 Leather dining room chairs are an iconic choice for their timeless style and durability. These chairs are framed by solid walnut and feature a stone-colored dye on the leather—a great contrast to the warm tones of the wood. When choosing leather dining chairs, it's hard to go wrong, but look for durable leathers with colors that easily complement your room's other tones.
Design tip: If you have a dining table with a glass, steel or stone top, consider choosing leather dining chairs with a warmer-tone leather for a satisfying contrast. Or, vice versa; warm dining room? Cool it down with gray leather.
Leather Statement Pieces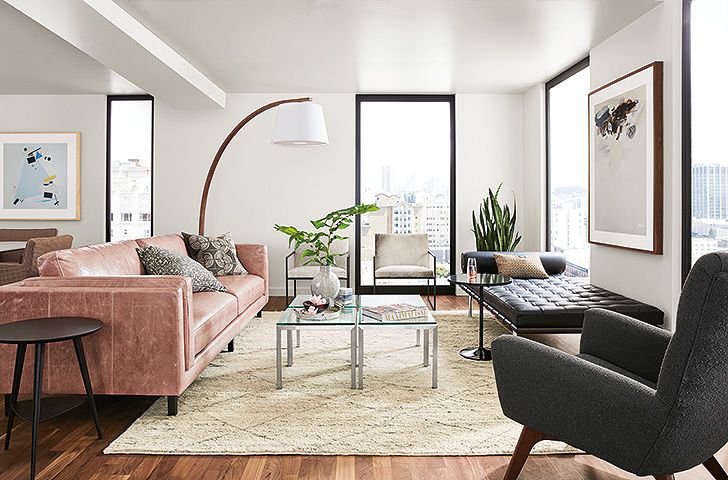 Sometimes a room calls for a statement piece. Notably, this pink sofa defines the room but doesn't overpower it thanks to the leather's natural markings and muted tone. The sofa is flanked by two chairs made from black and white cowhide, while the daybed overlooking the window features a rich black leather with tufting. As a whole, this living room is a perfect example of how to utilize leather furniture as statement pieces.
Design tip: Nervous about getting a leather statement piece? Pick out a color that ties back to other colors in your room and it will feel coordinated. Plus, utilize expert design advice from trusted sources like free design services.
Classic Leather Beauty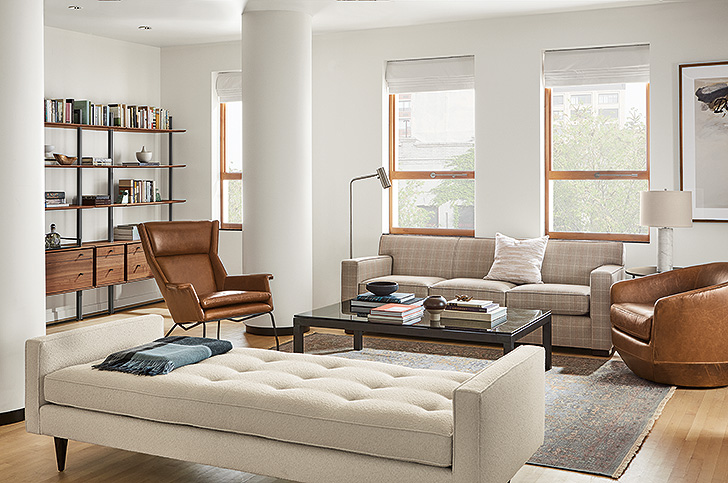 One of the biggest appeals of leather furniture is that no two pieces of leather are the same. These beautiful variations are most noticeable on full-aniline leathers which are minimally processed to highlight leather's natural beauty. In this retro yet modern living room, you'll notice both accent chairs feature the same leather, and that's intentional.
Design tip: Feature two pieces of furniture upholstered in the same leather in one room. It's an understated yet powerful design choice that visually shows how every piece of leather truly is unique.
Curious which leather is right for you? Check out the leather guide.
Leather Ottomans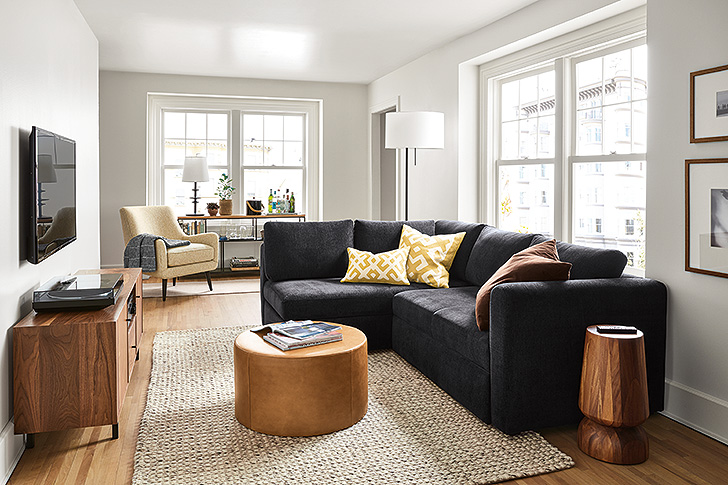 Maybe you'd prefer a smaller leather accent piece rather than a chair or sofa? If you're looking for small space leather furniture, consider a leather ottoman. Round leather ottomans already have a gentle silhouette, but combined with leather's soft texture, these ottomans gain a new level of comfort, visually and physically.
Design tip: When picking out a leather ottoman, make sure you choose a size that fills the space but still allows easy access to your sofa or sectional. Also consider whether you want a storage ottoman for your room.
Leather Recliners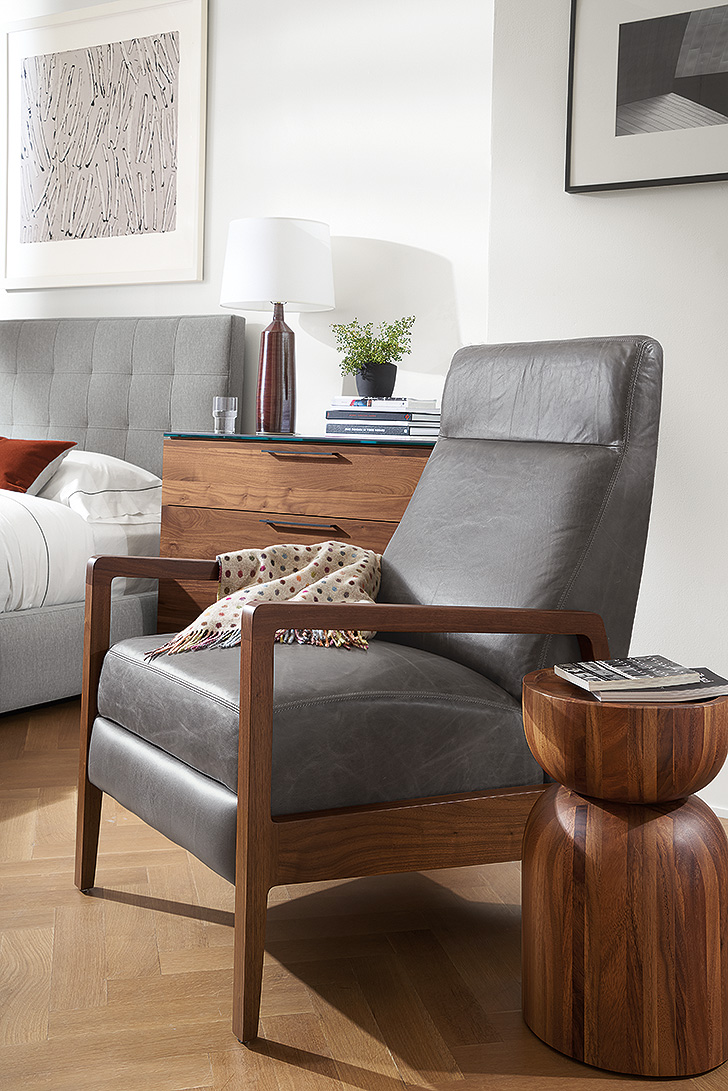 One of the most popular ways to decorate with leather furniture is a leather accent chair or leather recliner. These iconic symbols of relaxation and luxury embrace the inherent beauty of leather plus solid wood—and they truly look good anywhere. If you get a leather recliner that's well made and you care for it, it can easily last a lifetime.
Design tip: Consider choosing a top grain leather for investment pieces like these, which is the highest quality available for upholstery. Top grain leathers are gorgeous, exceptionally durable and only grow more beautiful and comfortable with time.
Leather Beds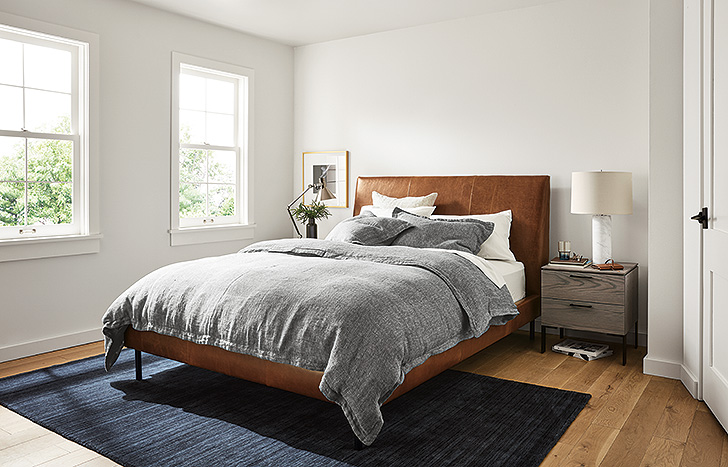 Leather's organic beauty makes any bedroom feel stylish yet welcoming. Plus, since headboards take a surprising amount of wear, a leather headboard is a great choice durability wise. Our favorite leather headboard beds are those with full-aniline leathers in natural colors to add life to the bedroom.
Remember, you can always use Free Design Services for expert advice from non-comissioned people who just want to help. If you're ready to shop, our modern leather furniture is ready for you in any category from entryways to living rooms to bedrooms.
Photos by Room & Board