We teamed up with sneaker artists Vicky Vuong and Ann Duskus on their new studio space in San Francisco, CA. Their goal was to create a functional, multipurpose workspace to create content, host workshops, film videos, record their podcast and of course, design and make sneakers! With the help of Room & Board Business Interiors Project Coordinator Anna Mueller, the duo achieved just that. Read on to learn more about Vicky and Ann's work and see how the studio turned out.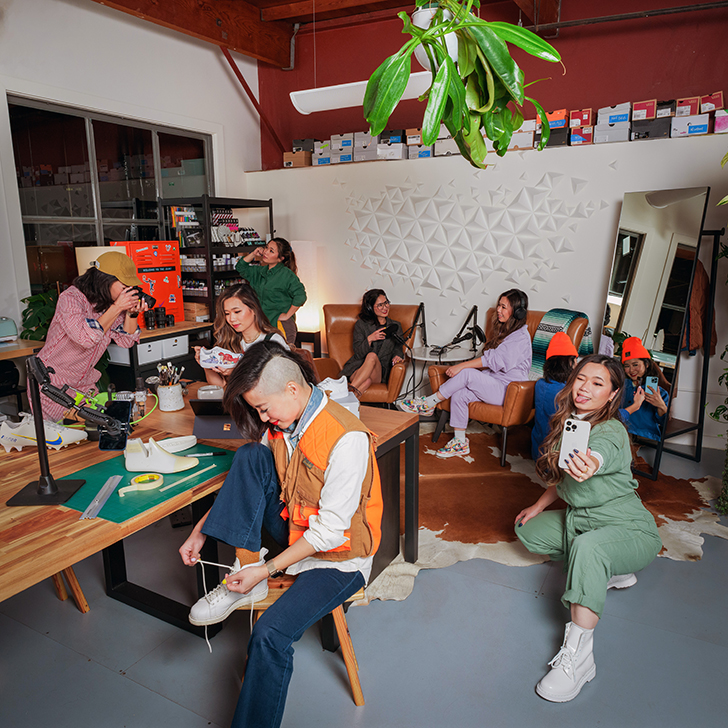 What was the design inspiration for how you wanted your studio space to look and feel?
There is a constant ebb and flow of creative chaos and organization in our workflows so the priority for our studio space is minimalist form and function. We are lovers of natural tones and textures, so we requested leather and wood finishings. We wanted to bring in quality pieces that elevate our daily routine and complement the vibrancy of our artwork.
Tell us about your experience working with a Business Interiors Project Coordinator
Our Business Interiors Project Coordinator, Anna, was extremely knowledgeable and supportive in designing and curating the furnishings for our workspace. She combined our criteria for fabric/materials with Room & Board inventory and put together several strong options for us to consider. We even had special access to pieces only available through Business Interiors.
For our center accent table, knowing that our podcast station would be a high traffic area, with risk of spilt coffee and tea, Anna expertly suggested the low maintenance, durable option of a Marbled White Quartz tabletop over Ventino Marble which is more prone to staining.
We also appreciated the pieces even more after Anna informed us about the history and process of how each design is created locally and sustainably.
What was delivery and installation day like?
Delivery/installation was hassle-free and stress-free. It was very easy and straightforward to schedule the delivery window and we were grateful for friendly reminders when the delivery times were confirmed. The delivery associates were punctual, professional, and handled all the pieces with care. It was great to have the furniture assembled and placed exactly where we wanted them at the time of delivery.
How have you responded to the space? Has it changed the way you work?
Our Room & Board pieces are now an integral part of the studio space and both of our routines. Each piece has its home, its function, and imparts a certain ambiance to that part of the room.
The Boden chairs are cozy and remind us to relax periodically within long workdays. We've noticed they are the first place our guests gravitate towards when they settle into the studio. The lamps bring light and warmth to an otherwise dark corner of the studio and work perfectly to brighten up the background for when we film and take photos. Functionally, the Hanneman stools make a lot of sense. They are compact enough to store under the table when not in use but easily accessible for someone to pull up a stool and chat with us.
The space has become our home away from home. We come into the studio more relaxed and inspired than ever and ready to get down to work.
What do you love most about the new space and setup?
Call us superficial, but we love the Lydia Standing Mirror. The design is clean and minimal and the hanging rack at the back comes in very handy for coats and accessories between the two of us. The mirror reflection makes our studio look bigger and it's such a great use of small space. Our Boden chairs have quickly become one of the most used spots in our studio. Our space is inviting and conducive to creativity, we can spend hours working here.
How did you get into sneaker art? What sparked your interest?
Vicky: I discovered sneaker art while on vacation with my family. We wanted to make custom sneakers catered to each person but found that very few artists were making them at the time, so I decided to take matters into my own hands. I was intrigued by sneakers being a canvas that can travel the world and be used to express individuality.
Ann: I got into sneaker art pretty much by accident. I used to be an apparel designer and when I switched to footwear design, I had the desire to learn how to physically make the product I was designing. The first pair of shoes I learned to make happened to be a pair of sneakers, specifically, a pair of Air Jordan 3s. That's when I discovered my place in design.
Who or what inspires you? Where do you go for inspiration?
Ann: People spark my inspiration. They are the most organic, omnipresent source of inspiration that comes into my life daily.
Vicky: My greatest source inspiration is from my environment. Whether it's indoors or outdoors, everyday life or adventurous travels. Anything can be a muse when you don't limit your imagination.
When you're not painting/designing sneakers, what can we find you doing?
Vicky: Being out in nature. I enjoy exploring the unique biomes that the world has to offer and seeing the diverse flora and fauna. If I'm not outdoors, I love working with my hands, learning a new craft like sculpting or embroidery.
Ann: Yoga, snowboarding, and hanging out with my dog Mabel, she's the best.
Do you have a favorite pair of sneakers you've created?
Ann: Yes, my Ted Lasso inspired Air Jordan 1s. The fictional character just resonates with me. In true Studio Duskus style, the design is asymmetrical, and challenging but rewarding because it was made from a professional American football and soccer ball. I really enjoy the challenge of maintaining the integrity of the original materials and bringing that into the final design.
Vicky: Unleashing the inner child in me, my favorite sneakers I've created to date are my Ice Cream Air Force 1s. I turned a guilty pleasure of mine into four different sneaker colorways including an ice cream sandwich, sprinkles, strawberry and mint chocolate chip, and created my very first sneaker art collection.
To learn more about Ann and Vicky, check out their podcast Best Foot Forward where they discuss everything from their creative journeys to being AAPI female sneaker artists, to managing their businesses in the sneaker world. You can also follow their work on Instagram @cestlavic and @studioduskus.
Photos by Vicky Vuong