Partner
Mercury Mosaics
Location
Minneapolis, MN
Category
Workspace and Studio
Project Coordination
Room & Board Business Interiors
The Goal
Mercedes Austin, founder of the handmade tile company Mercury Mosaics, had clear ideas for her office and studio spaces. Each one needed a conference room and flexible drop-in meeting rooms to create environments that naturally support creativity. The areas needed to embrace the future of flexible work while supporting collaboration among teams at Mercury Mosaics. "I wanted our manufacturing team to be able to blast music during the week and not have to worry about important client meetings," shares Mercedes. "And for loud noises for various forms of production to happen freely without worrying about an in-progress conference call."
The Process
Mercedes wanted her team to be involved in the office redesign. It was important to her to enjoy a collaborative selection process with input across the company.
"Working with Business Interiors was a breeze as we iterated on our vision," shares Mercedes. "They grounded us with supply chain availability, product performance knowledge and overall education on our choices." She notes that Mercury Mosaics is rooted in customer service and research/design-support and teaming up with Room & Board felt like an extension of their community.
The Business Interiors team suggested Diffrient World® ergonomic office chairs to support a classic eight-hour workday while also ensuring the chairs were available in a timely manner. The Mercury Mosaics team chose four fun colors that best expressed the brand.
The company's flexible meeting space is also anchored with a rainbow of colors and vintage-industrial modern design. "Otis swivel chairs make it inviting to stretch your arms out like a big, relaxed hug," shares Mercedes.
The Results
Having these key furniture pieces anchors their space, honors its function and elevates Mercury Mosaics' design goals. "Bringing our office and design studio to life has been nothing short of a dream with Room & Board's partnership," says Mercedes. "It has been a breath of fresh air to have furniture of this caliber gracing our epic new design studio to support us in the journey, literally."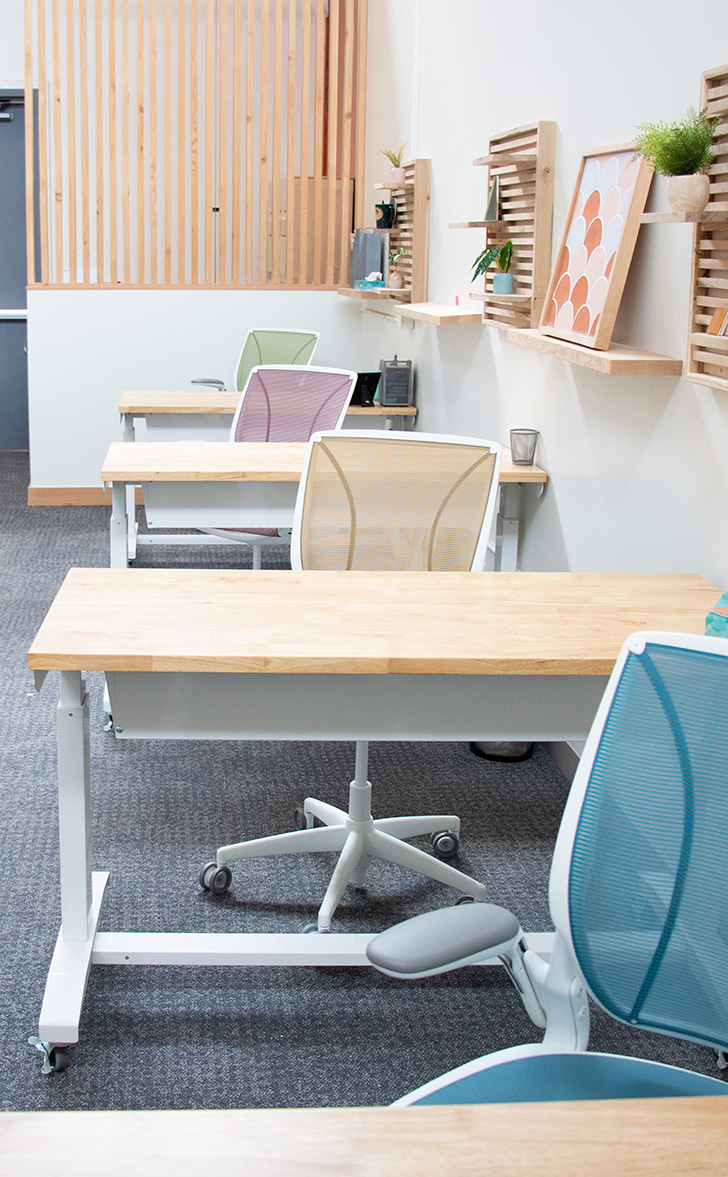 Images by Mercury Mosaics