Home Tour and Q&A with Erin Hiemstra
A pandemic project turned coastal chic beach house. After a quick 20-minute walkthrough of the property, blogger Erin Hiemstra of Apartment 34 and her husband put in an offer on the Hood Canal Cottage. After 16 months of renovation, including pandemic-related delays and unexpected surprises later, the Hood Canal Cottage is now an idyllic sanctuary tucked away in the Pacific Northwest. Keep reading to see the space and learn more about the design process.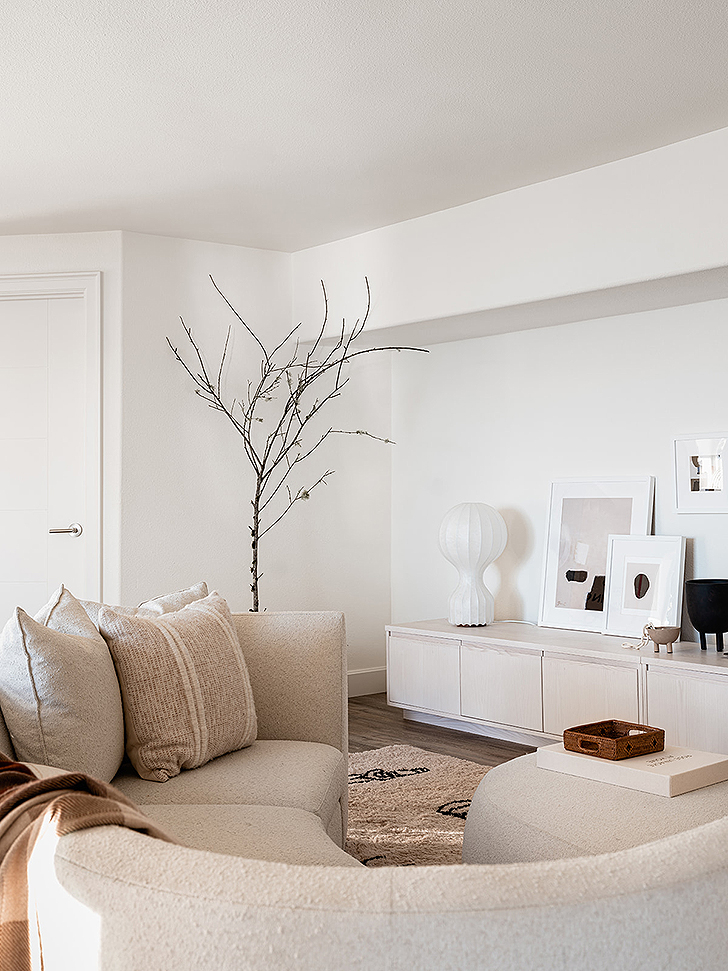 With only 20 minutes to tour the property, what was it about the house that drew you in?
The first thing that draws you in at the Hood Canal Cottage is the location. Sitting on the edge of Puget Sound and staring out toward the jagged peaks of the Olympic Mountains, the views are just stunning. You really are plunked down in a little slice of heaven, surrounded by nature. That's why we put in a glass front door—so you can see straight through the house and out to the incredible view from the moment you arrive.
What was the design inspiration for the Hood Canal Cottage?
When it came to giving this house its facelift, I took a lot of inspiration from the coastal homes of Scandinavia. It's very common for families in Scandinavian countries to have a "summer house" where they enjoy the endless daylight hours and the amazing landscapes. The Pacific Northwest topography is actually quite similar to that region. After dark, gray and cold winters, everyone always awaits the beautiful summer months.
While this house is only about 90 minutes outside of Seattle, I wanted people to feel transported to a remote vacation destination. Rather than scream beach house though, I set out to create a refined, elevated but still relaxed vibe.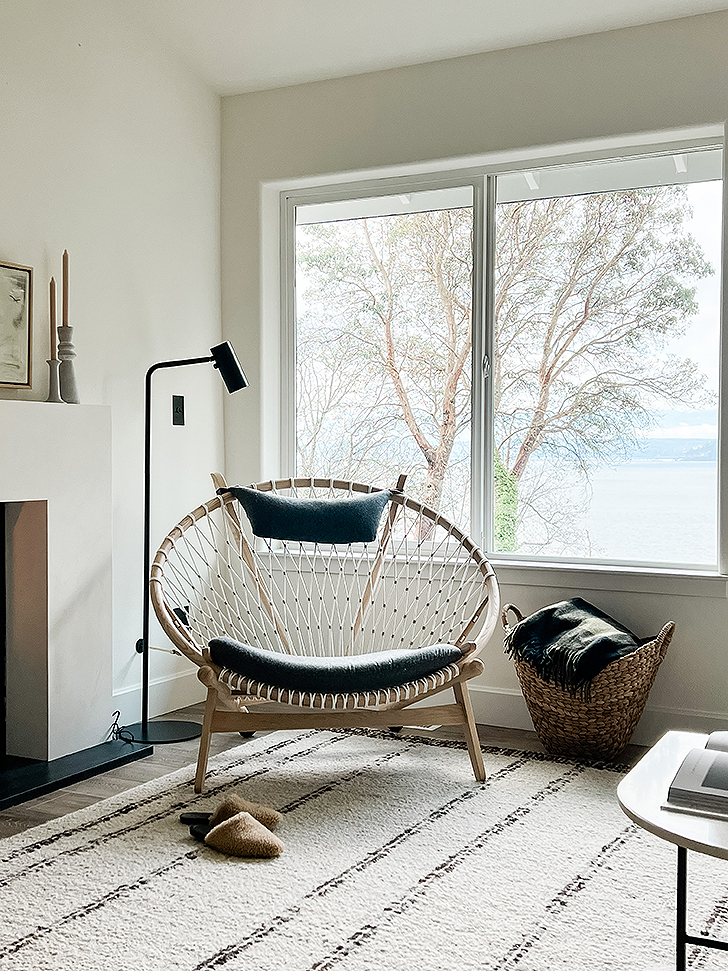 What advice would you give someone who is starting a renovation project?
Start with your vision and work backward, refining that dream scenario down to the smallest details. On average, you make over 400 design decisions in a single room. If you start with how you want your home to make you feel and you keep that feeling at the core of all your design decisions, you'll ultimately be happy with the final outcome. Also, plan to be incredibly patient as supply chain issues continue to make renovations more challenging than a few years ago. You might have to compromise more than you'd like, but it is still possible to create beautiful spaces that you'll love.
What was the most challenging part of this project? Most rewarding?
The most challenging aspect of this renovation was managing it remotely and having to make major changes on the fly. Because our city was on COVID lockdown for almost the entire duration of our renovation, we could not travel to the property to oversee the construction or to make design decisions on site.
We relied heavily on FaceTime and a very competent contractor. For example, when we discovered major water damage during demo, we suddenly had to expand the remodel's scope to updating the bathrooms and replacing walls and floors, all on the fly. We made sure to quadruple-check all measurements and create detailed elevations since we couldn't double-check furniture placement or scale on site. Thankfully everything fit!
However, the challenge turned into the most rewarding part of this project. Not being able to make regular site visits made the final move-in that much more satisfying since we went from a house in significant disrepair and neglect to our dream coastal retreat.
Do you have any tips for updating a home without making major architectural changes?
You don't have to start all over to create a home you love. Even if you're not able to make the architectural changes you might prefer, it's amazing what you can do to transform a space with simple materials updates – fresh paint, maybe updated flooring, or new fixtures. Even just swapping outdated lighting can make a room feel brand new.
You can also reimagine spaces based on how you actually use them. For example, I removed a reach-in closet from our house's guest room to make the room feel much bigger and more welcoming. Putting a dresser in place of the closet offers guests the storage they need while creating another surface on which to set personal items, and also a spot where I could add an accent lamp and art. That easy change changed the feel and functionality of the room completely.
How would you describe your "Elevated Coastal Chic" decor style?
While I certainly can point to Scandinavian and even Japanese design influences in the decorating styles I leaned on when designing this home, my primary design rule is to simply select what I love—no matter its aesthetic or providence. When I do that, I know that everything will come together and simply work. It's a bit of an organic alchemy, but it's always fun to see the final space come to life. It's actually the mixing of a variety of design styles, time periods, and combining second-hand and new pieces that create interesting juxtaposition and depth in a home. I also don't consider my designs to ever be complete. A home is a living thing. It's ever-evolving— just as we are!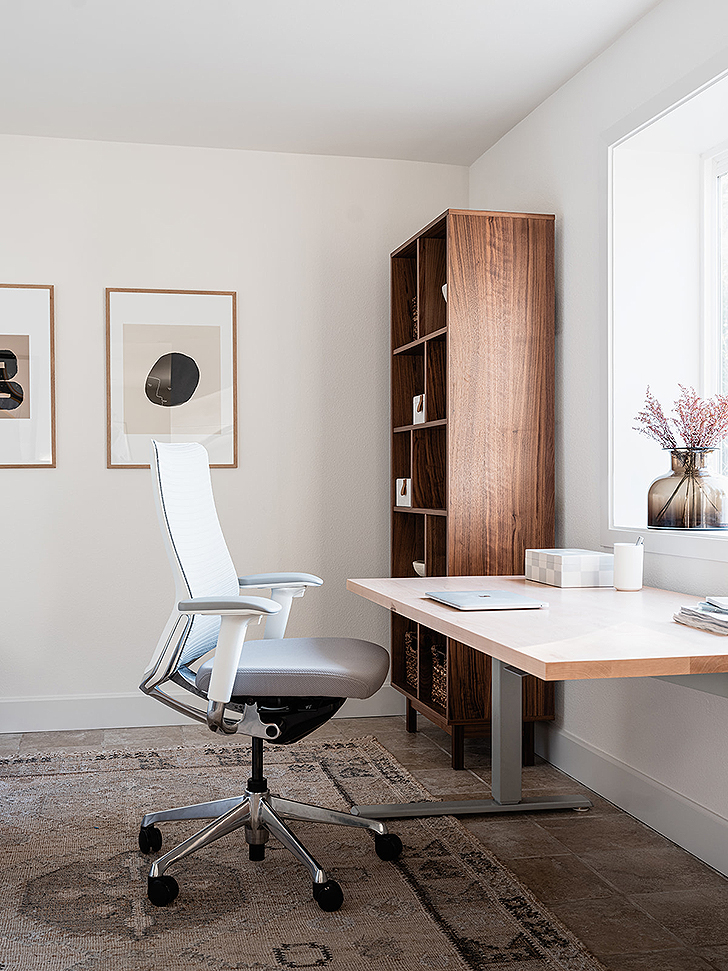 What are your tips for incorporating your personal style and design aesthetic into any space?
There are a few ways you can go about honing your design style or aesthetic. Some people find it helpful looking to their closets. How you dress can help you determine your design style—collected, minimalist, modern, relaxed, active, traditional, formal.
You can also use some common tech tools to hone your personal style. I rely on Pinterest and Instagram to constantly save images that catch my eye. I then go back and look at the images to look for common traits like certain color palettes, types of materials or the types of furniture I'm drawn to. Perhaps you like more more relaxed styles and neutral colors. Or maybe you're drawn to bright hues and playful feeling rooms. Curating that "mood board" will really help you narrow down your design aesthetic.
What do you love most about the Hood Canal Cottage?
The Hood Canal Cottage is more than just a home; it's a refuge for our family. The location is only minutes from little-known beaches that I explored with my mother and grandmother as a child and now I get to share those same hidden gems with my young son. It's a place where we gather friends and family for long leisurely weekends, where we host holidays and offer the opportunity to disconnect from the stressors of everyday life. I really wanted to create a respite for all of our friends and family and the Hood Canal Cottage really fits the bill.
Where do you go for inspiration?
My sources of inspiration are really endless. Of course I look online, but I also try to get away from the computer and head to museums, art galleries, book stores and vintage furniture stores for fresh ideas. Design magazines, particularly those from other countries like Denmark, Sweden, Australia and Mexico, are a must in my book and as I buy as many as I can to ensure they stick around! My library of design books is also quite extensive and I'm always adding new titles to my collection. You always want to have as many references on hand as possible as you never know when inspiration will strike!
Describe your perfect weekend.
A perfect weekend is spent at the Hood Canal Cottage, enjoying a leisurely morning with a warm cup of coffee and indulgent pancake breakfast, followed by beach combing or perhaps a little sea kayaking adventure with my family. We'd return home with sun-kissed skin and salty hair to enjoy a quiet afternoon of game-playing or reading before we head into happy hour on the sun-drenched deck, while the kids and pets play in yard. The evening would start to wind down with a dinner of fresh-caught PNW seafood cooked on the outdoor grill and a stunning sunset putting on a show in the warm summer-night air. If we were in a celebratory mood, there might be s'mores on the firepit and then a nice glass of wine after the kids were in bed. Now I'm counting down the days until weekend!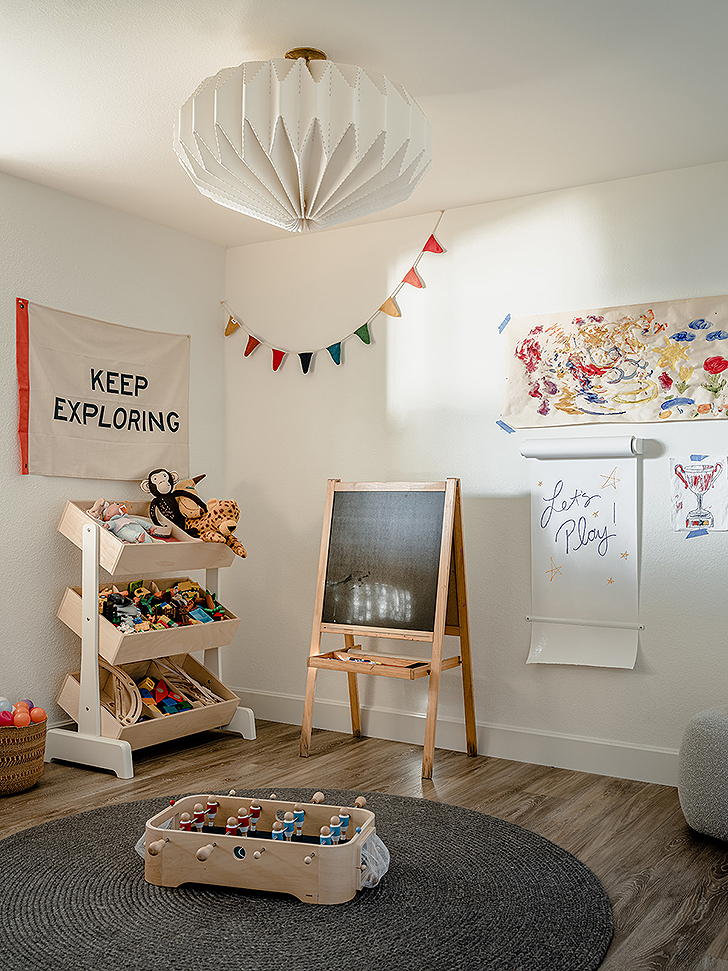 Learn more about the Hood Canal Cottage on Erin's blog.
Photos by Kara Mercer