Jeanine Hays is a regular contributor to HGTV and the woman behind the interior design blog AphroChic. She and her husband, Bryan, recently released their first book, REMIX: Decorating with Culture, Objects and Soul. The design duo has been celebrating the launch with events in our showrooms. This included a stop at Room & Board Washington, D.C., where Jeanine's sister, Angela, is a Visual Associate. (See Angela's Navy Yard loft here). Attendees have been learning how ethnic background influences design style and gleaning tips on how to create the ultimate personalized space. The tour continues in Los Angeles tomorrow with a stop at Room & Board Culver City.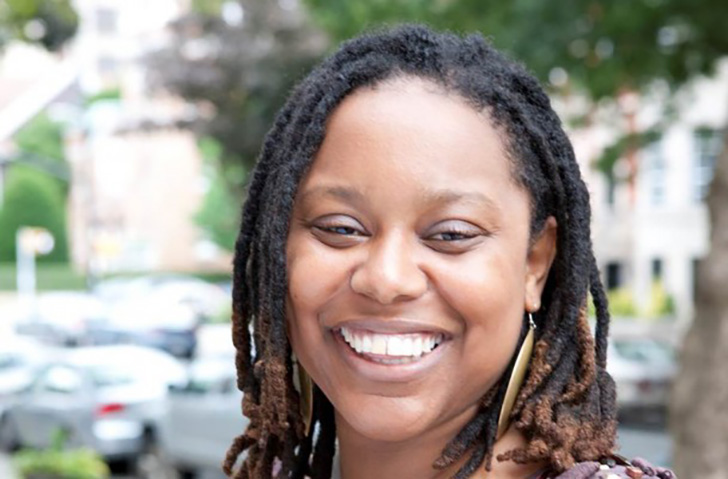 How many pillows do you have on your bed?
Five. Two large European pillows purely for decoration. Two standard pillows that are super comfy to sleep on, and an AphroChic Silhouette pillow that adds my personal style to the bedroom.
If you were a piece of furniture, what would you be and why?
That's a difficult question. I think I would be a modern side chair upholstered in a cool African textile. I love mixing the old with the new. In the end you always have a stunning result.
My perfect Saturday would include:
Brunch with my husband, a stop into a local art museum for inspiration, and it would end hanging out in the bookstore reading the latest on art and design.
What's your favorite magazine?
I live so much in the digital space these days. I love Lonny Magazine—it's fun to read on the iPad.
When I was six, I thought I would grow up to be:
A preacher, a designer and a lawyer. I've achieved two of those things already. LOL!  Maybe I'll preach when I'm older.
Photo from AphroChic