Accessible Elegance: A Home Remodel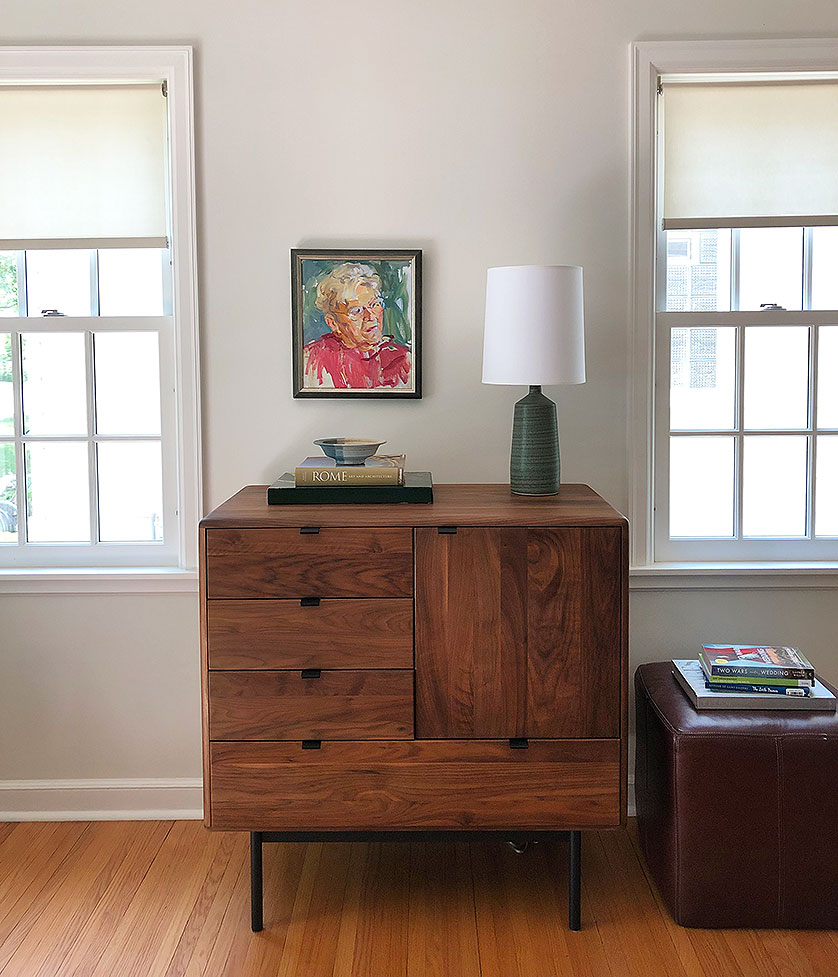 In the heart of south Minneapolis, Jean Sazevich and Dave Hedlund have transformed their 1941 home into a stunning space that is not only beautiful but also accessible for Dave, who uses a wheelchair. With the help of Room & Board, they curated a collection of furniture that combines functionality and style, resulting in a home that is both welcoming and accommodating.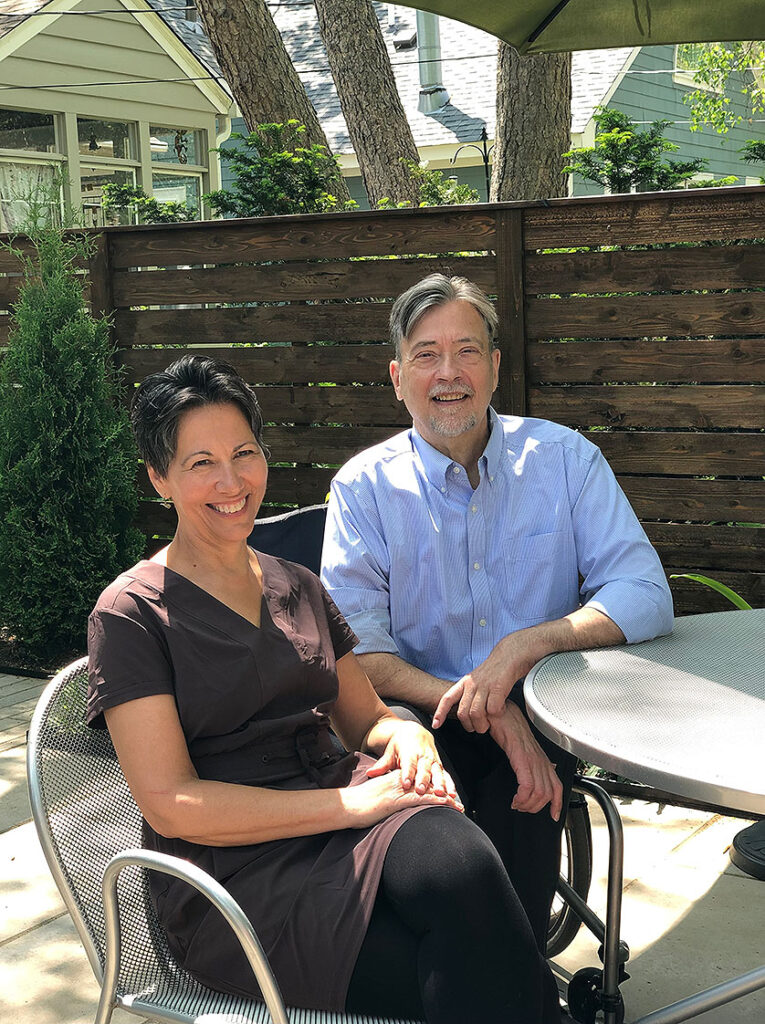 A Vision for Comfort and Functionality
Jean is a philanthropy consultant who has helped guide Room & Board's community giving for more than a decade. Dave recently retired. With him spending more time at home, the couple wanted to enhance their home's functionality and comfort both for daily life and for hosting gatherings. Jean remarks, "Now it's so much more pleasant for us." The furniture additions were part of a larger remodel that included a complete kitchen renovation for enhanced accessibility.
They collaborated with Interior Designer (and former Room & Board Design Associate) Kelly Allen to curate a collection to meet Dave's needs and fit their small space. Considerations such as reachable heights, easy-to-grip drawer pulls and sturdy attachments to the wall were taken into account.
Designing with Accessibility in Mind
Dave requires clearance for his wheelchair and the ability to navigate around furniture effortlessly. Items like small ottomans allow Dave to easily push them out of his way or use them as support. It provides him with the freedom to move comfortably in the space.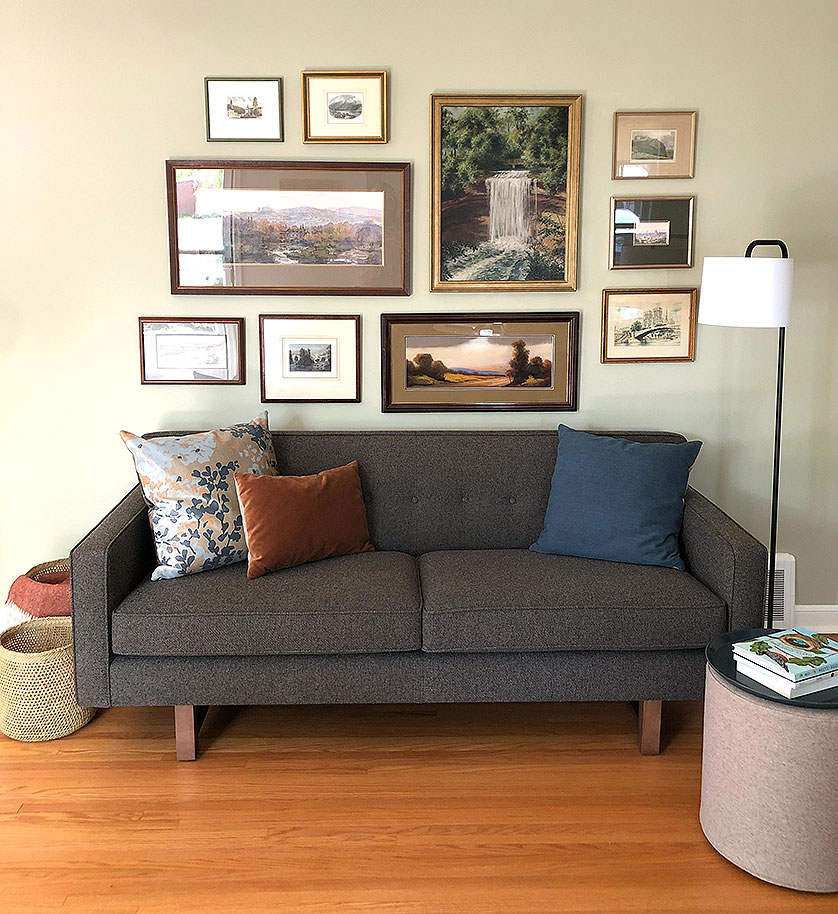 In their small front room, Jean and Dave faced the challenge of limited functionality due to bulky furniture. With the addition of a shallow Beam wall unit and a Julian dining table, the space became more enjoyable and usable. They now use the room for games, wine, and tapas with friends and family.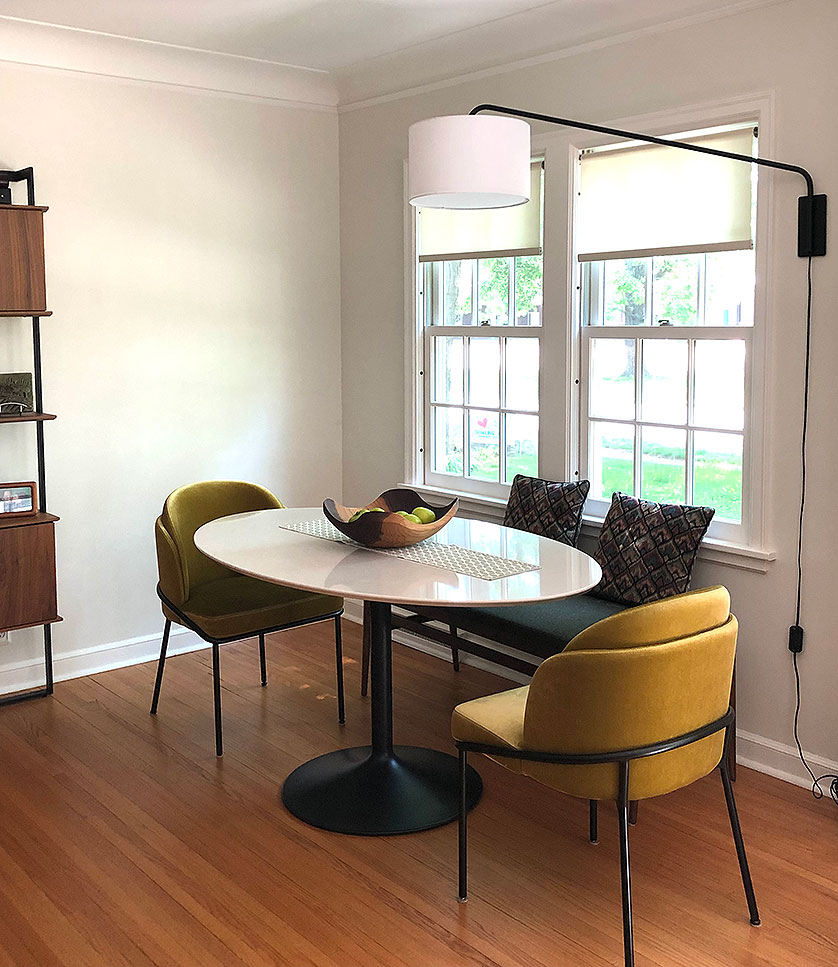 The oval shape of the table, with its extended overhangs, lets Dave easily pull his wheelchair up to the table without bumping into table legs. Dave shares, "The strength and sturdiness of the table allows me to lean on it or push myself away easily."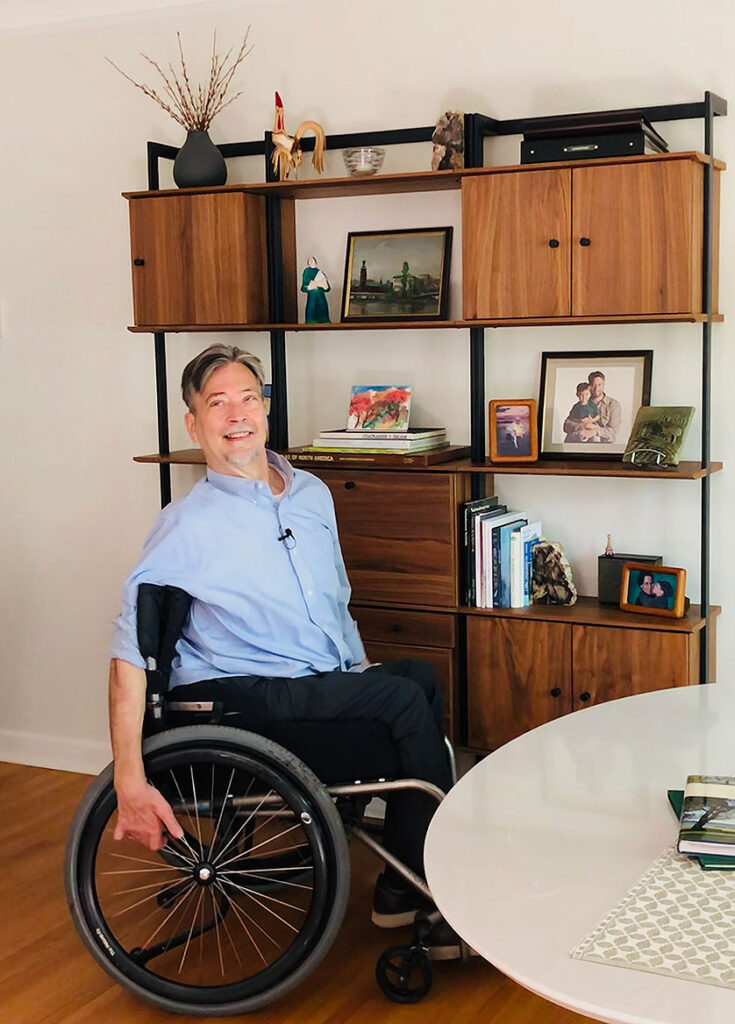 Shop this room: Beam modular wall unit
The wall unit with a drop-down work surface provides a convenient space for Dave to work or roll up to and push away from.
Custom Cabinet for the Win
For the dining area, the couple customized a Linear storage cabinet to meet Dave's needs while adding a touch of fun to the space. It serves as a bar for entertaining and cozy evenings at home, with one drawer dedicated to their shared love for chocolate.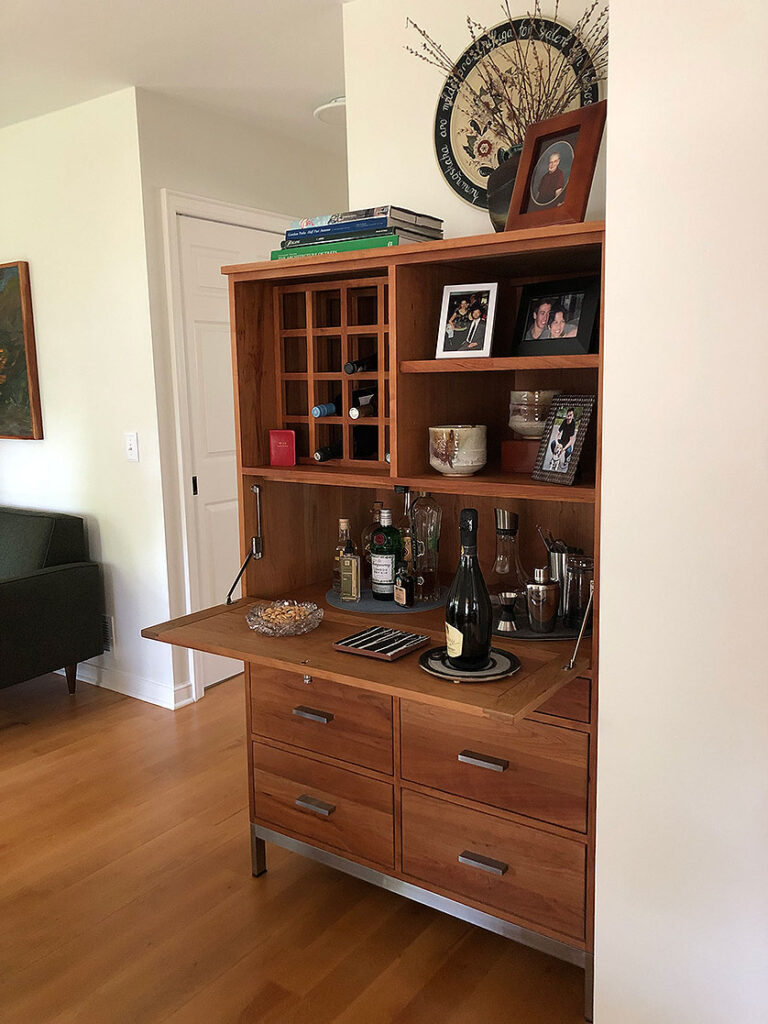 Shop this room: Custom Linear cabinet
The room is rounded out with a Ventura extension table that features a sizable overhang for access for Dave. "The dining table is, I think, our favorite addition," shares Jean. "It's warm and inviting."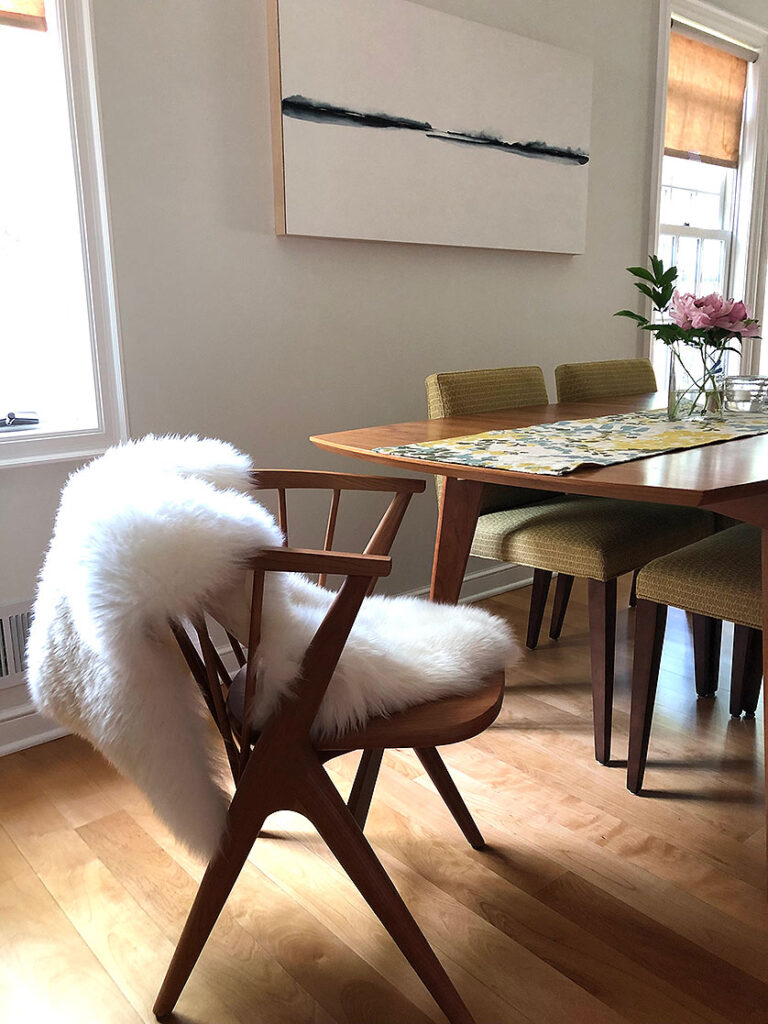 Stylish Solutions
Jean and Dave's journey of creating accessible spaces with Room & Board furniture showcases the perfect blend of beauty and functionality. By considering their specific needs, they curated a collection of furniture that not only enhances accessibility but also elevates the overall aesthetic of their home.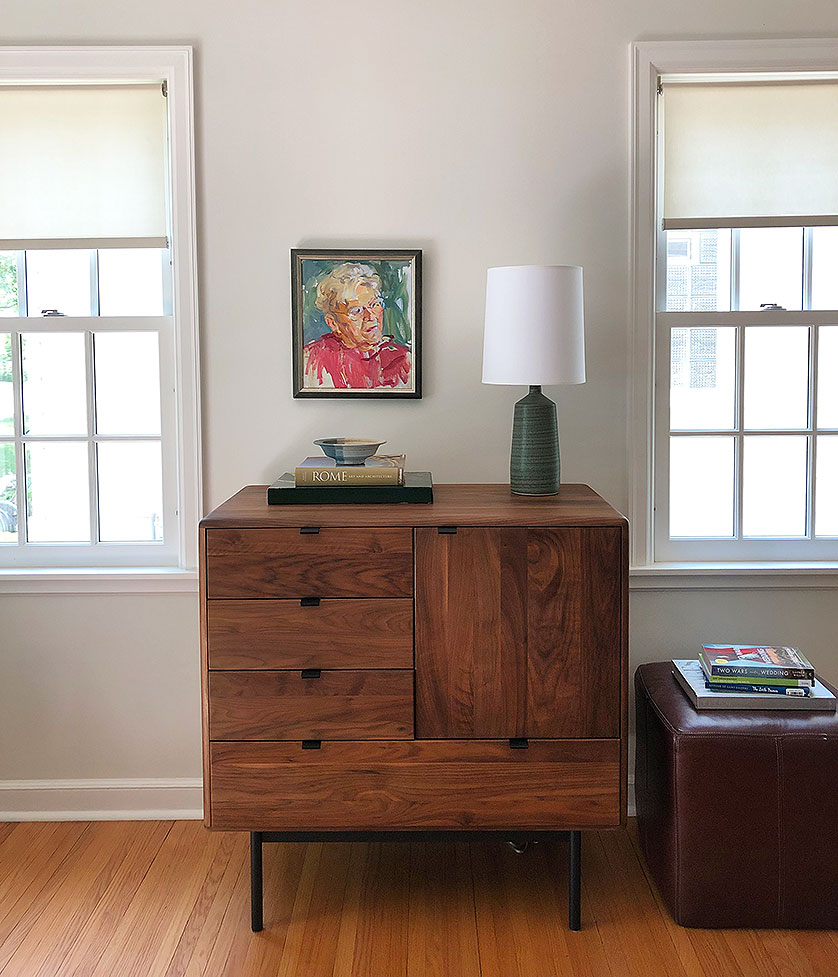 Room & Board's commitment to high-quality and timeless design, coupled with the expertise of their design associates, has made Jean and Dave's home a true sanctuary for comfort and style.
Images by Room & Board