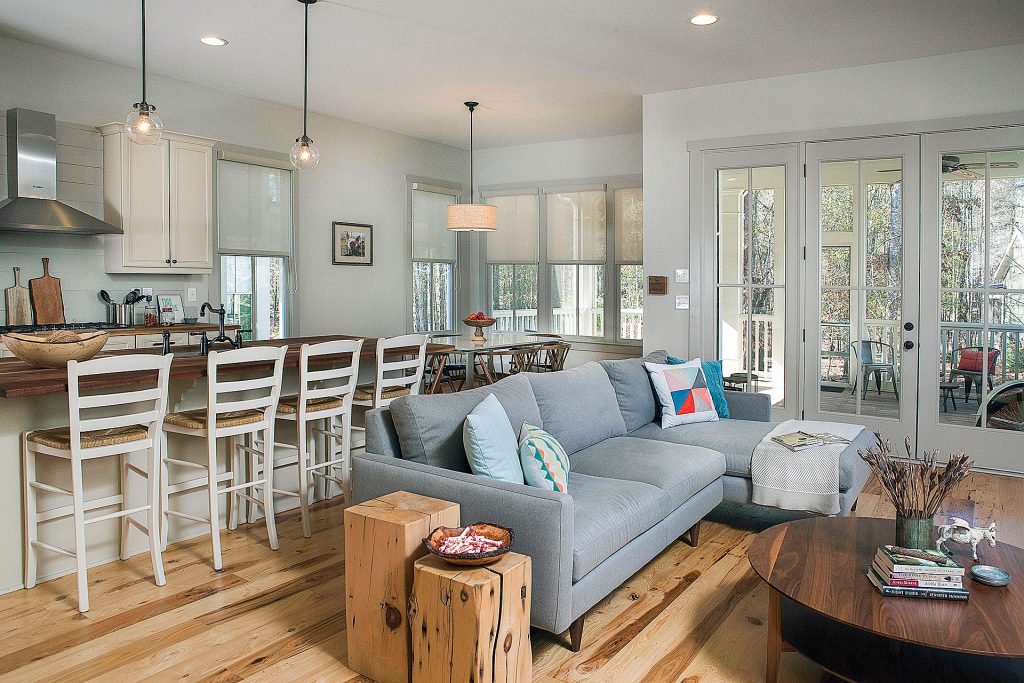 With a layout inspired by English villages, Serenbe is a thoughtfully planned development that features preserved forests, meadows and a working farm. Located just outside Atlanta, with miles of pedestrian trails that make it faster and easier to walk places than to drive. Homes have front porches to encourage neighborly interactions, and the area boasts restaurants, art galleries and other businesses. In fact, the entire setting is so unique and inspiring that is was featured on CBS Sunday Morning. Thanks to a longtime customer, we are able to share a peek at the Serenbe lifestyle.
Take a look
Living Room
Susan Hartford and her family first traveled from their home in L.A. to Serenbe for a spring break trip. Susan had heard of the area when the 2012 HGTV Green Home was located there, and, given her daughters' love of farm animals, it seemed like a great place for a spring break vacation. Susan's daughters were indeed smitten by the animals and open spaces, prompting the family to purchase a home in the development. "It's so peaceful and relaxing," Susan says. "There are so many nature trails and 70% of Serenbe is forested."
Dining Room
"As a second home for Susan and her family, she was looking to balance style and function in a way that married her California aesthetic with Serenbe's farm village appeal," share Sandra. "She had a really great grasp of the types of pieces she needed for this home, but was looking for guidance in targeting which collections and finishes to consider." Susan was familiar with Serenbe's New Urbanist design concept, which helped her further understand the types of furniture that would fit within the home and the area as a whole.
Reading Nook
Susan loves to spend time at Serenbe and she says, "I love walking into my house. It gives me peace of mind to be here."
Images from Room & Board