Say hello to Sydne Summer, a fashion and beauty blogger based in West Hollywood, CA. We helped Sydne brighten up her new dining room (head on over to her blog to learn about her design process) and the result is stunning! Read on to see the finished space and learn more about Sydne.
If you could invite any 5 guests to your home for a dinner party, who would make the list?
Sarah Jessica Parker, Meryl Streep, Jimmy Fallon, Oprah and Al Pacino.
Do you have a special piece of furniture that has sentimental value?
My vanity table was a present from my grandparents before they passed. I had it refinished so it would go with the the vibe of my new home. I always think of them when I put on my makeup and get ready. 
What have you learned from going through a home remodel?
Everything takes at least double the amount of time! I was told this but I refused to believe it… until it happened to me.
Who or what inspires you?
My mom is my biggest inspiration. She has always inspired me to work hard and give back in life. 
What's your favorite go-to design resource?
Room & Board! I've been a fan of the store from the first time I started decorating. A bunch of my old furniture came from the store and I was so impressed with how long they lasted. I'm so excited to have so many new pieces in my new home.
Three things you won't leave home without?
My phone, tinted chapstick and hand sanitizer.
What's the best advice you've received?
The grass is always greener where you water it.
What are you currently reading?
Quicksand by Malin Persson Giolito
What's your favorite beauty or style trend of the moment?
I'm obsessed with sock booties. They're the perfect solution to getting the look of a flattering pointed pump when it's cold out.
What's your go-to outfit to feel effortlessly styled?
A button down shirt, skinny jeans and a stiletto.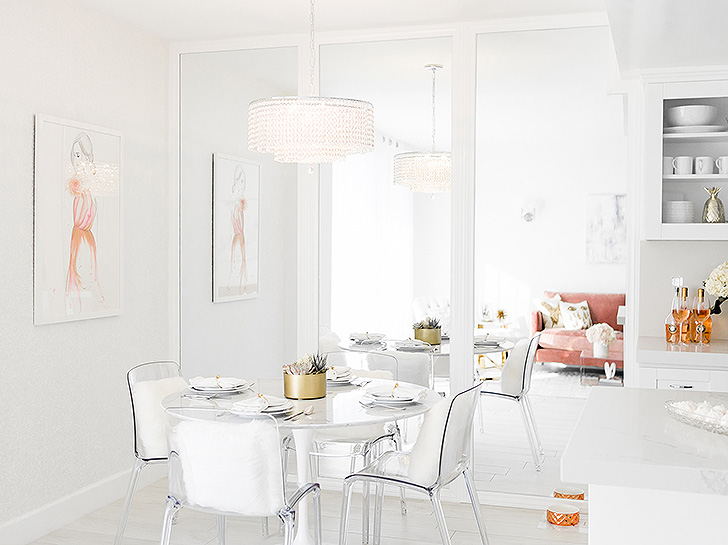 Photos by Michelle Kyle