Yes, you read that headline correctly! Some of you might recognize him from the Step Up dance films or his performance with Taylor Swift at the American Music Awards, but chances are you've probably mistaken him for an actual robot in your Instagram feed. Chadd Smith, more commonly known as @maddchadd on Instagram, has quickly become one of the most entertaining performers on Instagram with his unique and mesmerizing style of dance. We partnered with him and his wife Leigha to create a dining room fit for the future…
How would you describe your dance style?
Chadd: I do a robotic style under the umbrella of popping. I would describe it as mechanical movement combined with dancing mime. My motivation is to make people question the reality of what they are seeing when I dance.
When and how did your love of dance evolve into a full time career?
Chadd: Dancing at parties, clubs and on the street were a huge part of my dance journey. As I continued to improve my skills, I started to get noticed more and more when I was out getting down. In 2004, after meeting my wife Leigha and having multiple agents, producers and friends urge me to start auditioning, I decided to get an agent and go for it! It happened very naturally. I went from dancing with friends to being asked to audition for jobs like commercials and tv which led to movies. Basically dance, acting, modeling and internet content creation have been my full time job for the last 14 years.
Have you ever been mistaken for an actual robot?
Chadd: Some of my online followers are genuinely confused when I post in "human mode" not dancing, they accuse me of trying to imitate a human! Sometimes it gets tricky with young children…their parents will find out I do the robot and want me to show their kids, but then I just end up freaking them out!
Who's the most fun/interesting person you've had the pleasure of meeting thanks to your career?
Chadd: A few come to mind: Tom Hanks and I did the Robot at one of Ellen Degeneres' birthday parties a few years back. Shaq asked me to perform with him for an award show about 6 years ago and we've stayed in contact. Both of them are really down to earth and humble.
What's your favorite travel destination to visit as a family?
Chadd: We've been going to a  little Mexican town in Baja where Leigha's dad has had a home for a long time. There's a simplicity and freedom down there that you tap into when you hop on an ATV and drive it along the beach into the little town. Our daughter Aurelia loves it there. The last time we went Aurelia was five and a half and she greeted everyone with Hola Amigo/a wherever we went!
Another family favorite is Refugio beach just north of Santa Barbara. We both have roots in the area. My family has been camping there my whole life. My brother and I spent many long days biking around the coast trails and surfing there. Leigha was born in Goleta and briefly lived on a farming community called Sunburst near Refugio and hadn't been back to the area until I took her camping a few years after we met. Now we go yearly with my family. Aurelia and I have a tradition of taking night hikes together.
Who or what inspires you?
Leigha: Chadd and I both found ourselves drawn to the same colors (white, black, grays and strong pops of color) in decorating our new home. You can really see this in our dining room. We were inspired by places like Joans on Third cafe. They have beautiful marble tables and the energy of a European cafe market which speaks to my desire to feel both comfortable and worldly in our home.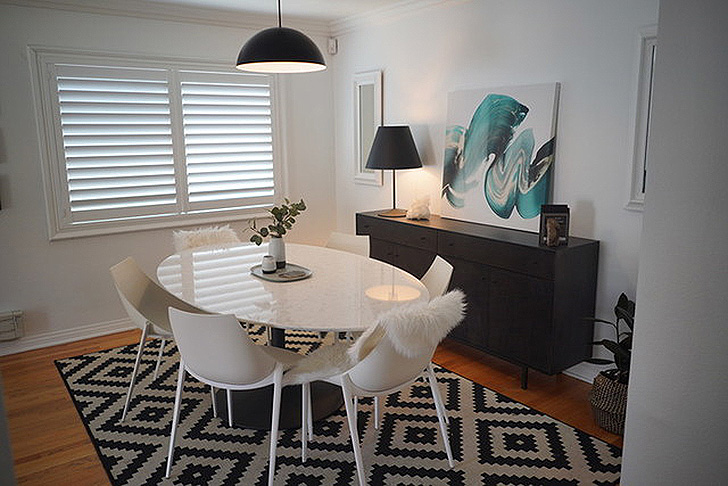 When you were a kid, what did you want to be when you grew up?
Chadd: I wanted to be an Olympic high jumper. I went to UCLA to study physiological science on a track and field scholarship. It was there while I was recovering from my last 2 (of 4) knee surgeries that I really fell in love with popping and dove deep into the dance world in LA.
Leigha: I wanted to be a fashion designer until I went to design school and realized I had a mind for business. Now, I really enjoy running the business end of all things Madd Chadd and allowing him to focus more of his energy on being creative.
If you could host a dinner party in your newly furnished dining room, who would be your dream party guests?
Leigha: It would be a small dinner party with my sister Elyse as my sous chef, her adherence to recipes balances my desire to cook creatively and instinctively. I would probably make this delicious Banh Mi Lemongrass Meatballs salad recipe for my guest of honor Anthony Bourdain to which I think Amy Sedaris would be a hilarious second guest. I'm curious to hear who Chadd chooses and whether our dream guests would mesh well at the same table.
Chadd: The Nolan brothers, Jordon Peterson and Dr. Mercola.
What's currently at the top of your Netflix queue?
Leigha: While we do watch a fair amount of Netflix shows, our notable mention is HBO's Westworld. Anticipation starts to build for us each Sunday when one of us knowingly reminds the other that we have an episode of Westworld waiting for us. Years ago, we watched the original Westworld movie. Seeing how creativity the writers evolved the movie into the show is really interesting especially to someone that has made a career moving robotically.
Photos by Leigha Smith