Gail Simmons's Garden Oasis Revealed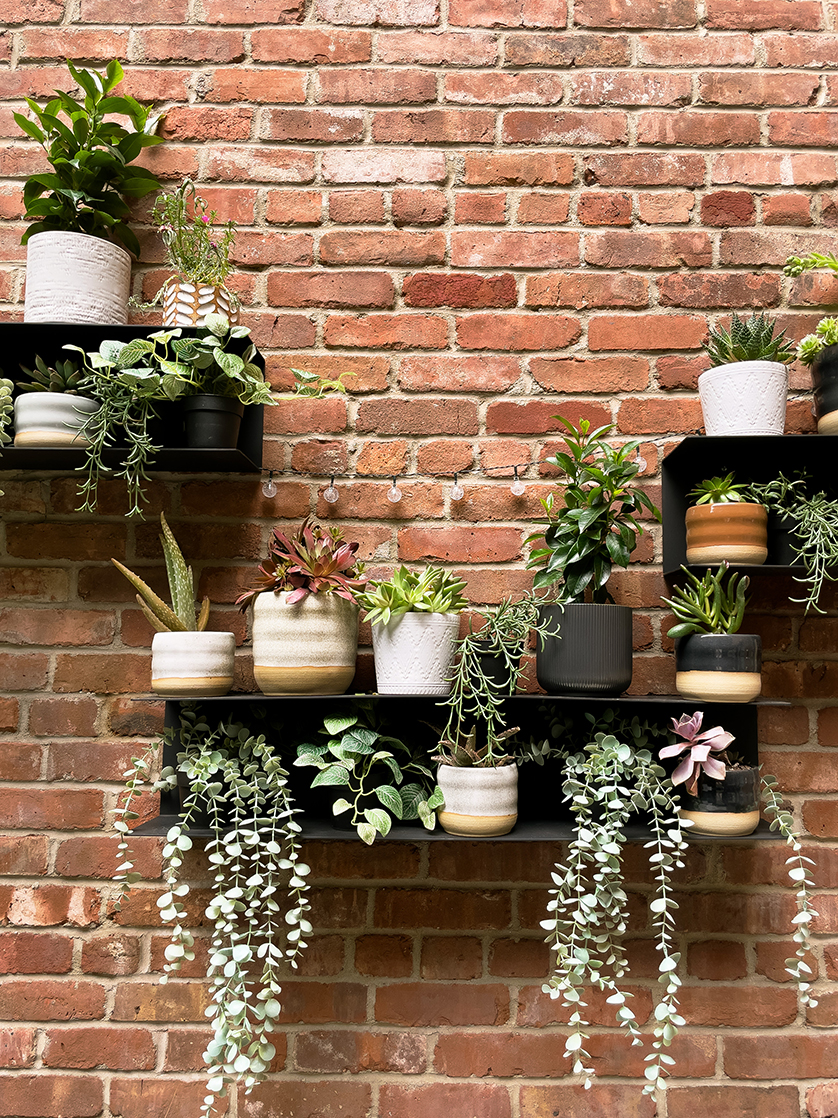 Room & Board provided Gail with furniture in exchange for promotion. We partner with people who are already fans of our brand for the most meaningful connections. All opinions expressed are their own.
After searching almost 10 years to find a table that would work in Gail Simmons's small space garden patio, she found the perfect fit with our customizable Parsons outdoor table. We chatted with her to learn more about how she designed the space to be a multi-purpose sanctuary in the city.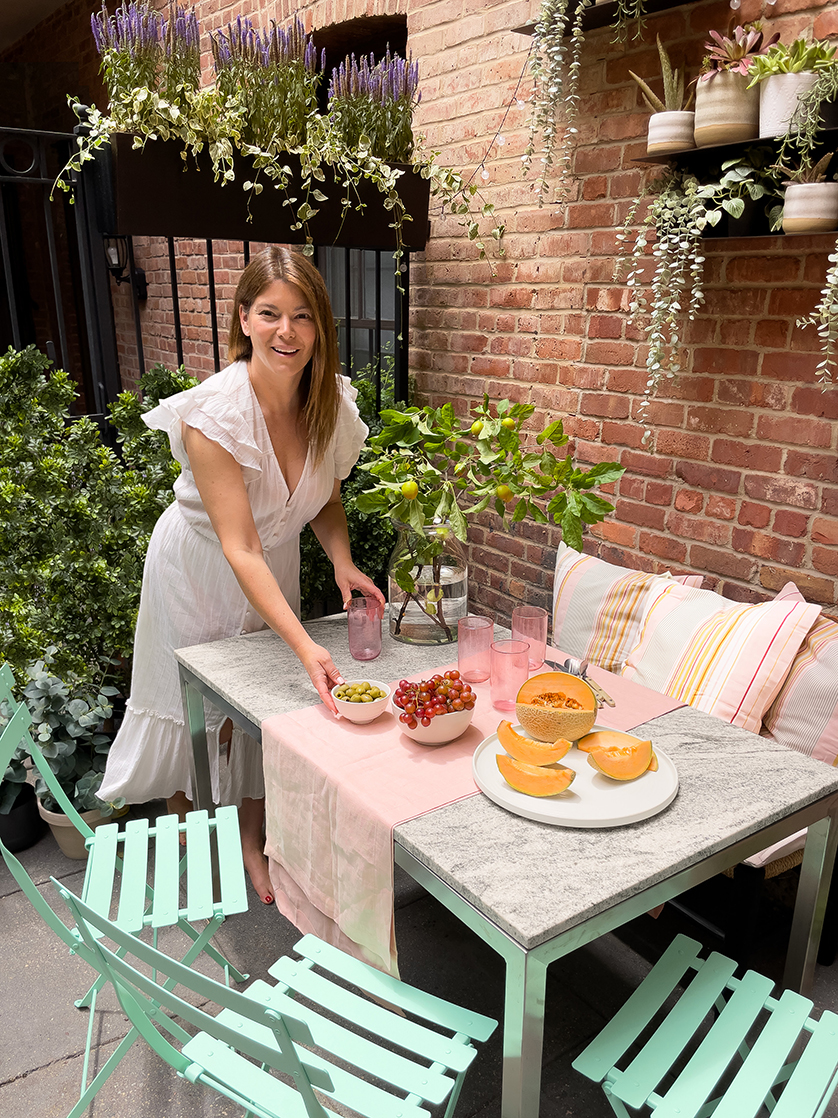 What was the most important element in designing and refreshing your patio space?
I wanted our garden to feel as conducive as possible to the multitude of needs we have as a family. A spot for art and play with my kids, family dinners, entertaining friends, and a sanctuary where we could escape for peace and quiet on occasion. We live in a very green part of Brooklyn, but life is so demanding and busy, I wanted to make sure the space felt fresh, happy and cozy.
You had a very specific size requirement for the table that you didn't think you'd be able to solve. Luckily, our Parsons table offers infinite customization down to the inch. Did you run into any other design challenges?
For almost 10 years we searched for a table that was substantial enough to withstand the wear and tear of our lives, but that fit the small space and looked beautiful. Not an easy order. Everything was too big and bulky or small and flimsy, and could not seat four to six people comfortably. The Parsons table solved this issue beautifully. I could customize the size TO THE INCH, as well as all materials, including the stunning granite top (which now doubles as a perfect background for my food styling and photography needs). It's durable, sleek and looks great against the exposed brick walls of the garden.
Another major design issue was that I have two grills (one gas, one charcoal/smoker) I didn't want to give up. I use them for different purposes in work and life, but they take up a lot of room. We had to find creative ways to make the space more green, and bring in furniture that would minimize clutter. Room & Board's Staple Double Wall Shelves were ideal as they attached to the brick wall. They allow for so much more greenery without taking up coveted floor space, and add a lot of character. My Room & Board Willa Storage Side Table also is a key problem-solver. It's great for setting down food prep near the grill. It's interior doubles as storage for our grilling supplies and gardening tools.
Finally, using the Terrace Planters for even more greenery allowed us to add abundant plant life on the floor of the patio tucked in against the wall and window, which maximizes space for movement.
What's your go-to summer meal?
I have many go-to summer meals and they all start with what's in season that I crave all winter long. Lots of watermelon and feta salads, grilled artichokes with mint and chilies, grilled asparagus served alongside grilled fish or steak and a spicy chimichurri sauce, corn slathered in herb butter, strawberry or cherry or peach upside cake, or any summer fruit simply grilled in foil packets and poured over ice cream. It's my favorite time of year to cook because you have to do so little to peak produce for it to taste great!
Who would be on the invite list for your dream outdoor dinner party?
Anyone who wants to get their hands dirty and cook with me! I imagine Michelle Obama, Stanley Tucci, Dave Grohl, Ali Wong, Pink and Questlove would make for a pretty fun garden party.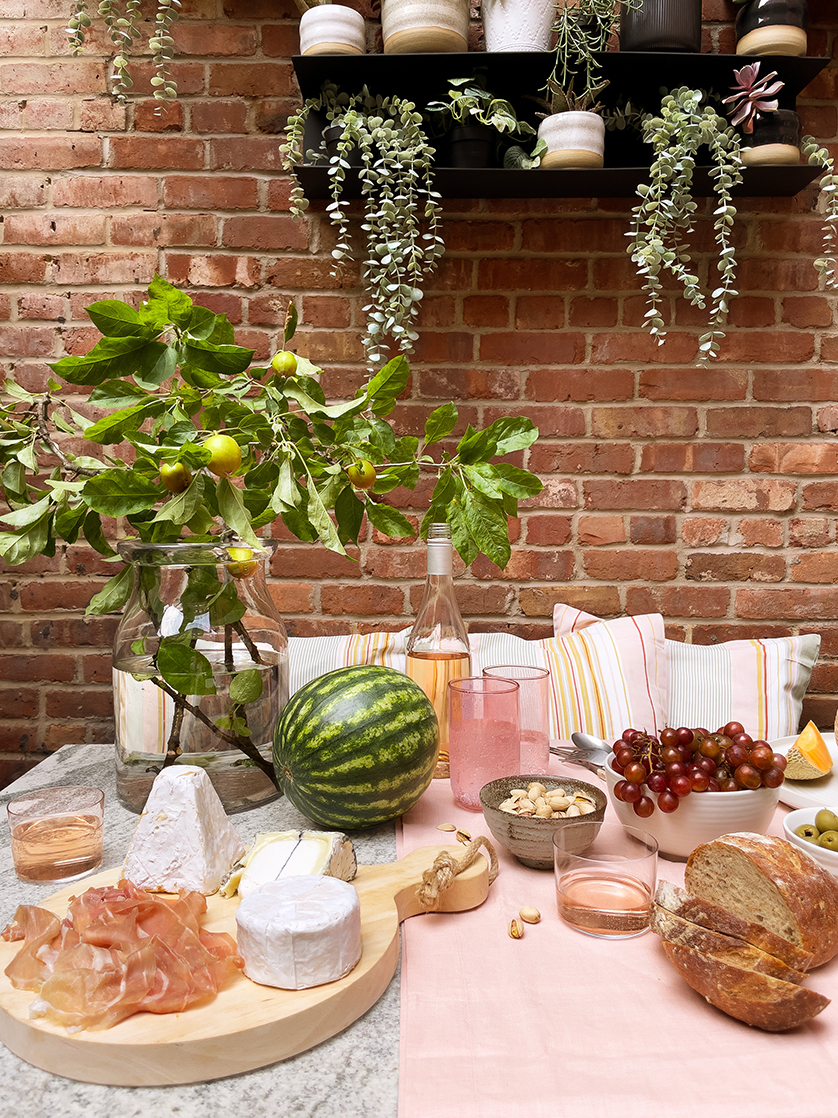 What's your favorite meal to enjoy with friends and family?
I love brunch and so do my kids, so lazy weekend mornings with freshly made banana waffles and maple syrup, veggie frittatas and berry smoothies are a fave of ours. They love cooking and making these with me. In summer, a favorite weeknight dinner is bucatini with a sauce of simmering burst cherry tomatoes, basil and fresh milky mozzarella. Sometimes I fold in stewed peppers or fresh corn too.
Where did your love of food come from?
I grew up in Toronto, which is a wonderfully diverse city that has great food from all around the world and my parents have always been food-lovers and adventurers. My mother ran a small cooking school out of our home when I was little and wrote a food column for the Globe & Mail (Canada's biggest newspaper). My father is from South Africa and traveled with us from a young age. They introduced my brothers and me to so many different cultures through food and helped instill in us a sense of curiosity and open-mindedness. Food is a universal language that starts conversations and helps bring people together. That was always their message. So I guess I came by it honestly.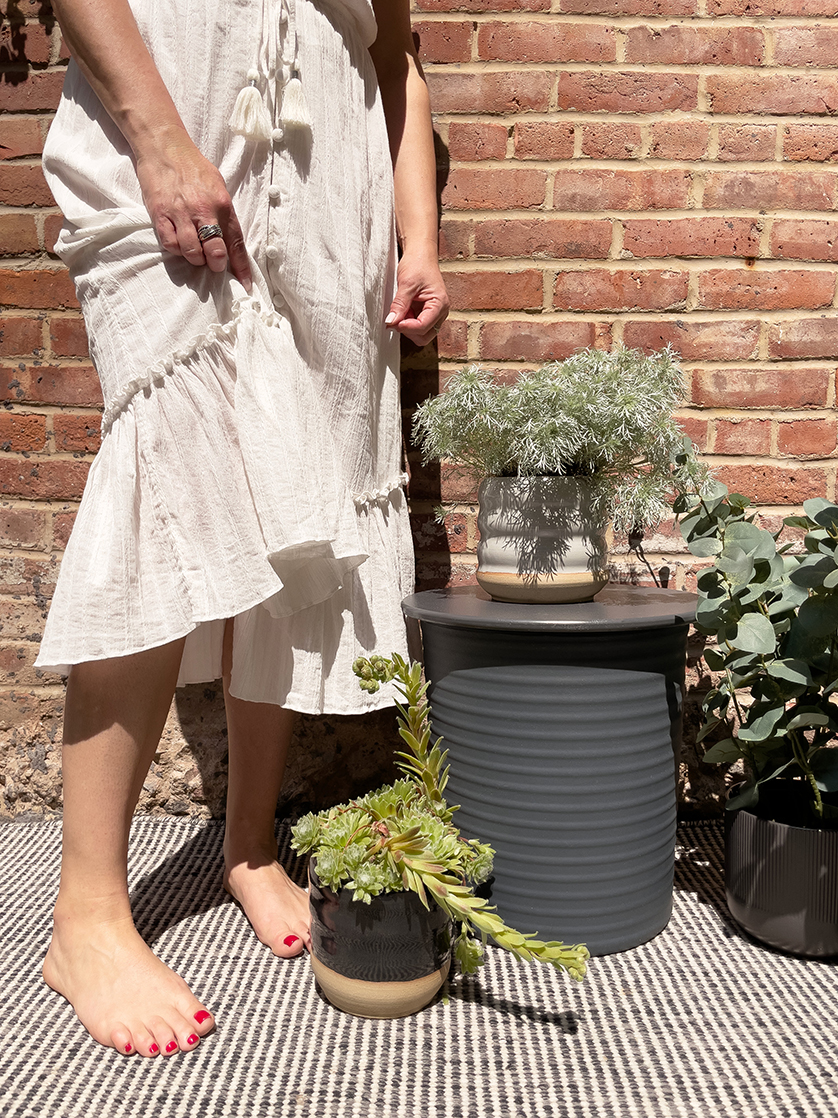 When you're not traveling, filming or cooking, how do you like to relax and unwind?
I love being outdoors as much as I'm able – biking, hiking, running, walking, swimming, canoeing, playing tennis and even sailing. I don't get to do it as often as I'd like, but being active in the sunshine is my favorite way to take care of myself and clear my head. Seeing live music is also a love of mine, and nothing is more satisfying than finishing a really engrossing novel (especially when I get to do it with my feet up on my patio, a great glass of wine in one hand and a book in the other)!
Photography by Permanent Press Editions 
Room & Board provided Gail with furniture in exchange for promotion. All opinions expressed are Gail's own.