If you love color, you're going to love this home tour!  We teamed up with Kelly and Jeff Mindell, the couple behind  Studio DIY, to transform their dining room and master bedroom with bright pops of color. Who knew walnut and hot pink worked so well together? Keep reading to learn more about the colorful duo and see photos of their equally colorful home.
Describe Studio DIY in 3 words…
Kelly: Bold, nostalgic and happy!
Jeff: Colorful, trend-setting and nostalgic.
If you were a color, what color would you be and why?
Kelly: Pink. It's my favorite color and I love every shade of it. Plus it's fun, happy and empowering.
Jeff:Turquoise. I've always loved the water, the beach, the colors and that environment. That shade of blue makes me very happy.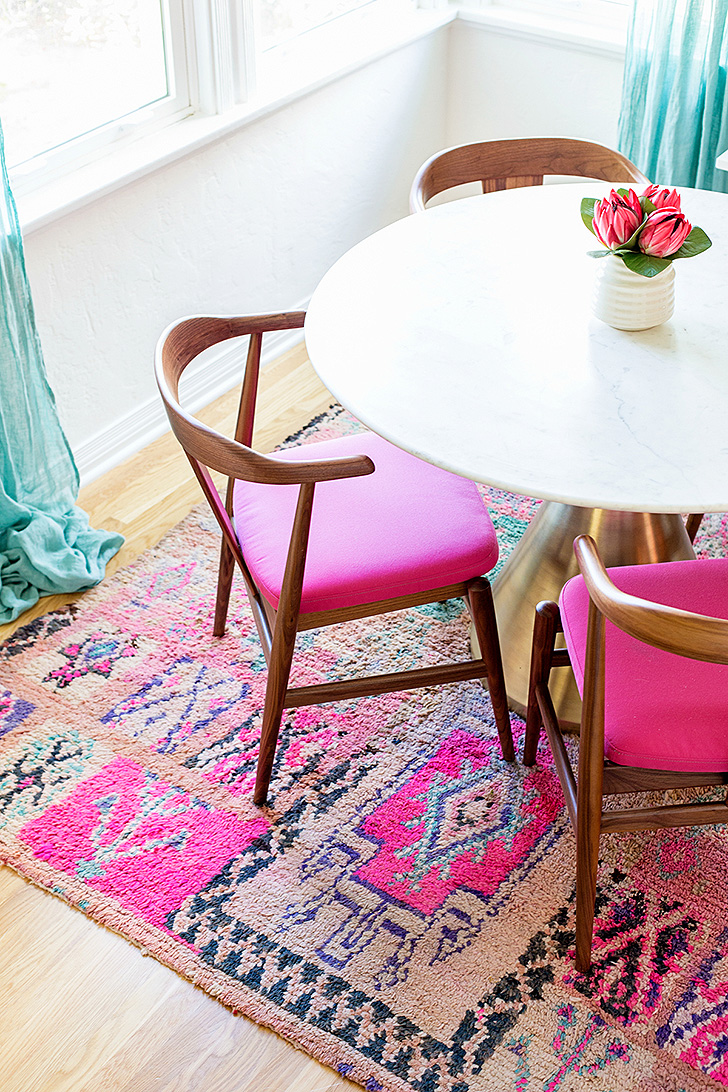 What are 3 items you can't live without?
Kelly: Chocolate chip cookies, YouTube dance videos and Amazon Prime.
Jeff: Burt's Bees lip balm, Dunkin' Donuts iced coffee and sunglasses (I have sensitive eyes and SoCal is very bright!)
Does your personal style influence the way you design your home? If so, how?
Kelly:  I notice a lot of similarities between my personal style and my home. I love to layer different patterns and textures in my outfits and do so frequently in the rooms I design. I also tend to incorporate a lot of pops of color and a lot of pink, my favorite across the board!
Jeff:  I think so! I tend to gravitate towards things that are different, one of a kind, or conversation starters. We kind of approach our home design the same way.
How has the transition into parenthood been? Has it changed and/or challenged the way you design or work?
Kelly:  I've never loved a job more than the job of being a mom, it's the absolute best. It's definitely challenged the way I design a room because now I have to choose fabrics and materials that are more durable. I also try to find storage solutions in every piece and corner I can to conceal all the toys we now have floating around.
Jeff: It has definitely changed a LOT for us both! We are now forced to prioritize time in our eternal struggle for a work/life balance. In terms of design, it's consideration of our style, but making sure that everything from fabrics to surfaces are 'kid-friendly'.
If you could collaborate with anyone, who would it be and why?
Kelly: I'd love to collaborate with Kristen Bell. She's hilarious and seems like a genuinely wonderful person. Plus, I listened to a podcast interview with her recently and she couldn't stop talking about how she'd rather be at a craft store. Pretty sure we'd be BFFs.
Jeff: Kanye West. The man is a cultural phenom and simply does not care what people have to say about his creative process. It's refreshing and awesome and I would love to be a part of that kind of environment!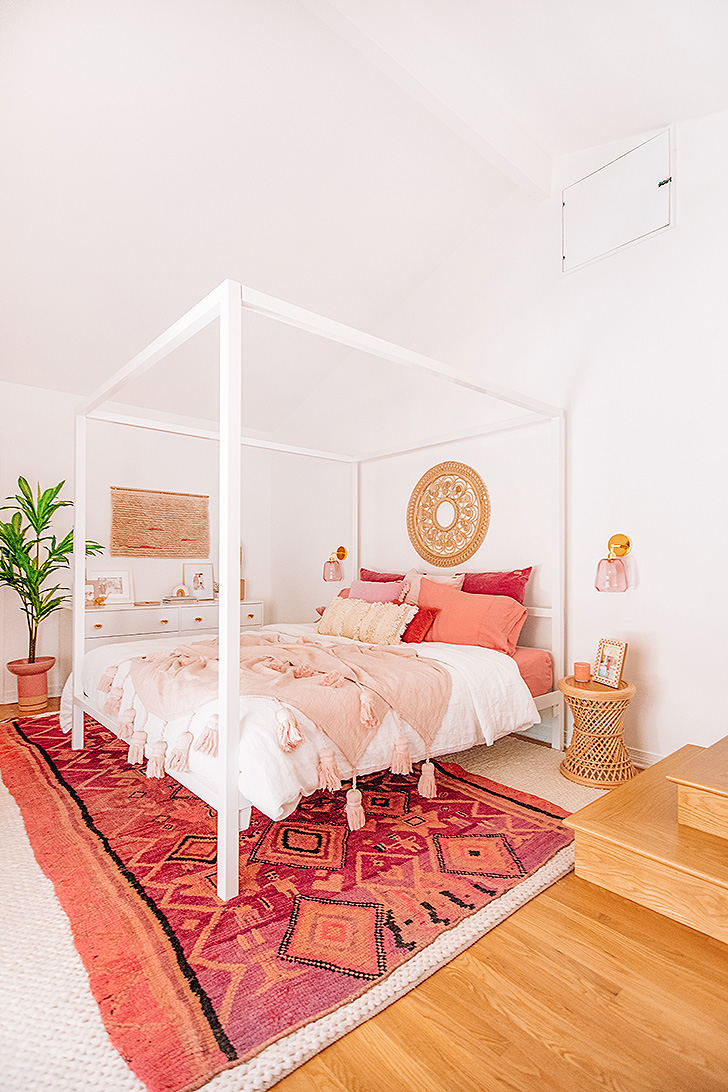 What do you find most fulfilling about your work?
Kelly: Getting to connect with other women around the world who share a similar interest or life experience, a love for color or a passion for pursuing their dreams is without a doubt the most fulfilling part of my job.
Jeff: Honestly it's the impact that it has on other people. Most days, I'm behind my computer in our office or working on the couch just creating the content that we put out into the world. It doesn't really hit me how my work makes other people feel until I see the feedback for myself. Be it via email, messages on social media, or coming up to me on the street, it is so incredible and humbling to hear that what I do makes other people happy or smile.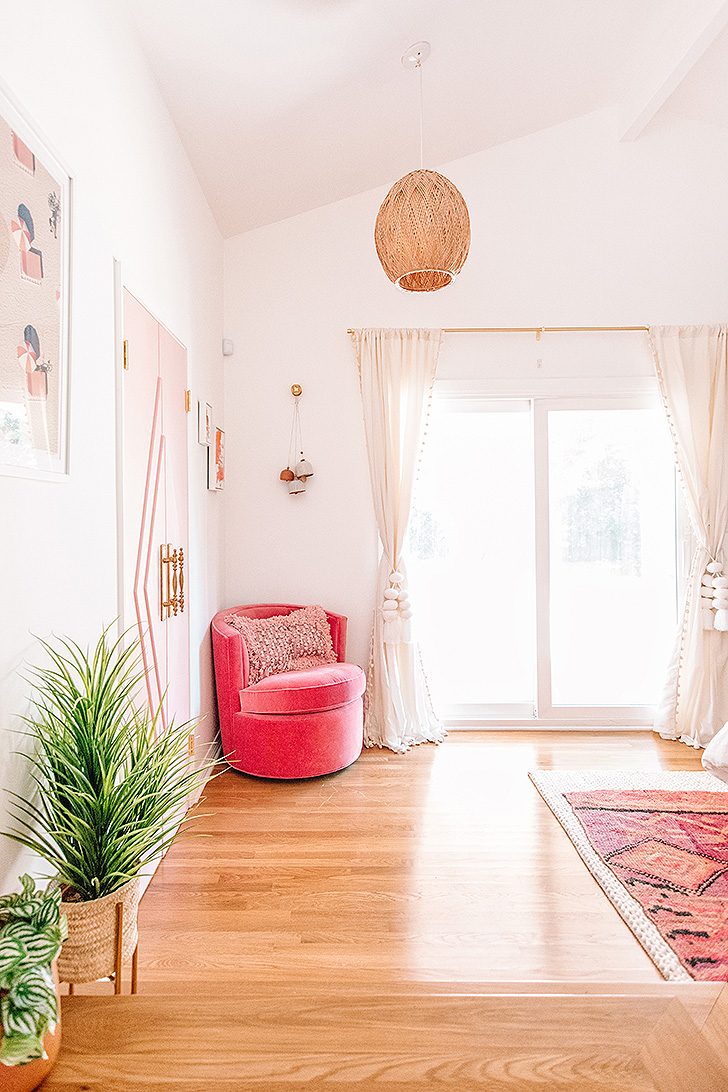 Where do you find inspiration?
Kelly: Everywhere! I pull a lot of inspiration from childhood memories, family traditions, travel, color palettes and interior design.
Jeff: When I travel and get outside the bubble that is Los Angeles, that's really when I have my eyes open to new or exciting aesthetics!
Name a destination you would love to visit this year.
Kelly: It may not happen this year, but I'm absolutely dying to visit Australia. I'm so inspired by the design work coming out of that country and would love to visit with a few empty suitcases to fill up and bring back!
Jeff: The American Southwest.
Learn more about the bedroom and dining room transformation on Studio DIY 
Photos by Studio DIY