We're celebrating the launch of Lottie Bildirici's first cookbook, Running on Veggies: Plant-Powered Recipes for Fueling and Feeling Your Best. The book contains more than 100 mostly plant-based recipes to help you fuel up and start a lifetime of healthy habits, one delicious meal at a time. To get you started, we're excited to share a sneak peek of one of the recipes:
Peanut Butter Compost Cookies
PREP TIME: 15 minutes
COOK TIME: 12 minutes
MAKES: 16 cookies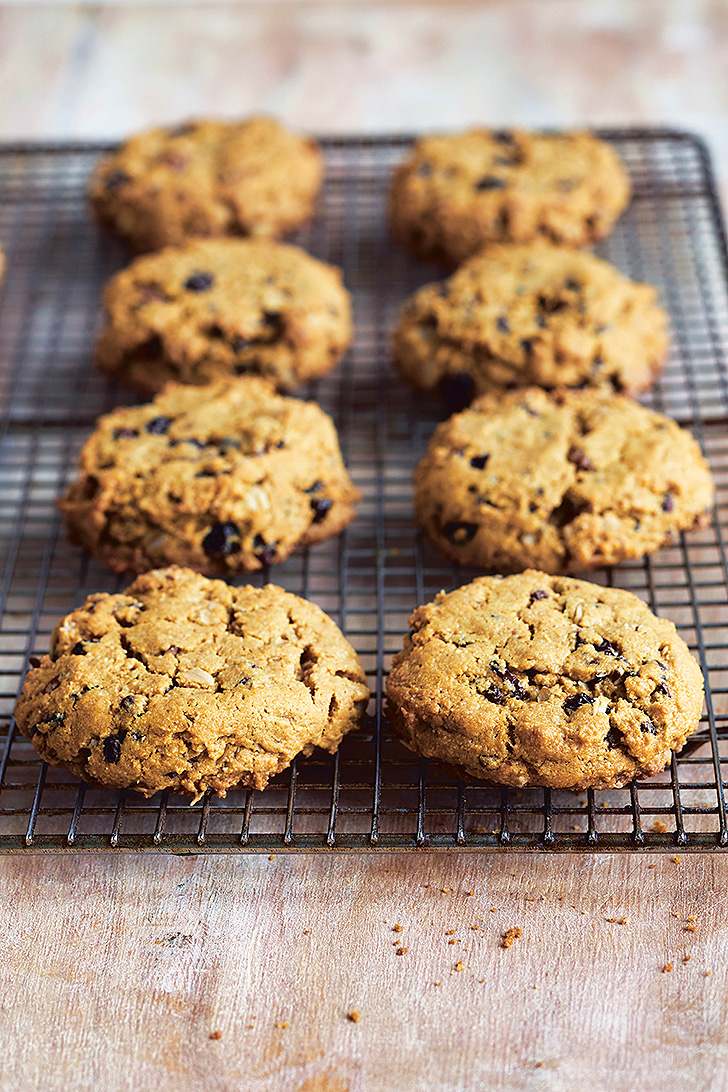 These cookies hold up really well during a long bike ride, aren't too sweet to eat in the middle of a workout and are also a great anytime-dessert! I use maple syrup as a natural sweetener for several of my desserts and adventure snacks in addition to dates or fruit. Maple syrup has some minerals and antioxidants, like manganese, as well as a slightly lower glycemic index than regular sugar. Be sure you are buying pure maple syrup when you go to the store and not artificially sweetened maple-flavored syrup.
Ingredients:
1 cup unsweetened natural creamy peanut butter
½ cup pure maple syrup
¼ cup coconut oil, melted
2 large eggs, at room temperature, lightly beaten
2 teaspoons vanilla extract
1 teaspoon sea salt
1½ cups almond flour
1 teaspoon baking soda
1 teaspoon baking powder
1 cup old-fashioned rolled oats
½ cup cacao nibs
½ cup dried raisins
½ cup pecans, chopped
Step 1: Preheat the oven to 350°F. Line two baking sheets with parchment paper.
Step 2: In a large bowl, stir together the peanut butter, maple syrup and coconut oil until smooth. Add the eggs, one at a time, and mix until just incorporated. Stir in the vanilla and salt.
Step 3: In a medium bowl, whisk together the flour, baking soda and baking powder. Fold the dry ingredients into the nut butter mixture and add the oats, cacao nibs, raisin and pecans.
Step 4: Using a ¼-cup measure, scoop the cookie dough onto the prepared baking sheets. Press lightly with your fingers to flatten the top of the cookies. Bake for 10 to 12 minutes until golden and just set. Allow to cool on the pan completely and serve.
CREDIT LINE: Recipe from RUNNING ON VEGGIES. Copyright © 2021 by Lottie Julia Bildirici. Photography copyright © 2021 by Lauren Volo. Published by Rodale Books, and imprint of Penguin Random House, LLC.