A labor of love. David and Stephen, the husband-husband team behind Renovation Husbands, have spent the past few years renovating their 1893 Victorian home in Boston, MA. Most recently, they completed a One Room Challenge of their bedroom and bath suite, in just six short weeks. The results? Stunning! Read on to see the space and learn more about the talented duo.
Have you renovated any homes previously, or is the Victorian your first? What sparked your interest in renovating?
The Victorian is our largest and most ambitious project yet but it's not where we started. In 2011 we moved into our first Boston apartment. Over the next year we would complete a few DIY projects in effort to make the space our own and learned that we loved problem solving together. When faced with steep rent hikes we decided to explore the possibility of home ownership. A couple of months later we were closing on our first home, a 1910 American Foursquare in dire need of attention. We renovated this home over the next two years and fell in love with the process.
Any tips or advice for first-time renovators?
Yes! Believe in yourself.
When we started renovating we had very little money and practically no skills. What we did have was a determination to figure out how things work, there was almost nothing that we wouldn't try. We read books, watched YouTube videos and asked a lot of questions – oh and made a lot of mistakes too! Learning is a process and each challenge you take on will make you more apt to face the next.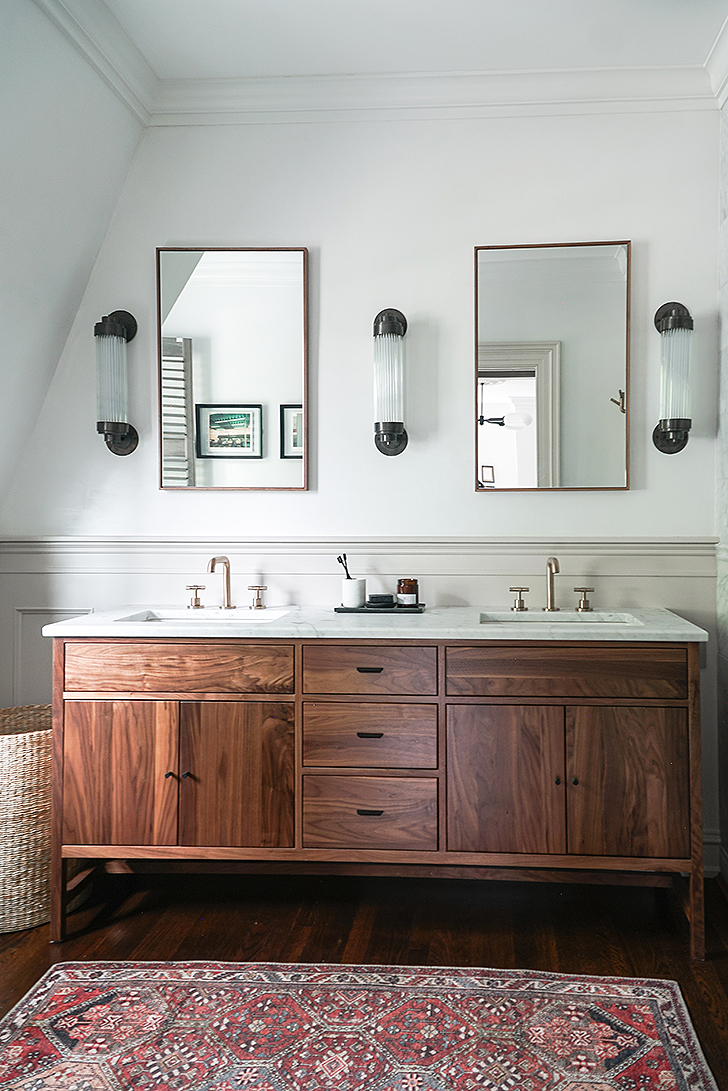 How would you describe your design style?
It's hard to define our design style because it is influenced by the space and is always evolving. Whenever making decisions we ask ourselves, "Does this decision feel right?" In our current home we try to take cues and respect the design of the era, but like to give it a contemporary edge. At the end of the day what matters most is that you are happy in the space you designed.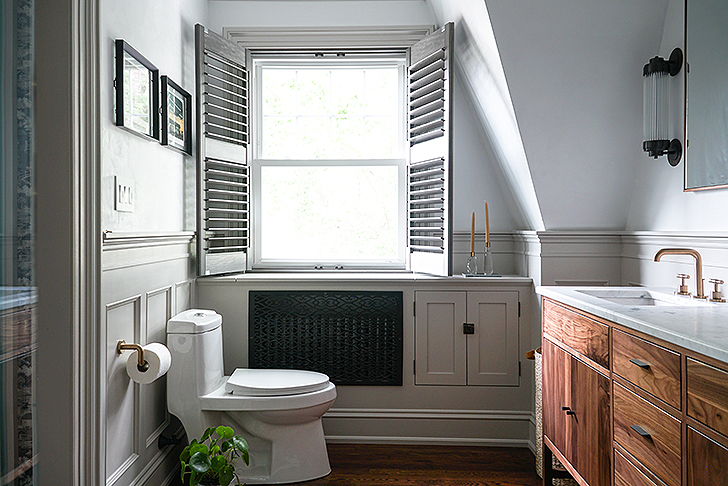 You've completed seven rooms in the Victorian. Do you have a favorite? Which room was the most challenging to transform?
In a home where no two rooms are alike there are always challenges. The bathroom in our bedroom has been by far our most challenging project because there was little room for error. We used large format marble tile which requires a lot of preparation and a perfect foundation. We worked tirelessly on this project and it paid off in a big way.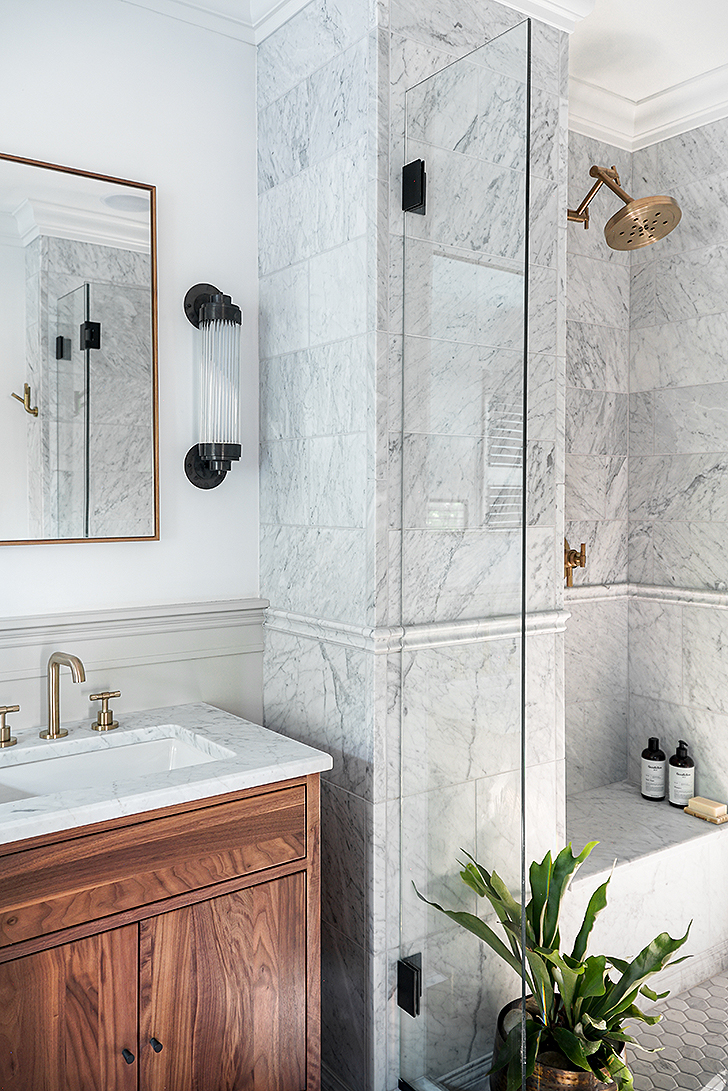 What have you learned about each other while renovating a home together?
As you can probably imagine we spend a lot of time together working on our home. Over the years we have learned how to work in harmony by leaning on each other's strengths. We find that we are most productive when taking on the tasks that most align with our skills. For example, Stephen has a keen eye for architectural design and a very focused work ethic (he does most of our planning and can sand for hours). David on the other hand loves systems and gets bored easily (give him an electrical problem and he will forget to eat).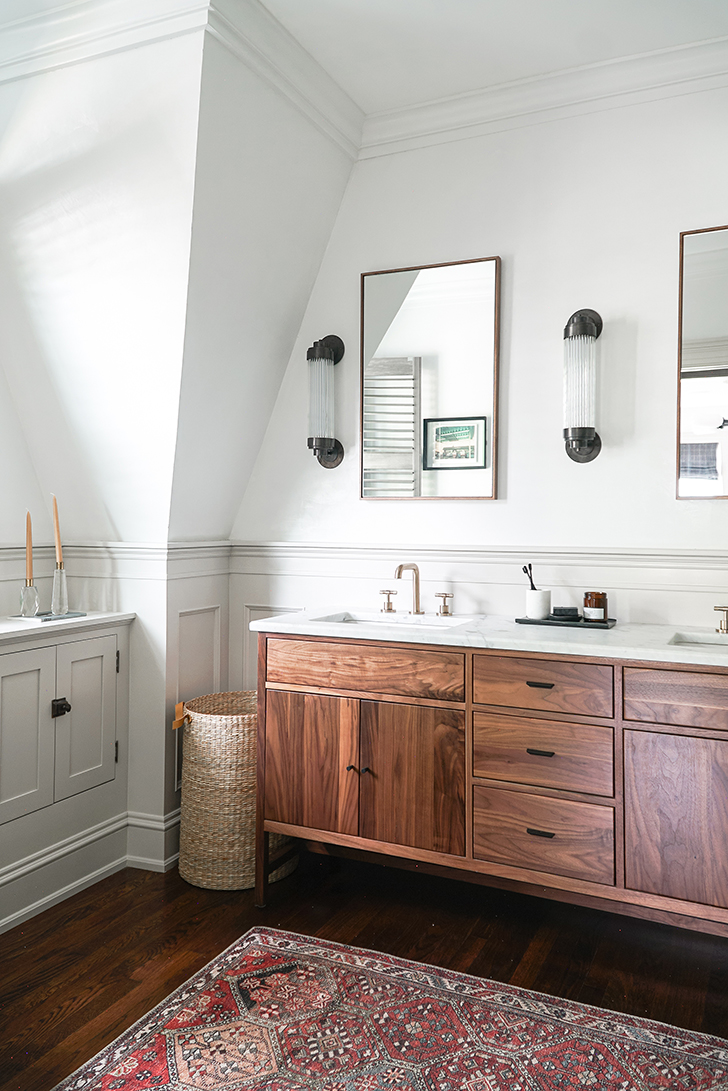 What was the design inspiration for the bathroom?
The Berkeley bathroom vanity! We haven't stopped thinking about this piece since seeing it in the showroom a couple years ago. The vanity helped steer the direction of the entire project.
Part of our design aesthetic is to harken back to the history of the home while adding a contemporary feel. We wanted a Carrara marble shower but we did not want the room to feel cold. We kept the original hardwood floors, added panel molding, used the Berkeley vanity in walnut, and dressed everything in brass. These materials would have been found throughout a Victorian home but we used them in a contemporary way.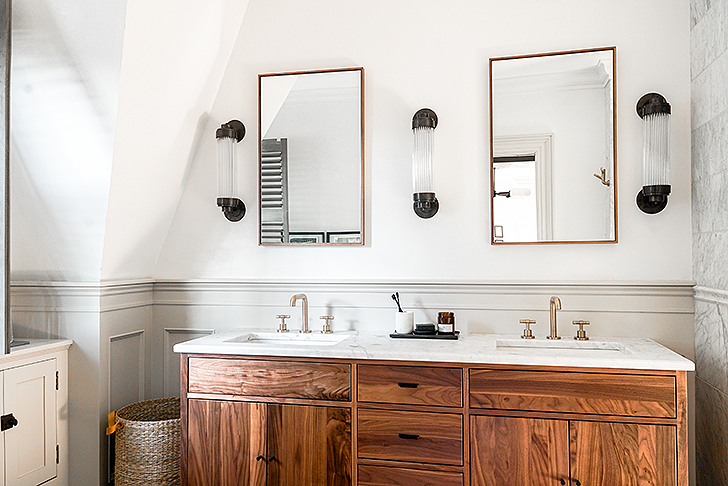 Tell us about your bees and how you got started in beekeeping!
Oh, we love our bees! Somewhere along the way David picked up a book on beekeeping and couldn't put it down. He became determined to start beekeeping (don't get in his way when he is determined) and started his first hive in Spring 2018. Over the years we would increase from one to four hives and quickly find that no hive or season are alike. Beekeeping is both simple and one of the most complex things we have ever done…and we have no intention of stopping.
Any advice for people interested in beekeeping?
We get messages all of the time from people interested in beekeeping and we give the same advice to those interested in renovating their home…"beelieve" in yourself. We also recommend picking up a couple of books first! Beekeeping for Dummies and A Book of Bees by Sue Hubble are great places to begin. Next, look into local beekeeping groups as many offer mentorships and introductory courses. Finally, just do it!
One thing I always remind people: Bees exist in nature just fine without your help. Our job as beekeepers is to optimize for their success by keeping them happy and healthy.
Bonus: 
Our Adrian storage cabinet looks like it was custom made for the adjoined bedroom.
Want more? Visit Stephen and David's blog to see all of the completed rooms in their Victorian.
Photos by Renovation Husbands