We always knew Julie Dewald, manager of our Atlanta showroom, had a great eye for design, and when we saw her home in Marietta, Georgia, we knew we had to share it with you. Julie's thoughtful touches are evident throughout, as she carefully considered how each room would be used.
Of course, we also love the way she artfully combined Room & Board's modern furniture and accessories with the home's traditional architecture. "Before working at Room & Board I thought 'modern' would not fit the design of my home. But so many of our collections can be blended with any style to create your personal look." Customers often tell Julie they feel confined by their home's architecture and she shares the experience of designing her own home as an example of what's possible. "The back of the Room & Board catalog says 'we believe in breaking the rules.  I believe each person should create their own style that makes them feel comfortable when they walk in the door each day," says Julie. "You can pair Room & Board furniture with your existing furniture and home. You can create a stylish room that's still comfortable for everyday living."
Today we'll tour their family room, living room, master suite and outdoor patio.
FAMILY ROOM
Julie's goal for the room was to create a space to relax and watch some television. "We are a family that believes your pets should lounge on the furniture with you," says Julie. To ensure her furniture stands up to their two dogs, she chose our durable Doss microfiber for her Orson sectional. "After a hard rain, the dogs came running into the room and jumped onto the sectional. Mud was everywhere. I grabbed a damp white cloth and it cleaned up easily. Crisis averted."
To fill the space near the windows, Julie chose our Eos swivel chair, which allows it to face either part of the room. She added easy-to-move poufs under the console table "The poufs are great for extra seating, and we have used the console and poufs as a place to have a casual dinner while watching a movie."
The family room is an excellent example of how to make a neutral, tonal color palette work. "We chose colors that blended well, but were in the same color family. There are subtle patterns in the accent chairs and the pillows that create a soft, but interesting, look." Julie changes pillows with the seasons. "I love Room & Board pillows. They add just the right amount of color and texture." For additional softness underfoot and to anchor the space, Julie placed an Arden rug over the carpeting in front of her sectional.
LIVING ROOM
The formal living room is our next stop in the home tour. Julie and her husband use this room more often in the winter because the fireplace keeps it cozy and warm. They updated the fireplace, making it a focal point by bringing in natural texture with stacked stones and a wood mantel. Julie carefully positioned the furniture to provide a comfortable space for conversations between people in the living room and the nearby kitchen.
Throughout the living room, Julie used a mix of leather, patterns, velvet and cowhide. "Give yourself permission to try different materials together. It's a new year—try something outside of your comfort zone," she recommends. Her dogs appreciate the room, too. "Our pups love the Lind and Quinn ottomans, especially in front of the fireplace on cold nights," Julie confides.
"My absolute favorite piece in the room is the Hutton sofa in Vick Haze velvet. The deep, rich teal is a touch of color, but doesn't overpower the space like you might expect," says Julie. "With the right mix of neutrals you can enjoy a unique color in your space."
MASTER BEDROOM AND BATHROOM
Julie told us the inspiration for the bedroom came directly from the paint color. "I wanted to design my bedroom so I could close the drapery and have a quiet, dark, comfortable place to rest any time of day," she says.
"We chose to use Delano three-drawer dressers as nightstands because they provide plenty of storage—and I love the scale with the king-size bed. A smaller nightstand felt out of place with the size of the bed," Julie explains.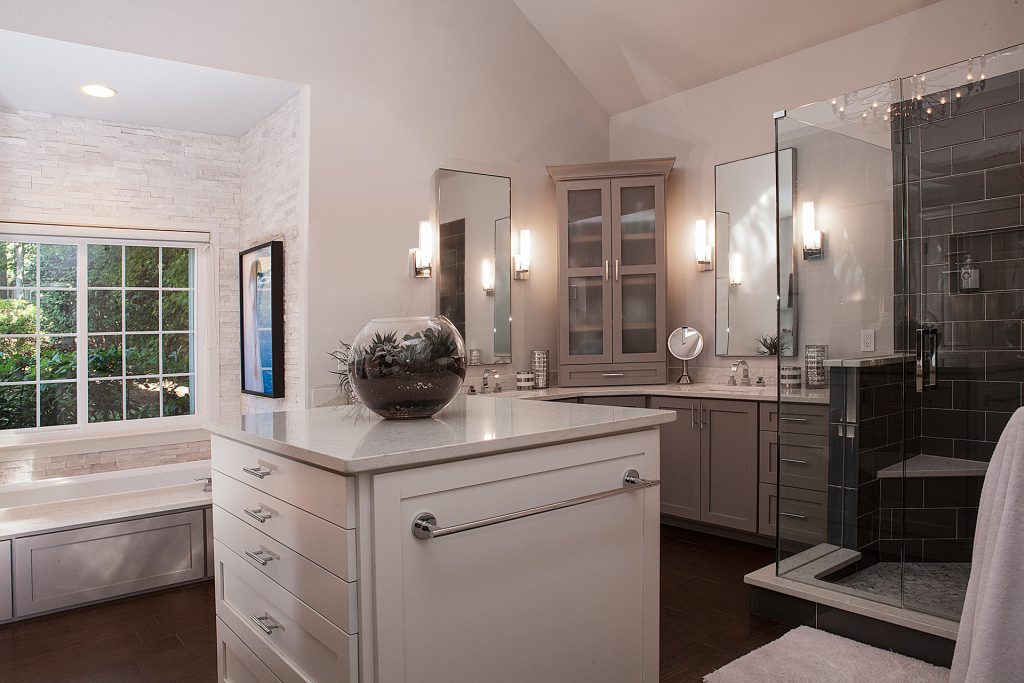 The master bath is right off the bedroom and had wall-to-wall carpet when the couple moved in. They kept it like that for years until they decided how the two rooms would flow together. "The project was centered around the shower. The tiles I loved so I worked from there," Julie says. "I designed the center island on a scrap of paper and worked with our contractor to create a great piece for storage. I find myself hanging out in this space a lot." Julie also told us that using grey tones was a great way to add a modern touch to the traditional lines of the room.
OUTDOOR PATIO
Julie and her husband wanted their outdoor space to be as lovely and functional as the interior of their home. With two dogs, it was especially important to have more green space. Julie told us when they purchased the home, it had very little yard. "We gutted the entire backyard and started fresh. The patio gives us a place for dinner—it's a relaxing spot to unwind after work," Julie says.
Julie is happy with the upkeep of the outdoor furniture she chose. "The lighter fabric on our Oasis seating does require some maintenance. To clean the fabric, it's great if you have a power washer. You can spray the sofa with mild soap and wash away dirt," she tells us. "The Emmet rockers are easily washed off with a hose and wiped down with a soft cloth. We have had them for a couple of years and they still look new."
Images by Room & Board