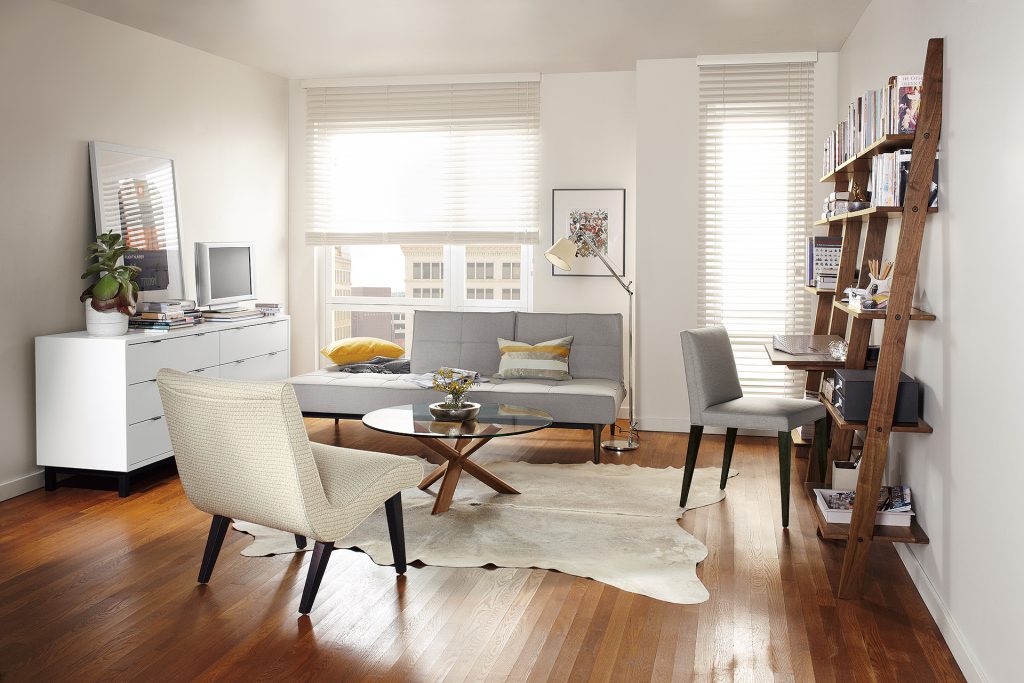 As I caught up with Jason Hed, an expert Design Associate at our Edina, Minnesota store, to get his take on creating a modern and inviting small space, it was immediately clear he was in his element. Passionate about understanding specific design needs and finding the best solutions, Jason has spent the past 13 years with Room & Board, becoming well-versed in creating beautiful homes, no matter the square footage.
"Rooms with smaller footprints allow us to get creative with the space in ways we don't normally think of," he told me as we walked into a smaller scale room setting. "Efficiency is key for small spaces and when I think of Room & Board products, especially for small spaces, each one does such a great job of managing that task. Each piece is so well thought out."
1. What colors or materials do you suggest for small spaces?
"I usually go for lighter tones in a small space. It's amazing how light colors or stains can make a room's presence feel lighter, too. I love our Copenhagen bookcases and you can see (below) how much of a difference it makes if you choose them in white. White does amazing things for small spaces. And I always suggest getting colorful with accessories. It's so easy and fun to commit color to pillows, throws or artwork."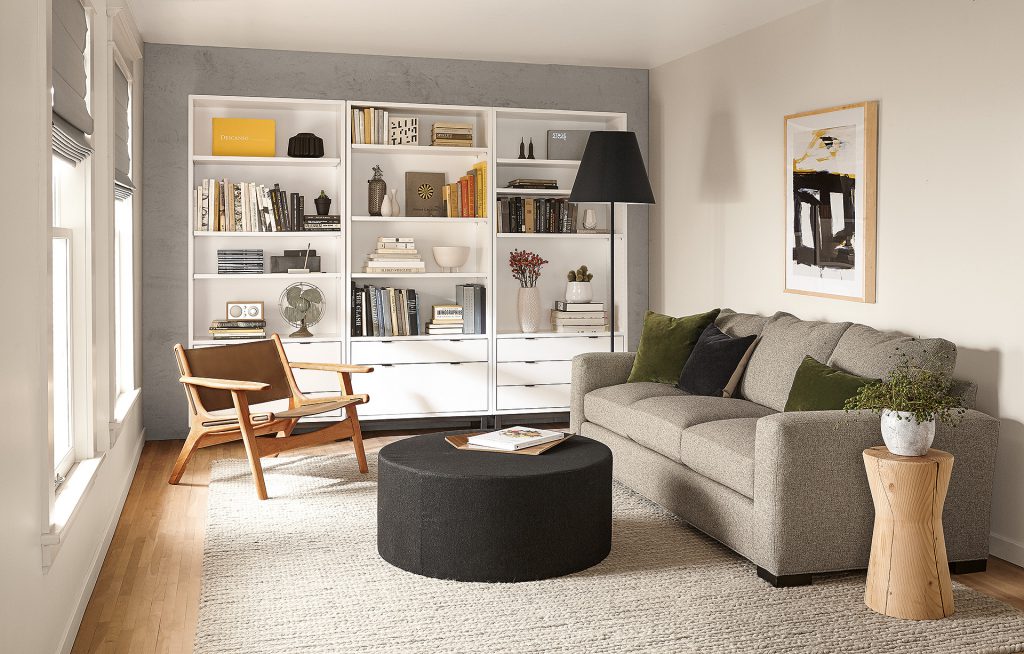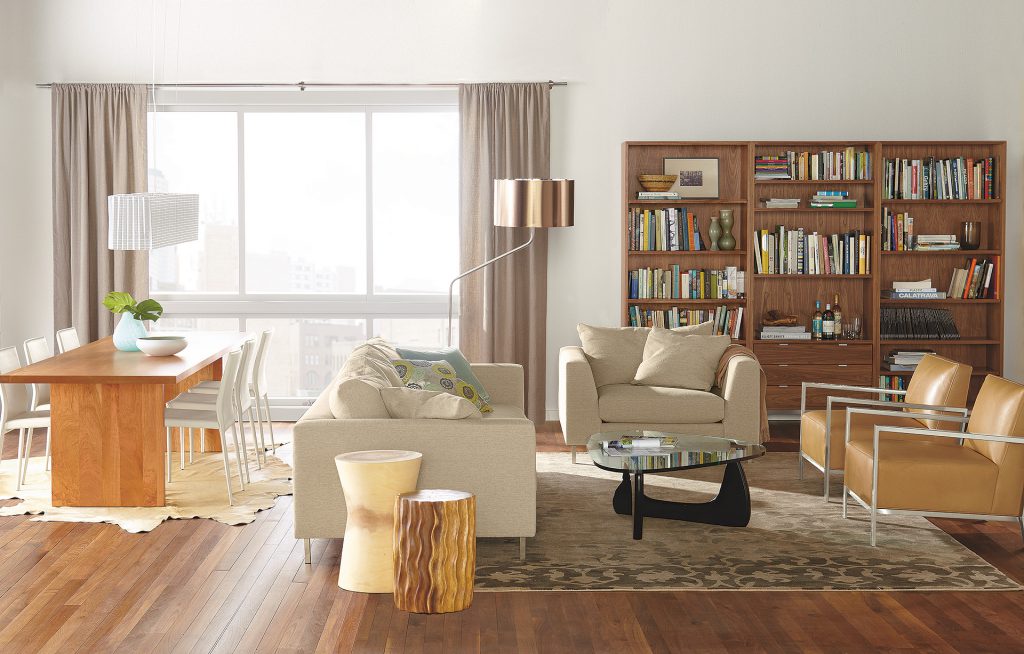 "Glass never feels quite as big as any other material. It never takes away from the room. If you feel like you're tight on space in a dining room, a glass table top helps alleviate some of that. And for me, it doesn't get more classic than the Parsons dining table with a glass top (below). This is a piece that will look just as great in your current small space and travels well to another type of home you may have in the future."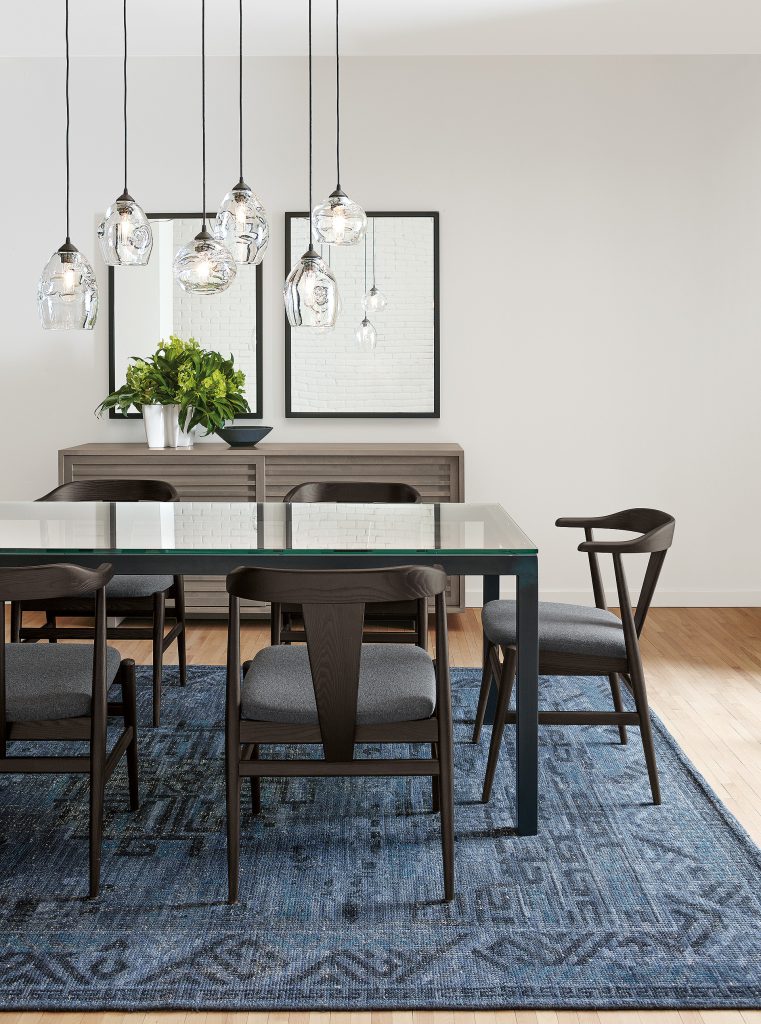 2. What's a great small space design solution some people may not think of right away?
"Custom storage! Every inch matters in a small space. Custom options ensure you're maximizing your space in a beautiful way. Flexing our custom storage offer lets you get the look of a built-in, without actually being built-in, so you can take it with you if you move.
Also any piece with an organic shape—I think of our cowhide rugs in particular. Instead of defining a room, they lend a nice flow to a space so it doesn't feel sectioned off and helps make a space feel larger."
3. What are some of your go-to solutions for a modern and functional small space?
"Our storage beds are so efficient. The drawers offer an incredible amount of storage that can be nonexistent in some smaller spaces."
"Sleeper sofas are so smart. Our Allston sleeper sofa takes up such a small amount of space. It's unbelievable and so easy to use."
"When wouldn't you use a surface like this? The Slim C-table can be an end table, nightstand or even a work station—it's the perfect size for a laptop and cup of coffee."
"Even though the Infinity Leaning Mirror seems like a large piece, it actually makes a small space feel more open. Its clean, edgeless design enhances its surprisingly light presence."
Keep the inspiration going and see how other Room & Board customers are using our modern furniture in their own homes in our Customer Photo Gallery or take advantage of our free design services! Expert design advice, floor planning and more is available to you at any Room & Board store or online at roomandboard.com.
Photos by Room & Board