One of our favorite sayings at Room & Board is that furniture should be a background for life. The dining room can be a place with lots of life, from big holiday meals to snacks with a few friends, or a surface for homework and hobbies. Furniture for the dining room should embrace your own personal style and still leave room for life to be center stage. We've gathered together a few ideas for dining rooms so you can find your style, lock down what's already working or try something new.
Tone on Tone
The abundance of walnut in this dining room is beautiful and pulls everything together. The Ventura table's modern mid-century style and curves play off the rounded back of the Evan chairs. Our Cloak pendants enhance the mid-century aesthetic.
Sleek and Sophisticated
This dining room combines the timeless appeal of stainless steel, leather and marble to create an effortlessly sophisticated space. The Lira chairs and Rand table have coordinating light colors and clean lines to complete the modern look.
Organic Appeal
The gorgeous walnut and butterfly joints in our live edge Chilton table align with the Kinley cabinet, while the Orikata pendant and houseplants unite the organic appeal.
Architectural Elements
Our Parsons table creates an architectural style. They each feature black laminated plywood with an exposed edge and natural steel bases. The Grove cabinet keeps things warm and works well with the other wood tones in the room.
Mix of Materials
This dining room ties together several colors and textures for a unique, modern space. The natural steel bases of the Rand table and Steen cabinet connect with the leather seats of the Jansen chairs and the dark Amira rug. The walnut Jansen chairs and spalted sugarberry Steen cabinet warm up the space with their wood tones, while the glass top of the Rand table keeps the room feeling open and light.
Just the Beginning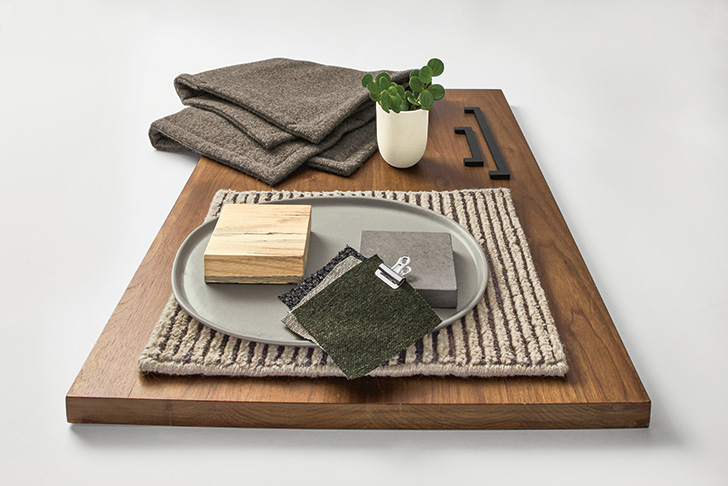 The inspiration doesn't stop here. Check out shopping and planning guides, home tours, styling tips and more in Ideas & Advice. And don't forget about our free design services from talented, non-commissioned design associates in the store, over the phone or online.
Photos by Room & Board.