Through our Community Partnership Program, Room & Board staff members are given the opportunity to partner with non-profit community organizations. People who work at Room & Board seem to have a natural affinity for places where beauty, learning and nature intersect. It's no surprise that our Costa Mesa-SOCO team was drawn to the work of the Environmental Nature Center (ENC) when seeking a community partner.
The Environmental Nature Center
ENC provides education to the community through hands-on experience with nature and programs in its LEED Platinum-certified learning center. Their programs range from school field trips to instruction geared toward adults.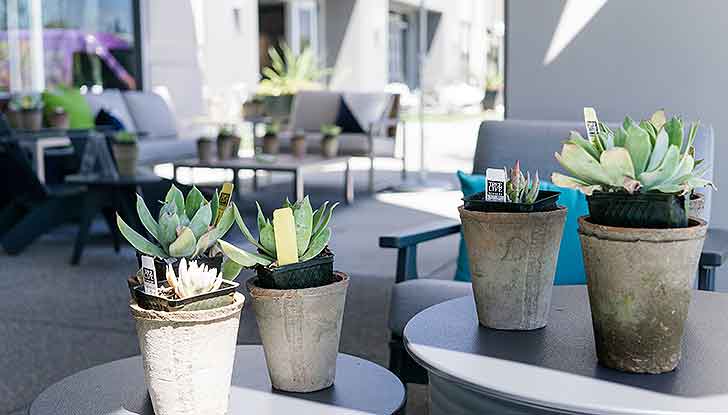 The SOCO team welcomes opportunities to lend a helping hand and spend time at ENC. Although located just five miles from the store, the center feels like a world apart. Walking trails meander through 15 California native plant communities. They range from desert to fresh water marshlands to redwood forests. "It's so pretty and tranquil. When you walk through the grounds you feel like you are in the middle of nowhere," said Retail Market Manager Tracy Yoshihara.
"Because of our proximity to ENC and our shared values, our Community Partnership has been a great one since its inception in 2013. Through the years we have donated furniture, helped with weeding and maintaining the butterfly house. We've also put stamps on mailers, prepped crafts for kids events, designed centerpieces for fundraisers and co-hosted events in our store," said Tracy. The SOCO team has even enjoyed its morning meetings al fresco at ENC. "It's so close to us that running over there during lunch to take a walk or help out is totally doable," Tracy said.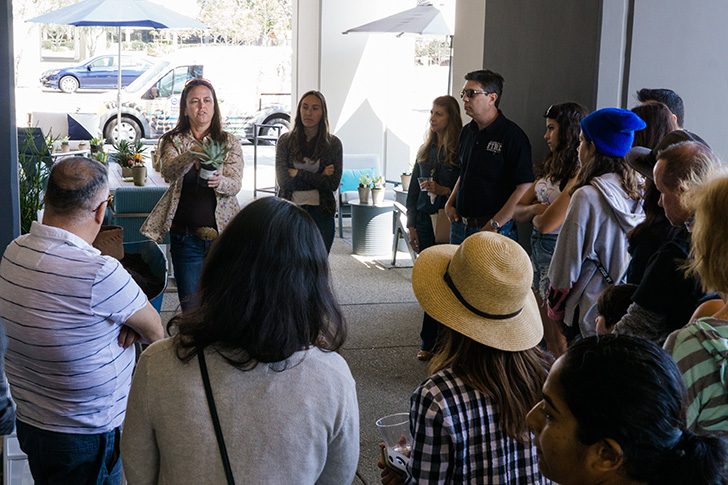 Celebrating Earth Day
The SOCO team celebrated Earth Day with a store event featuring a talk about sustainable planting by ENC's Assistant Director, Lori Whalen. "We had a Kombucha bar and brunch bites and everyone got to plant a little succulent to take home. It was such a nice way to connect with our customers around sustainability and remind them of ENC's mission."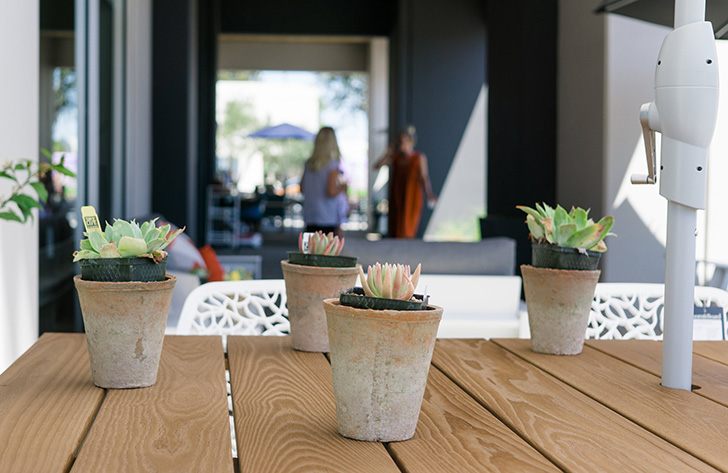 Tracy shares that many SOCO staff members also visit ENC with their families. "I brought my daughter's Girl Scout troop. ENC does such a nice job teaching stewardship and a love for nature to people of any age. Knowing there's a place for the people of Orange County to experience and nurture our incredible natural environment is something we all feel passionate about. We learn so much from the Environmental Nature Center. We're happy to lend our support in any way we can," said Tracy.