Since 1998, we've been working in close partnership with the textile artists of Galbraith & Paul to create our exclusive collection of pillows and pendants. Read on for a glimpse inside Liz Galbraith and Ephraim Paul's sunny Philadelphia studio where our new spring designs were brought to life.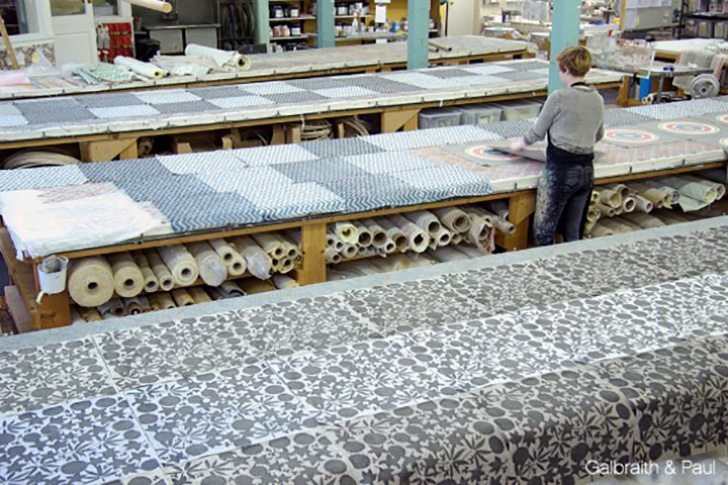 Our pillows and pendant lamps start with a high-quality piece of velvet or linen. The artisans then use a block that acts like a giant stamp to layer colors onto the fabric. They are quite literally handmade—every color and pattern is painstakingly applied, one square or yard at a time.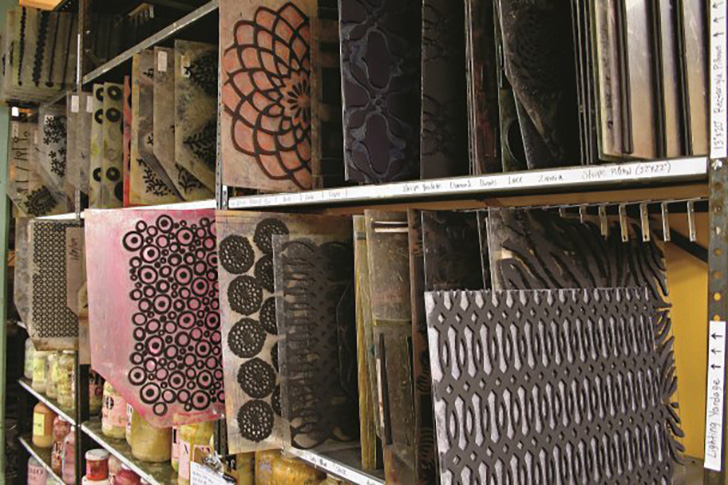 What makes hand block printing beautiful is the imperfect result of each press of the block. The paint distribution isn't always exactly even, and we don't want it to be. In fact, the texture of the paint and the ebb and flow of the color is what makes each creation special.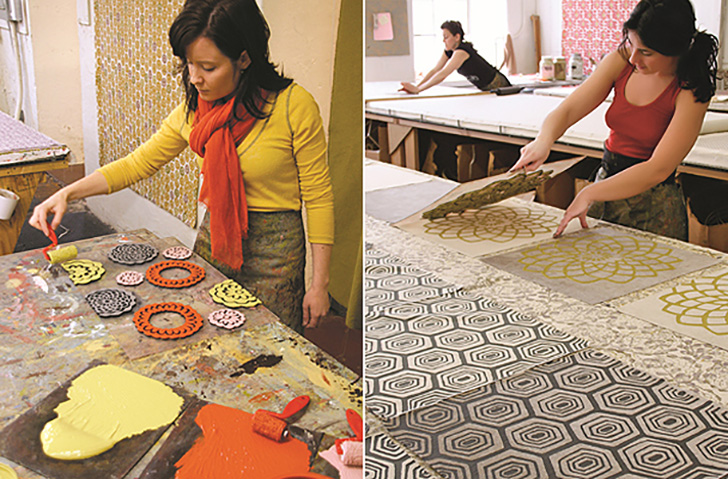 We use linen and velvet in our Galbraith & Paul collection because of the unique way they interact with the paint and highlight the hand block print. When light shines through the linen of our pendant lamps, the print takes on a faded, watercolor quality that's worthy of a spot above your dining table.
The dense, lustrous velvet of our pillows absorbs the paint, which keeps the surface soft and allows the texture of the fabric to enhance the texture of the paint. You can see in the photo below how the lines of the velvet come through the print to add another dimension. (Our Galbraith & Paul pillows also come with a hefty down insert that further adds to their plush factor.)
Galbraith & Paul's designs draw inspiration from diverse styles and cultures, including the bold graphics of Scandinavian textiles, the botanical silhouettes of the Arts and Crafts movement and traditional Japanese floral patterns.
We feel lucky to be Galbraith & Paul's exclusive retail partner. Our relationship with them represents so many of the things that are important to us as a company: supporting artisans, working within the U.S. and creating one-of-a-kind items you can't find anywhere else. Learn more about Galbraith & Paul's work here, and shop our collection online.
Photos by Galbraith & Paul and Room & Board