Each January, our Room & Board catalog is unveiled, showing the official introduction to a new Room & Board collection. Like that movie premiering next weekend that you've heard about for the last few years, odds are that the team behind the scenes at Room & Board has been working on any new piece for a year or longer.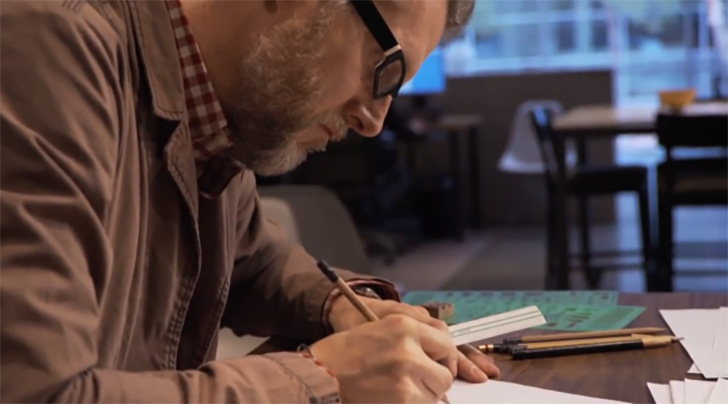 We chatted with Michael Brotman, Merchandise Manager on the Room & Board Product team for the past eight years, to get his behind-the-scenes perspective on our 2015 assortment.
How would you describe your design philosophy?
I believe the best results come from sharing great ideas and staying true to our roots. Our assortment's foundation has influences ranging from Shaker, Asian, Arts & Crafts, Danish and Modern design movements. If we focus on these timeless periods, we can't go wrong. The ultimate goal is for our customers to buy a piece of Room & Board furniture and love it forever. We focus on creating lasting pieces with great design and quality that will be handed down for generations.
How does a new piece get its start?
Inspiration is everywhere. I keep a folder of images and quick sketches. We constantly seek inspiration from blogs and design magazines, which help us identify needs and stay on top of trends and innovative materials. New pieces are often inspired by feedback from customers, stores, manufacturing partners and analysis of our sales trends.
Take us into the design process.
No one individual designs a piece. Maybe it starts with feedback from one of our stores, for example. From there, we will sketch something up. I will share the design idea with John Gabbert, Room & Board's founder, who will provide input. Nancy, our Photo Creative Director, might also weigh in. The design will be refined further.
Next, we will share the idea with our manufacturing partners to begin working on a sample. The vendors often add even more great input. All of this collaboration inevitably makes a design better than if it was done by only an individual. It's a beautiful evolution. And throughout the process, each one of us is thinking, "How will our customers live with it? Will they love it? How can we make it even better?" We're trying to elevate American design and craftsmanship and bring it back to the way it once was done. (Watch this video to get the behind-the-scenes story of our Dunn coffee table's collaborative creation).
When does the process for new additions to the assortment start?
It's a never-ending cycle. The creative process and timeline are ongoing.
When do you finish?
All final photo samples need to arrive at our corporate office by early September—just in time for the start of our annual catalog photo shoot.
Do you have a favorite new piece in the 2015 collection?
That is a really tough question! We all work so hard to bring new collections to life that we get attached to each and every one of them. Some a bit more than others. If I had to choose a favorite for 2015, it would be our new Parks end tables, named after the company that handcrafts them for us.
M.H. Parks is a seventh generation woodworking company based in Massachusetts. They began making bobbins for the garment industry more than 100 years ago and they have many of the old machines from that era. They still use some of these old industrial machines—that were used to make these specialized bobbins—to make our Parks tables. There are very few of these machines left and even fewer are in use today. I love that we are able to partner with people like Todd Parks and his amazing craftsmen to help us bring our ideas to life. This is one of the very best parts of my job.
How does it feel to think about the number of homes that have a piece of furniture that you've helped design?
There's nothing better than seeing all of the hard work that we put into something new really resonate with our customers. We put our heart and soul into these pieces. It's an honor when someone chooses to make an investment and purchase something for their home that we've created. Knowing that they're going to live with that Room & Board piece and love it for years and years—that's what it's all about.
Written by Jennifer Moore, Design Associate on Room & Board's Shop From Home team; photos from Room & Board