Every February, design enthusiasts (approx. 126,000 of them!) from around the globe come together in Palm Springs, CA to celebrate midcentury modern design, architecture, art, fashion and culture during Modernism Week. We have involved ourselves with Modernism Week for many years, previously furnishing lounge seating for the event's headquarters.
This year, we switched things up and partnered with Jackie Thomas and DeeAnn McCoy of Thomboy Properties to furnish the "Hidden Frey," an undiscovered (until recently) home designed by iconic architect Albert Frey, also known as the "Father of Desert Modernism." Jackie and DeeAnn are known for their passion and respecting the original architecture of midcentury homes while updating them for modern living. In fact, the previous owners of the property sought out Thomboy Properties specifically because of their respectful approach.
Modernism Week: The Hidden Frey House
What's in a name? The "Hidden Frey" got its name for two reasons: one, the property was relatively unknown, even by architecture historians, and two, the property is actually below street level. Why was it built below street level? The original owner, WI Hollingsworth purchased the lot in 1966 and wanted to build a tennis estate, but Charlie Farrell, the owner of the adjacent Racquet Club, protested because he didn't want to see the chainlink fence often associated with tennis courts. So, with the help of Albert Frey, they dug down and built the tennis estate below street level.
The space features many key Frey characteristics, including a rolled roof, cantilevered carport and an elevated pool. At just over 1,900 square feet, the small home has a large outdoor space, three bedrooms and four bathrooms on a 15,682 square foot lot.
Over the course of less than five months, Thomboy Properties purchased the estate, renovated it and collaborated with Heather Neubauer and Bridget Bojorquez from our Los Angeles store who spearheaded the furniture selections and got the space ready for nearly 900 guests to tour!
Keep scrolling to see photos of the beautiful space!
Exterior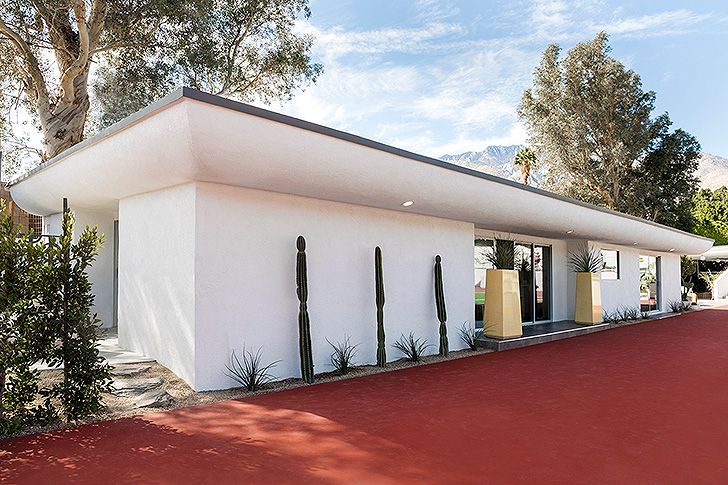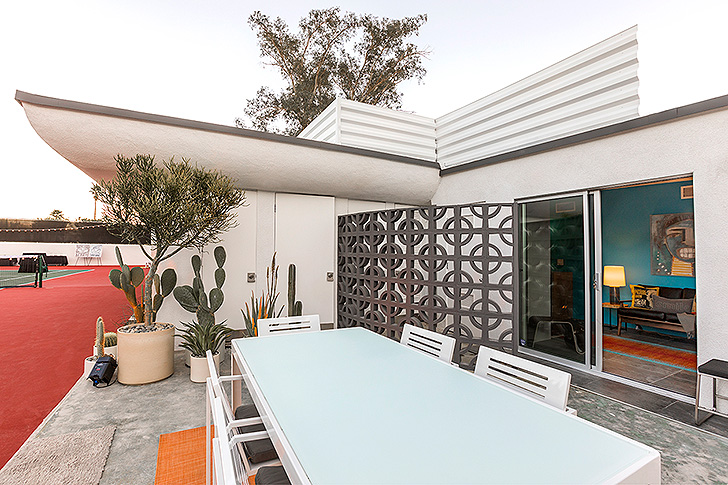 Living Area
Kitchen & Dining Room
Bedrooms
Exterior
Photos by Monica Orozco (1-12) and Kort Havens (13-15)
SaveSave
SaveSave
SaveSave