How to Choose a Rug Size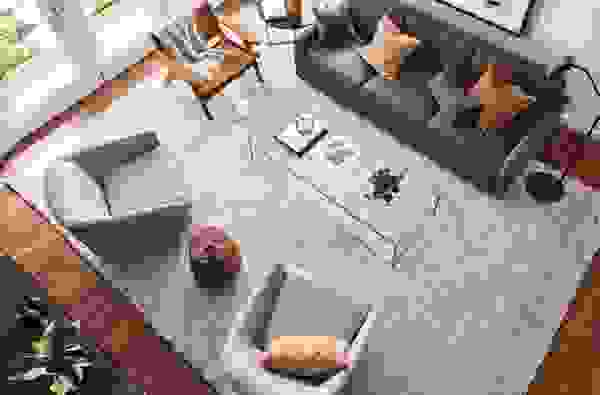 We offer rugs in a variety of sizes, materials and designs to fit every style, space and budget. While we believe there are no rules to completing your room, here are a few insider tips and guidelines to choosing the perfect rug for your space.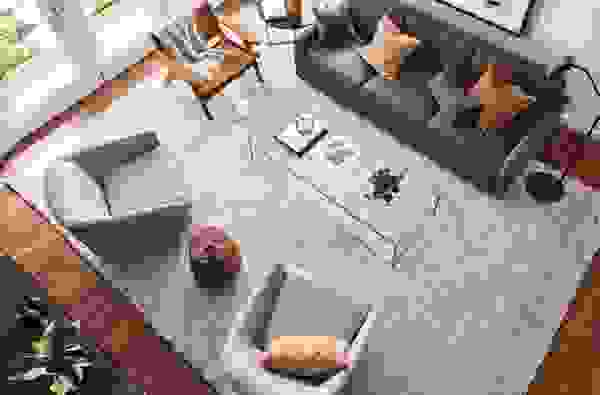 Living Room Layouts
Small Space Designs
These size rugs can help define a smaller space and provide a comfortable distance for conversation.
5' x 8' rug
For an ideal proportion, the rug should be a bit longer than your sofa with at least 8 to 12 inches on either side.
6' x 9' rug
Try to have the front sofa or chair legs on the rug to help anchor your furniture.
Define a Medium Space
Create a natural conversation grouping with a mid-size rug. This also works well in open-concept rooms where there are multiple furniture groupings.
8' x 10' rug
This arrangement allows for both a seating area for conversation and an open area for media viewing.
8' x 10' rug
Medium scale rugs also work well with larger furniture like a sectional for an open concept.
Unify a Larger Room
A large rug not only provides more floor coverage, it also allows you to place all furniture legs on the rug, bringing together all of the elements in your room.
9' x 12' rug
We recommend leaving about 18 inches of flooring exposed around the rug for a natural border.
10' x 14' rug
Use an oversized rug to unify a larger space and to keep sectional configurations on the rug.
Dining Room Layouts
Ideal for Small Spaces
In a smaller dining room, you may have less room for chair clearance. Choose a flat-weave or other short-pile option, which allows chairs to move smoothly over the edge of the rug.
5' x 8' rug
You don't have to match rug shape to table shape. We love the look of a 5x8 rug with a small round dining table.
6' x 9' rug
Leave 18 inches between the rug and the wall to define your dining space and to leave an open path.
Best Use of Your Space
This size rug is perfect for a standard table arrangement that can seat four to six.
8' x 10' rug
Using a large rectangle rug with a round table helps ground your space and works well if you have an extension table.
8' x 10' rug
This rug is nicely balanced with the size of the table and allows enough room to slide out chairs on all four sides while still remaining on the rug.
Slide Out Chairs With Ease
A large rug provides the right proportion for a generously sized table. If you have a big enough dining area, consider leaving eight inches of the floor exposed around the rug to anchor the space.
9' x 12' rug
We recommend leaving at least 24 inches of room on all sides to allow chairs to stay completely on the rug when pushed away from the table.
10' x 14' rug
A large size rug accommodates a long extension table when it's fully in use, making it great for entertaining.
Bedroom Layouts
3' x 5' rug
A small rug on one or both sides of the bed adds a nice soft texture underfoot while also balancing your room.
5' x 8' rug
Placing a rug under half or more of a bed can help ground a smaller space.
More Options for a Soft Landing
An area rug can provide enough space to step out of bed and onto the rug, plus room for an end-of-bed bench or chair.
8' x 10' rug
An 8' x 10' rug can cover the bed and nightstand and allows at least two feet of rug space on either side for an open path.
8' x 10' rug
Positioning your rug two thirds of the way under the bed helps create an even foundation.
Fit for a King
A large area rug provides enough space to step out of bed and onto the rug, plus room for an end-of-bed bench or chair.
9' x 12' rug
We recommend leaving about 18 inches between the wall and the edges of the rug.
10' x 14' rug
For grand primary suites, a large rugs allows you to easily accommodate a king size bed and two nightstands.
Entryway, Bath & Kitchen
Quickly define a space and create the perfect welcoming environment with a beautiful rug that's anything but basic.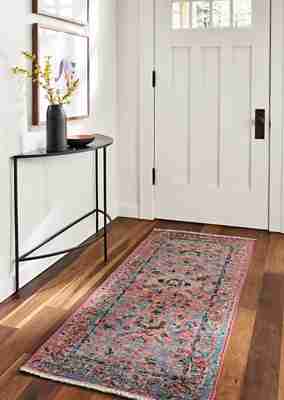 For maximum durability with entryway traffic, consider low pile rugs made from wool or indoor/outdoor yarns.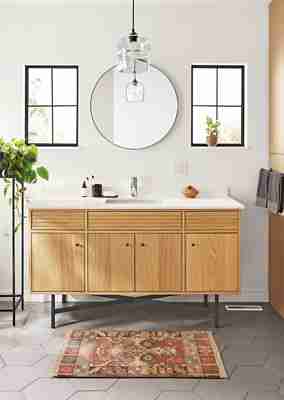 Rugs placed in front of a vanity provide color and warmth to a bathroom space.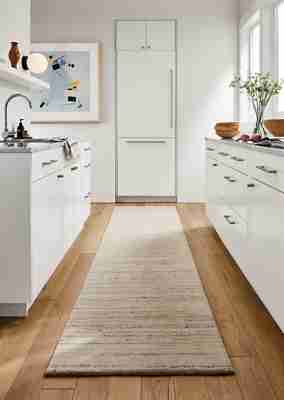 Consider a runner or small rug in a kitchen to add comfort and cushion to prep and cooking spaces.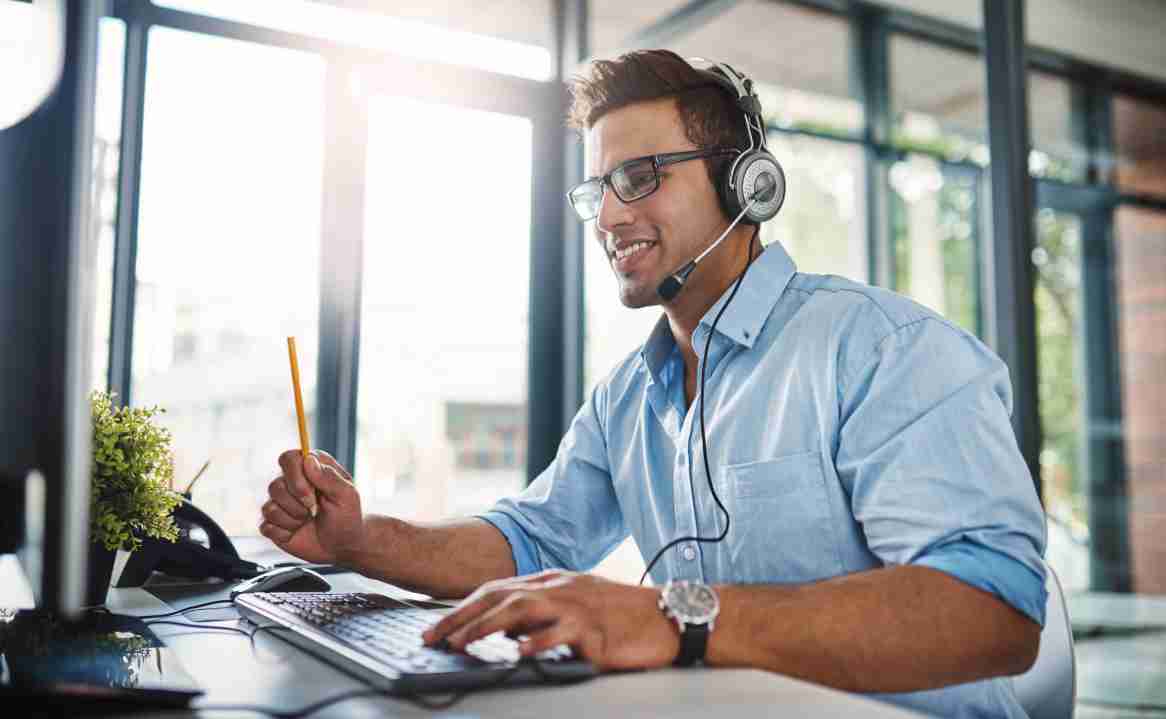 Let us Help You Choose Your Rug
Get expert advice on which rug will work best in your space.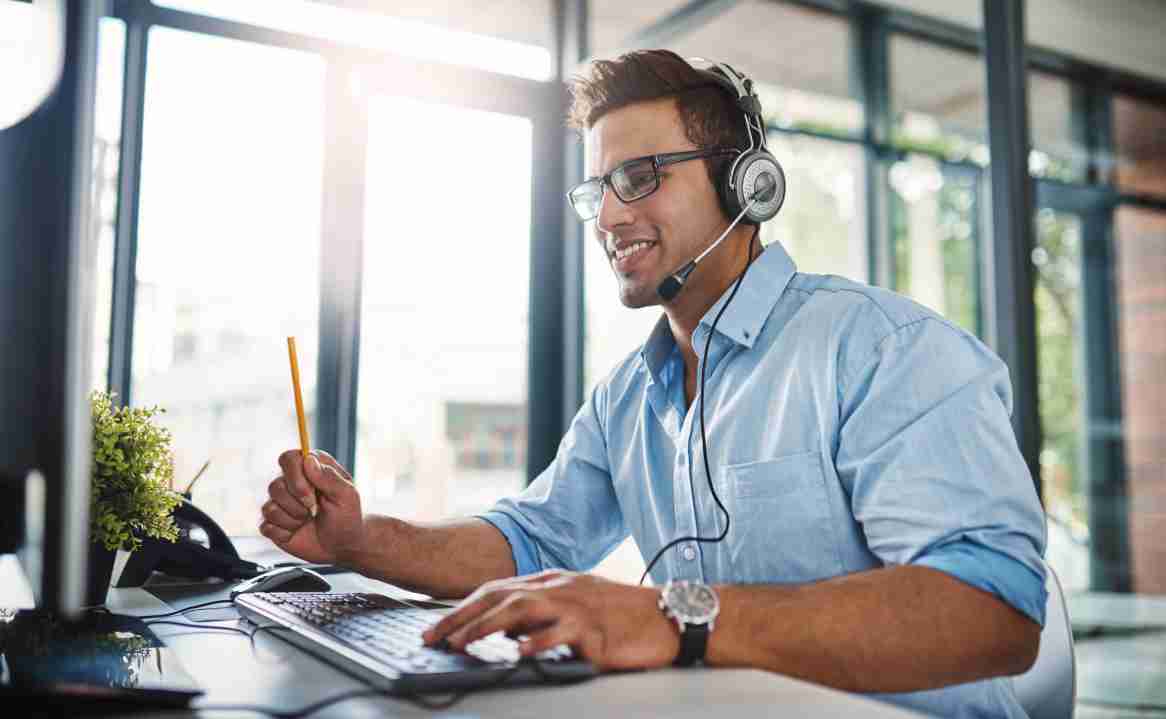 Custom Rugs Made to Order
Design a rug to fit your unique space. We will make a rug to the exact measurements you specify for a perfect fit.