Sectional Ideas
This section of the page contains a carousel that visually displays various linked images one at a time. For screen reader users, these images appear in a list below. Selecting the links changes the main slide visually.
Getting Started
Size Up Your Space
Know how much room you have to work with. We recommend a large anchor piece, like a sectional, takes up no more than two-thirds of the wall behind it.
Tape out sectional measurements on the floor for a helpful visual. Choose large items first then select other furniture.
Consider all your options: L-shape, U-shape, curved, sofa chaise, angled chaise or custom. You want to work with your space, not against it.
Right Arm vs. Left Arm
A left or right arm refers to the sofa as you're looking at it, not as you're sitting on it.
If you want your sofa to extend out at the right side, choose a sofa with a right-arm chaise. Choose a sofa with a left-arm chaise for it to extend out from the left.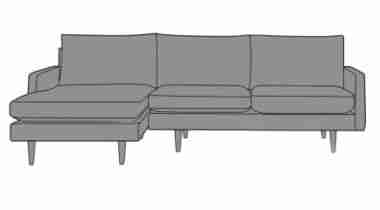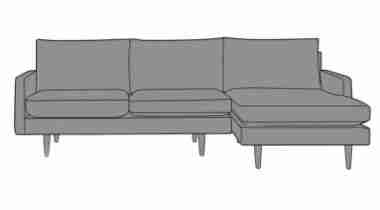 Tiny Tip:
A round coffee table complements sectionals because it eliminates corners and maximizes the walkable area.
Shop coffee tables
Finding Your Size & Style
L-shape Sectionals
The right-angle sectional helps define zones in a living room.
Its shape makes it easy to place against a wall or float freely in a room.
Ideal in large or open rooms, this cozy configuration defines a dedicated conversation area.
U-shape Sectionals
Best fit for large spaces.
Creates conversation areas thanks to a left and right arm that face each other.
We recommend 72–78 inches between the sofas that create the U-shape. This leaves a comfortable amount of space for a coffee table or ottoman.
Modular Sectionals
Smart solution for small spaces: modular pieces easily fit through small hallways and doors and then come together to create a sectional.
Create anything from a small to large sectional with modular, armless chair pieces.
Flexible pieces allow you to easily change your sectional arrangement on the fly.
Curved & Angled Chaise Sectionals
Adds a sophisticated, sculptural element to any space.
Great solution for larger rooms where the sectional does not have to sit flush with the wall.
Wedges, corners and chaises let you build a sectional that maximizes seating.
Perfect for lounging, napping or family movie night.
Sofa Chaise Sectionals
The traditional sofa chaise combination packs sectional-like comfort and style in a compact design.
One of the easiest styles to live with: it can be positioned against a wall or float freely in a room.
A sofa with a reversible chaise has maximum flexibility—the chaise is like an ottoman that can be on either side of the sofa.
Custom Sectionals
Design your own and configure the shape you like. (Configuration tool only available on desktop site.)
Tiny Tip:
Tuck a console table behind a sectional. A long, narrow table provides plenty of surface area without taking up much real estate.
Shop console tables
Free Design Services
Get personalized design advice in our stores, by phone or through video conference.
See Free Design Services
Design Your Space
Browse shopping and planning guides, videos and design tips to create a space that reflects your style.
Start Designing
Explore Materials
Learn about fabrics, leathers and tabletop materials. Order swatches and photo cards.
Explore Materials