Custom Bookcase Comparison Guide
Compare the features of our six custom bookcase collections to find the solution that perfectly fits your needs.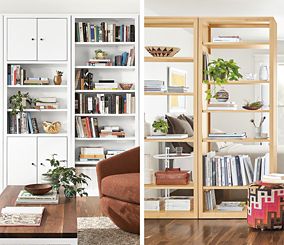 Woodwind and Woodwind Open-Back
A classic design that offers the look of a built-in.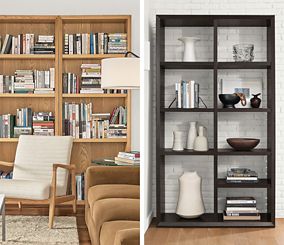 Lennox and Lennox Open-Back
A clean modern blend of thick panels with beveled edges.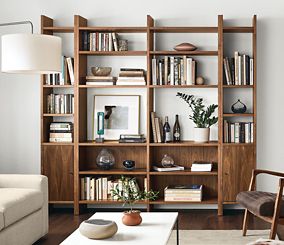 Addison
A light silhouette for airy and elegant storage.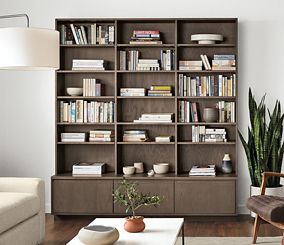 Keaton
A combination of thin architectural lines and closed storage.
Woodwind

and

Lennox
Woodwind Open-Back

and

Lennox Open-Back
Addison
Keaton
Fixed Height Options in Inches
30", 48", 60", 72", 86"
30", 48", 60", 72", 86"
60", 72", 84"
80", 92"
Width by the Inch
14" to 72"
14" to 72"
14" to 72"
24" to 72"
Fixed Depth Options in Inches
12" or 17"
17"
15"
Base 18", Top 12"
Material Options
Cord Openings

Yes

No

Yes

Yes

Finished Back

No

Yes

Yes

No

Adjustable Shelves

Yes

Yes

Yes

Yes

Door Options
Available with or without doors
No doors
Available with or without doors
Doors only
Shop Woodwind bookcases Shop Lennox bookcases
Shop Woodwind Open-Back bookcases Shop Lennox Open-Back bookcases
Shop Addison bookcases
Shop Keaton bookcases