When Shelly Morse and her husband Clint purchased their condo in downtown Seattle, Shelly already had a furniture vision.  "The condo is small enough that big furniture from just anywhere doesn't work. I knew immediately it was going to be all Room & Board. It's perfect for this space."  She enlisted the help of Room & Board Seattle Design Associate Chelsey Shaw to help her design the condo to maximize every inch and showcase the incredible views of Puget Sound, the Seattle skyline and Mount Rainier.
Shelly and Chelsey aren't strangers to working together. In addition to the condo project, Chelsey provided complimentary design services for Clint's office, a downtown apartment for their daughters and a mother-in-law apartment within their family home. Shelly says of Chelsey, "She just has so much enthusiasm and passion that I feel very confident with her decisions. We have pulled spaces together really quickly with her guidance and expertise."
The floor plan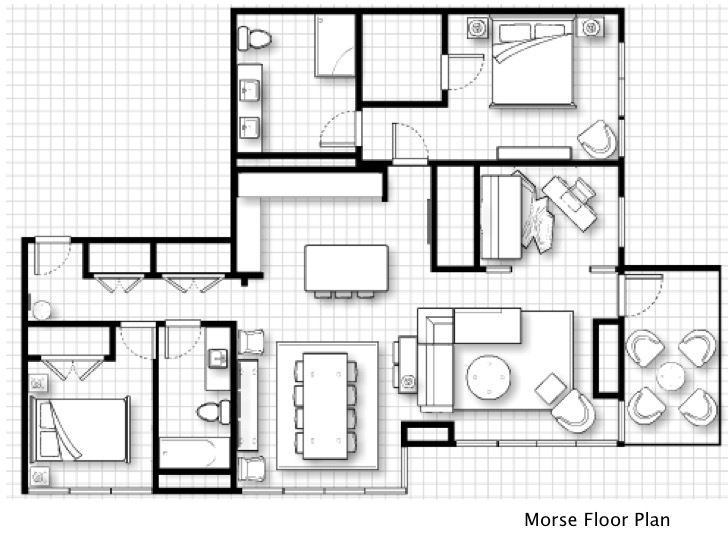 The furniture
Shelly and Chelsey started by going over the floor plan and measurements for the condo and talking about how the Morses wanted the space to feel. Chelsey gathered some initial furniture recommendations, then Shelly joined her in the store for a power shopping session. Within a few hours, they selected storage, upholstery and art for each room.
Chelsey followed up with a detailed floor plan (above) and mood boards (below) showing two different color and finish options and accessories. After a few email exchanges, the design was finalized. Chelsey explained, "Too many options can be incredibly overwhelming.  Part of my job is to ask questions and present two to three options based on my knowledge of our assortment. This is ultimately Shelly and Clint's home, and if I've done my job right, I have listened to what makes them feel comfortable and helped them realize a beautiful and functional space."
Take a look at how the plan transformed
Dining Room
For the dining room, Chelsey suggested our Rand table with a clear glass top. Shelly explained, "I would have never gone with glass, but because of where it is you can see the view through it. It's perfect for that space."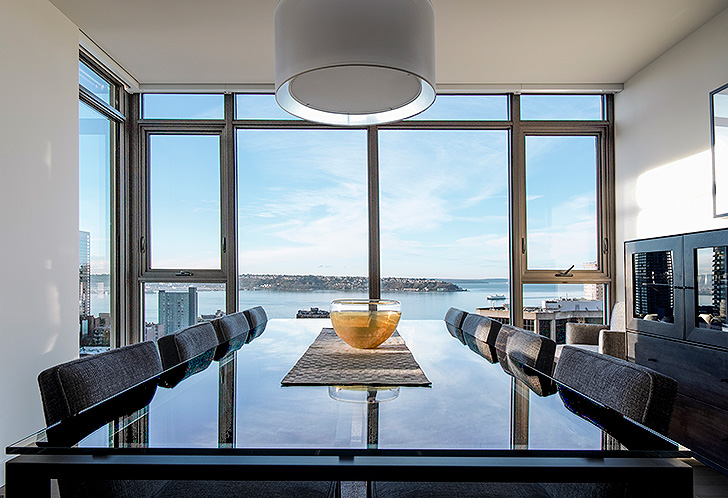 Living room
In the adjacent living room, the Reese sectional has become Shelly's favorite space to spend time. "Half of the sectional faces out toward the water, and I just watch ferries going back and forth. That rhythm of the ferries is really calming."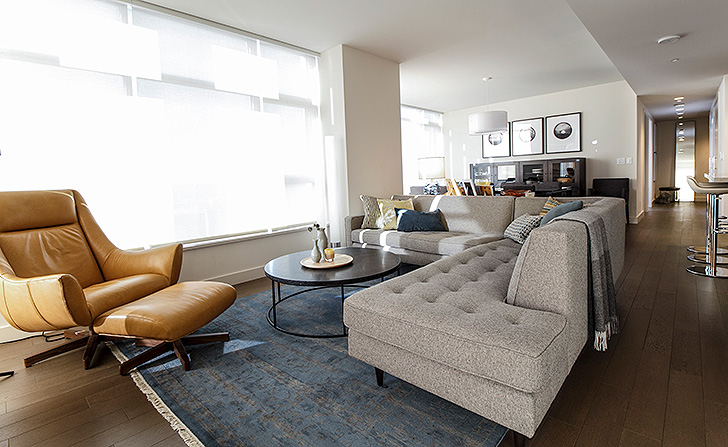 The sectional, along with a Parson console table with Lind ottomans underneath, helps divide the living room from the dining room. "When other people from the building come by, they really like what we've done with the long rectangular space. They never thought the space could be like this, the way we have the sectional dividing the room into two. That was Chelsey's idea, obviously. She took this space and created warm, little areas. There was no lighting in here and no indication of what went where. What she's done works out perfectly."
Extra storage ideas
The media cabinet wasn't in the design plan, but Shelly's glad to have the added texture in the room. "After our meeting at the store, I got home and realized I wasn't going to be able to mount the TV on the wall and needed a console there, and Chelsey recommended the Steen media cabinet. It's really interesting and brings all the colors out in this entire space. I love that."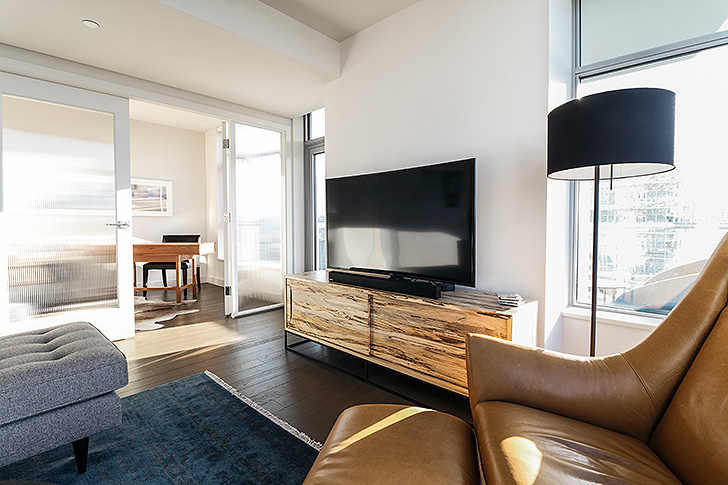 Pillow combos were included in the mood boards Chelsey created for Shelly to help her see how to pull the space together with accessories.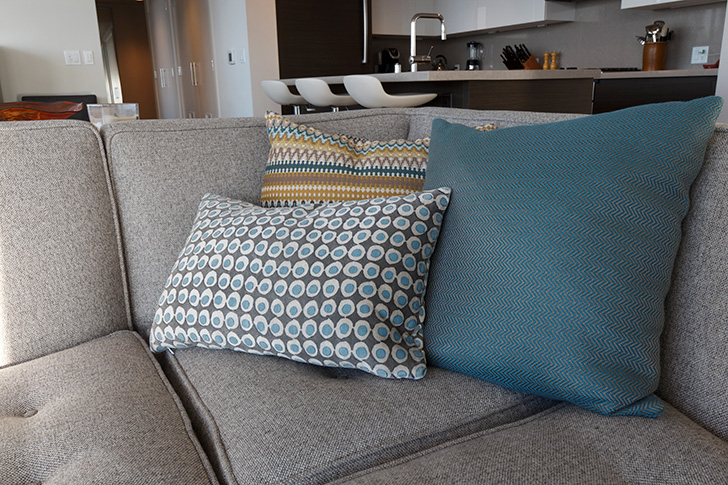 The bedroom
A king size Avery bed with white, hotel-like bedding helps set a relaxing tone in the master bedroom.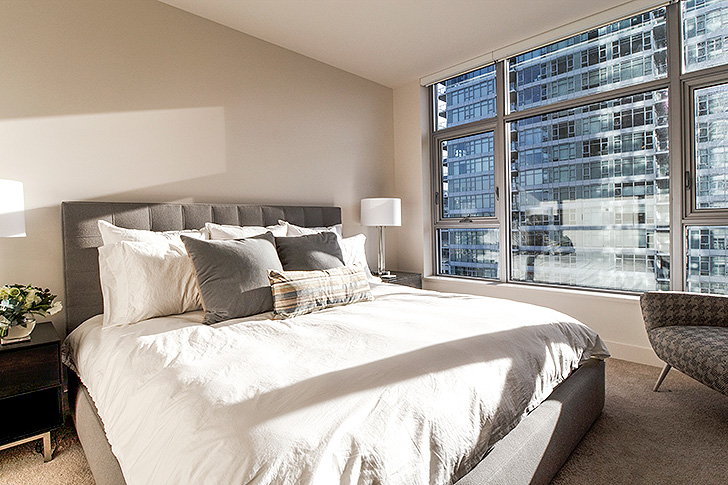 In the guest bedroom, limited edition Komongata prints unify the colors of the bed, nightstands, and bedding.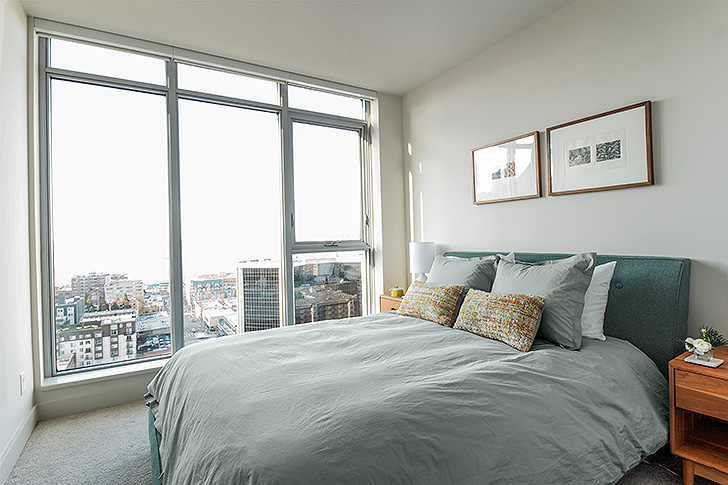 The entryway
The entryway feels polished thanks to a large Infinity mirror, artwork and a small Sidney ottoman where you can slip on your shoes. A recycled newspaper "pet" welcomes you at the door.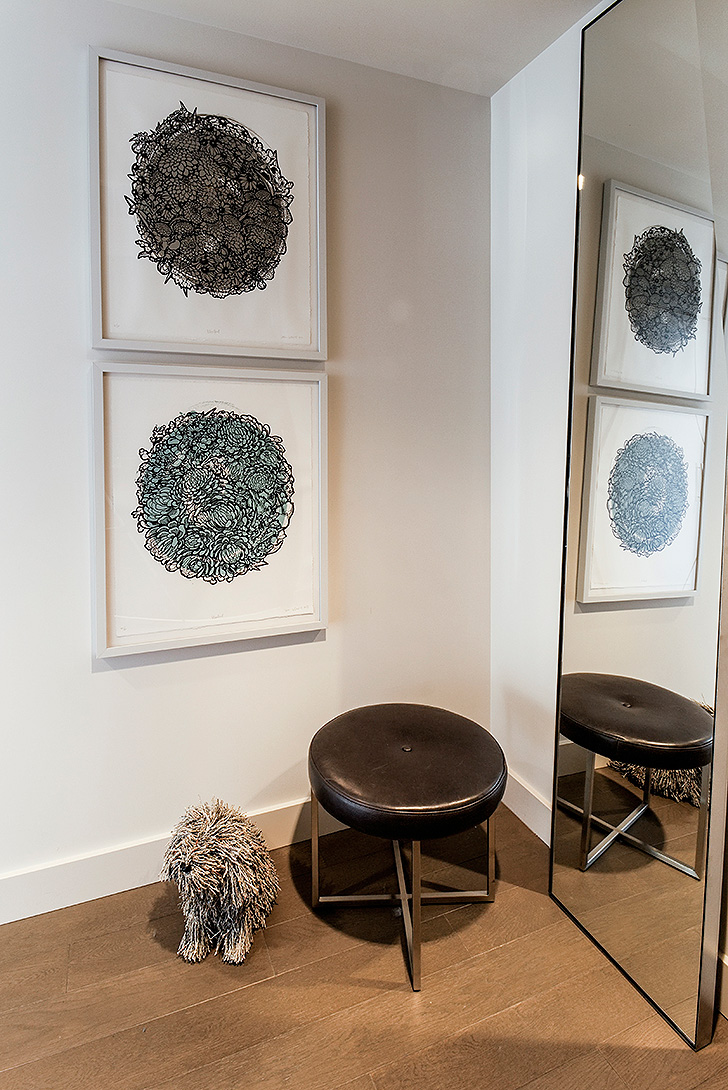 The office
Chelsey came up with five different ways to configure the small office. This layout with a sleeper sofa against the wall and an Ellis desk angled by the window allows whoever is at the desk to see into the adjacent living room and out the window.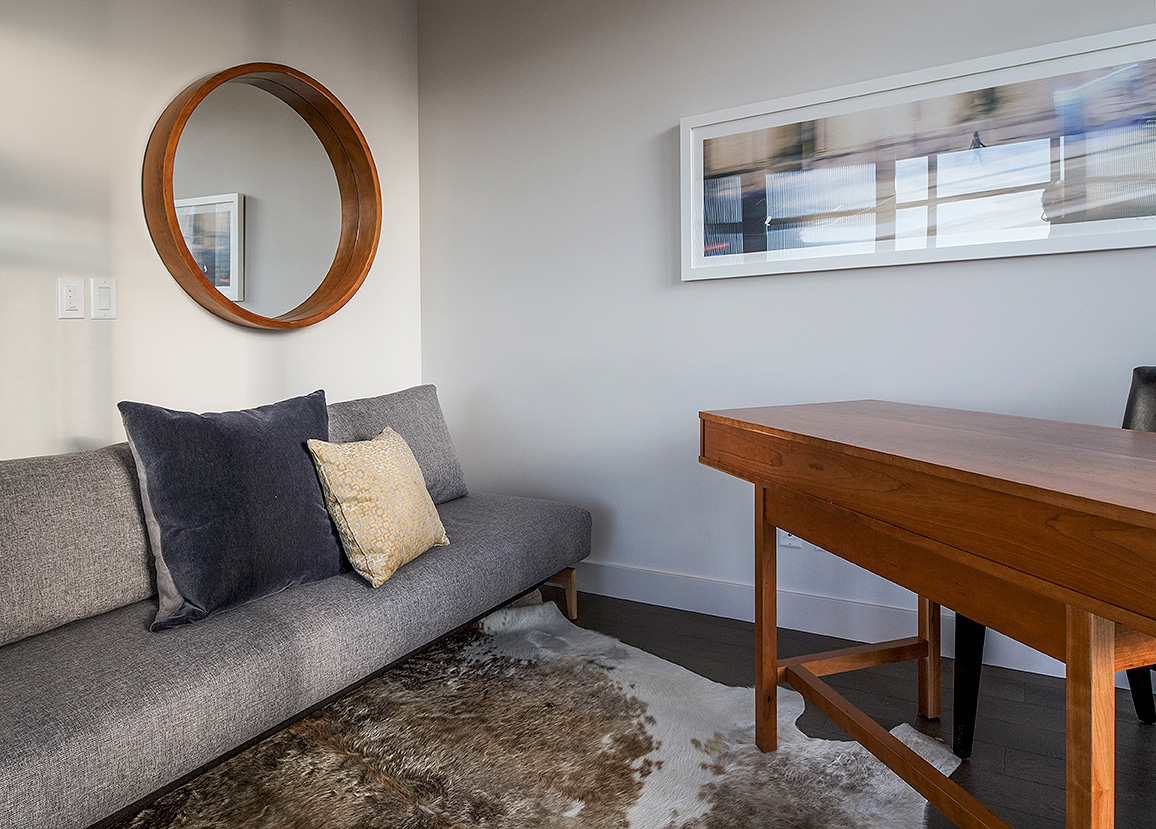 Last but not least, the patio
Swiveling Crest outdoor lounge chairs mean everyone can turn around to take in the view of Puget Sound from the balcony. Instead of a standard coffee table, Chelsey and Shelly decided on the taller Classic outdoor end table so it could more easily double as a place to eat appetizers and enjoy a drink.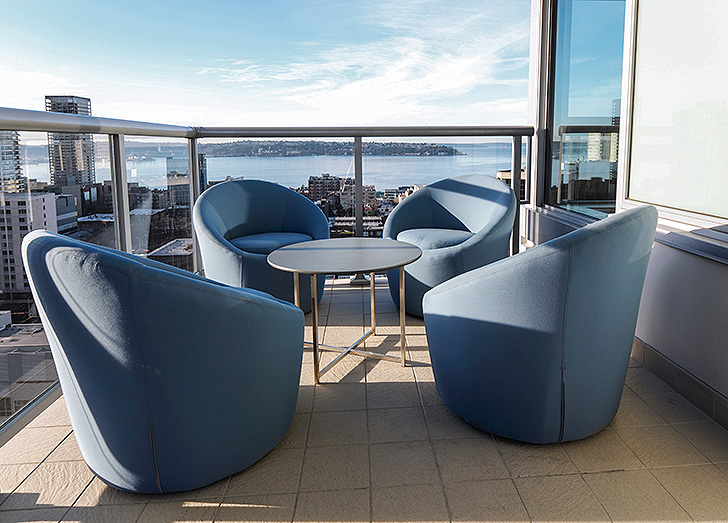 Would you like some help imagining the design possibilities for your space? Learn more about our free design services. You can work with a Design Associate in our stores, or get personalized ideas and advice by phone and email. For more inspiration, check out our other home tours.
Photos by Room & Board